Overview
The steady drumbeat of coronavirus coverage that has dominated Russian and Chinese messaging over the past four months gave way over the weekend to coverage of the George Floyd protests in the United States. Although most of the coverage occurred outside the timeline of this week's report, the focus on social, political, and racial unrest in the United States signifies a return to form for Russia and, perhaps, a tactical shift for China, whose government officials and state media have typically avoided or limited their coverage of issues that do not directly touch on China's core strategic interests. In the 48-hour period from Friday to Sunday night, #GeorgeFloyd was the most-used hashtag by Russian diplomatic and state media accounts, with #Minneapolis and #GeorgeFloydProtests also registering in the top five. Over the same time, #GeorgeFloyd was the third most-used hashtag by Chinese state media and diplomatic accounts, and, in a preview of the upcoming release of ASD's Iran dashboard, #BlackLivesMatter, #GeorgeFloyd, and #Racismo (Spanish for racism), were the second, fourth, and eighth most-used hashtags by Iranian government and state media accounts. To date, however, there is little evidence that any of the three countries have engaged in mis- or disinformation or attempted to promote violence. Instead, these efforts seemed targeted at undermining U.S. credibility, both at home and abroad.
Russia Toplines
The coronavirus continued to be an important topic for the Russian media ecosystem last week, though pandemic-related content declined overall, most notably on Twitter. Coverage of the killing of George Floyd in police custody and subsequent nation-wide protests in the United States received increasing attention throughout the week, with the focus on systemic racism and police brutality—much like coverage in other foreign as well as domestic outlets. Russian state-backed media leaned particularly heavily on images of destruction and violent incidents during the demonstrations, while the Russian embassy in the United States posted a series of tweets condemning treatment of press covering the protests following an incident involving a Russian journalist in Minneapolis. Prior to these events, Russian diplomatic accounts on Twitter put out messaging for Africa Day emphasizing Soviet support for independence movements in Africa.
China Toplines
While the coronavirus remained at the top of the data charts last week, China's official messengers slowly shifted their messaging away from the virus. The uptick in interest around Hong Kong that we noted in last week's report continued, and even intensified, throughout last week. And while Chinese state media and diplomats were initially focused on defending Beijing's new security law by portraying the city's protesters as violent rioters, they progressively shifted their attention to the United States as the killing of George Floyd sparked protests throughout the country. By the end of last week, Chinese media and government officials focused less on defending Beijing's national security law and more on highlighting factually accurate coverage of protests in the United States as a means of calling out the U.S.' "hypocrisy" and "double standards."
Russia
Deja vu: Russia's Coverage of the George Floyd Protests
Russian state-funded media often feature heavy coverage of incidents related to racism and police brutality in the United States; this emphasis dates back to the early days of the Cold War. The killing of George Floyd and subsequent protests were no exception. Coverage early in the week focused on the facts surrounding the brutality of Floyd's death and its relation to systemic racism in the United States. Note that a small number of collected tweets used activist-associated hashtags like #ICantBreathe and #BlackLivesMatter in their coverage:


"George Floyd death: US police view Americans just like military view people in Afghanistan… as enemies in WAR ZONE," Op-ed, RT, May 27, 2020.
"Whether in Afghanistan, or on the streets of American towns and cities, the conflation of US military and police powers has produced nothing but injustice and brutality for those it was intended to serve and protect . . . While the American ideal of policing is built around the notion of "to serve and protect," in practice, whether implemented within the homeland or abroad as part of some nation-building exercise, it has devolved into little more than "brutalize and oppress.""
"'I can't breathe, I can't breathe' heard clearly & repeatedly," RT America, May 27, 2020.
"Rick Sanchez explains the troubling arrest and death of black Minneapolis George Floyd, who died after a police officer knelt on his neck for several minutes."
As appears to be the case with major U.S. and international media outlets, coverage of protests mirrored their escalation. For example, the number of articles per day mentioning Floyd in the first 200 words increased steadily through the week:

Protest coverage emphasized chaotic scenes, such as looting, fires, and tear gas:


"WATCH CNN crew ARRESTED during LIVE BROADCAST covering unrest in Minneapolis," RT, May 29, 2020.
"Minnesota State Patrol officers have arrested CNN journalist Omar Jimenez and two crew members during a live broadcast from protests in Minneapolis, which were sparked by George Floyd's death. The three men were later released."
"'Utter Chaos': Mass Riots and Looting Sweep Minneapolis in Wake of George Floyd Death – Videos," Sputnik News, May 29, 2020.
"Looting, arson, and vandalism have been widespread across Minneapolis after a black man, George Floyd, died on Monday after being tackled and pinned to the ground by police responding to a call by a local grocery store, after Floyd allegedly tried to make a purchase with a counterfeit bill."
"Looters join protesters as fires rage in Minneapolis," RT America, May 28, 2020.
"Minneapolis descended into looting and vandalism on Wednesday as violent protests continue over the police killing of George Floyd. Videos have emerged showing rioters smashing windows and grabbing up merchandise at several stores. Protesters also clashed with law enforcement outside the police headquarters and elsewhere."
A couple of articles also made space to criticize the so-called "mainstream" media's reporting on the demonstrations, suggesting that they were biased and inciting division:
"Race war or bust? MSM smothers racial unity over police killing of Minneapolis man by reminding blacks & whites to hate each other," Op-ed, RT, May 27, 2020.
"The brutal police murder of an unarmed black man in Minneapolis united all races and political stripes in shocked outrage. So why is MSM invoking every racially-divisive incident they can to set society at each other's throats?"
"MSNBC reporter takes heat for calling Minneapolis unrest 'NOT UNRULY' in front of BURNING buildings," RT, May 29, 2020.
"MSNBC host and Emmy nominee Ali Velshi faced an avalanche of online criticism after he described the ongoing Minneapolis unrest as "not, generally speaking, unruly" while reporting live from a burning neighborhood."
In one other notable narrative, Russian state-backed media also emphasized accusations of hypocrisy levied at the U.S. government, in some instances contrasting the Trump administration's responses to violent unrest in Hong Kong with violent incidents during the George Floyd protests. Several accounts also retweeted voices claiming that the ongoing protests would be covered much differently if they were occurring in other countries, such as Russia:

"Minnesota: 'thugs,' Hong Kong: 'heroes' — hypocrisy?" RT America, May 29, 2020.
"Rick Sanchez examines the mass protests, looting, vandalism and arson rocking cities across the US in the wake of George Floyd's death at the hands of a police officer. He contrasts the Trump administration's response to these protests to its characterization of violent civil unrest in Hong Kong."
Over the weekend, the protests related to George Floyd's death dominated tracked accounts on Twitter, with #GeorgeFloyd the top overall hashtag for those two days, and with #Minneapolis and #GeorgeFloydProtests in the top five.
Russian state-funded media and government and diplomatic corps accounts:
Top 10 Hashtags – May 30-31: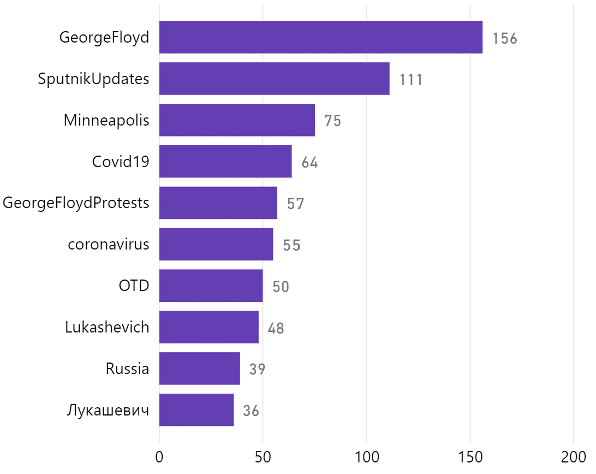 Continuing coverage largely emphasized incidents of violent police responses during the protests and systemic critiques of racism and police brutality in the United States:






Finally, Russian diplomatic accounts placed particular emphasis on the reported mistreatment of journalists covering the demonstrations following an incident involving an RIA Novosti journalist in Minneapolis. They also highlighted a pattern of violent police responses in the United States:



"Minneapolis Police Deliberately Use Pepper Spray Against Reporters, RIA Correspondent Says," Sputnik News, May 31, 2020.
"The Minneapolis Police deliberately used pepper spray on journalists, Mikhail Turgiyev, who himself was harmed, said on Sunday, adding that the incident happened after a protest had already been dispersed."
Russian Diplomats Emphasized Soviet Anti-Colonialism for Africa Day
On Twitter, diplomatic accounts for Russian embassies in Africa, as well as the English-language foreign ministry account (@mfa_russia), engaged in a spate of messaging for Africa Day (May 25), which totaled about 124 tweets. While primarily consisting of standard public diplomacy-type messaging, many accounts emphasized Soviet support for anti-colonialist movements in Africa as the basis for present-day relationships with various countries on the continent. (This rhetoric calls back to the Soviet Union's claims that it was a post-racial society, which of course was demonstrably false.) This type of messaging is consistent with the Kremlin's broader soft-power efforts to maintain and reinvigorate Soviet-era relationships on the continent, as demonstrated by the first Russia-Africa summit, which occurred last fall.



Kremlin-backed media outlet Redfish was the only media Twitter account that marked the day, with three tweets. Using its characteristic lens, the outlet took direct aim at the West by highlighting suspicions of U.S. and French involvement in the coup that killed Burkinabe revolutionary and President of Burkina Faso Thomas Sankara in 1987. Redfish also re-upped its report on the legacy of apartheid in South Africa:


Twitter
Russian state-funded media and government and diplomatic corps accounts:
Top 10 Hashtags — May 23-29: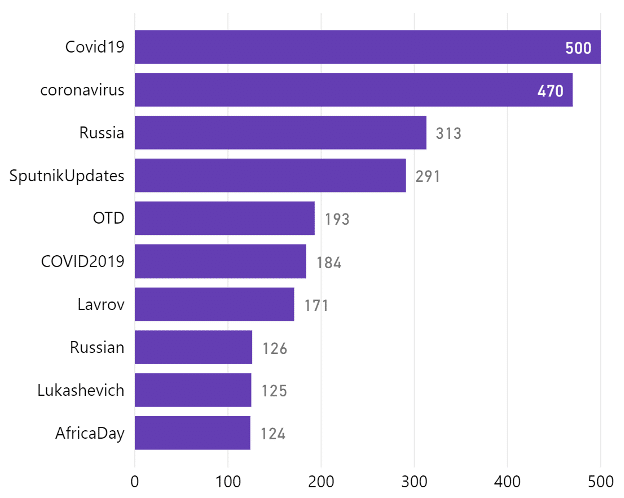 From about 16,000 total tweets collected May 23-29, only about 16 percent mentioned "virus," "covid," "outbreak," or some combination of the three—a marked decline from the previous week. As usual, this coverage focused primarily on basic news updates and human-interest stories related to the pandemic.
Websites
Russian government-funded websites:
About a third of output collected from Russian government-funded news websites last week mentioned "virus" in the first 200 words, which was a slight decline from the previous week. As usual, this output consisted primarily of basic news updates, with the top overall article by Facebook shares reporting on the United States leaving the World Health Organization:
"US 'terminating relationship' with World Health Organization – Trump," RT, May 29, 2020.
"Accusing the World Health Organization of being under 'total control' of China, US President Donald Trump has severed all ties to the WHO and said US funding will be redirected to other public health efforts."
Other notable articles among the top ten by Facebook shares included an op-ed about not being able to trust coronavirus statistics, an article on the United States reportedly considering a nuclear test due to "a convenient allegation that Russia and China have resumed testing low-yield nuclear munitions," and an op-ed criticizing "America's global anti-China spin campaign." The latter narrative continues a trend of Russian state media carrying water for China, as noted in previous reports:
"I've signed death certificates during Covid-19. Here's why you can't trust any of the statistics on the number of victims," Op-ed, RT, May 28, 2020.
"As an NHS doctor, I've seen people die and be listed as a victim of coronavirus without ever being tested for it. But unless we have accurate data, we won't know which has killed more: the disease or the lockdown?"
"Trump's team considered 1st NUCLEAR TEST since 1992 as show of strength to Russia & China – reports," RT, May 23, 2020.
"US authorities considered whether to carry out a "rapid" nuclear test – the first for almost three decades – to use as a bargaining chip in dealing with Russia and China, according to media reports . . . The rationale behind the United States holding its first test of this kind since 1992 involves a convenient allegation that Russia and China have resumed testing low-yield nuclear munitions."
"The US is treating China like it's Nazi Germany. This slide towards a 3rd world war needs to end before it's too late," Op-ed, RT, May 22, 2020.
"Anti-Beijing sentiment is being deliberately whipped up by an imperialist America, its supine allies and supportive media oligarchs. But it's just self-serving propaganda that needs to be called out."
Broadcasts
Russian state-owned media:
Among videos not covering pandemic news updates or the George Floyd protests, one notable video last week highlighted anti-Asian racism in the United States:
"Asians suffer racist attacks amid Asian Heritage Month," RT America, May 23, 2020.
"Consumer data company Nielsen has released its annual report on Asians in the United States, showing Asians' "buying power" amounts to $1.2 trillion, despite only comprising 5.6 percent of the population. This comes as Asians have experienced xenophobic attacks during the COVID-19 pandemic. Nielsen Vice President of Strategic Community Alliances Mariko Carpenter discusses the trends as they relate to Asian and Pacific Islander American Heritage Month."
RT UK also put out a substantial number of videos on the saga of Dominic Cummings, the senior adviser to UK Prime Minister Boris Johnson, who took a 260-mile road trip during the coronavirus lockdown. The videos primarily speculated on the political implications of the event, as well as the impact on the UK government's ability to enforce lockdown. Examples included:
"What can Johnson's responses on Cummings tell us?" RT UK, May 27, 2020.
""It's raising a lot of tension at the moment, as to why Dominic Cummings seems to be more important than any other member of the cabinet." Politics professor Matthew Flinders discuses Johnson's responses regarding Cummings at today's committee."
"Cummings' action weakens public cooperation with police," RT UK, May 26, 2020.
""I'm afraid the credibility of the legislation is shot through." Former police officer Peter Williams explains why Dominic Cummings' actions have made policing lockdown measure a near impossibility."
China
One Country, One System
Two weeks ago, accounts monitored on Hamilton started to rally in defense of the new national security law that Beijing planned to pass regarding Hong Kong's special status. That trend continued last week, as China's diplomatic and state media Twitter accounts posted between 79-134 tweets per day mentioning Hong Kong. By way of comparison, in the week prior, those same accounts only mentioned the city in an average of 35 tweets per day.

After Hong Kong's inhabitants took to the streets last weekend, Twitter activity aimed to discredit the protesters by spreading videos purporting to show how violent the demonstrations were. While many accounts simply shared and retweeted state media's articles, several also had their own take on the protesters' violence.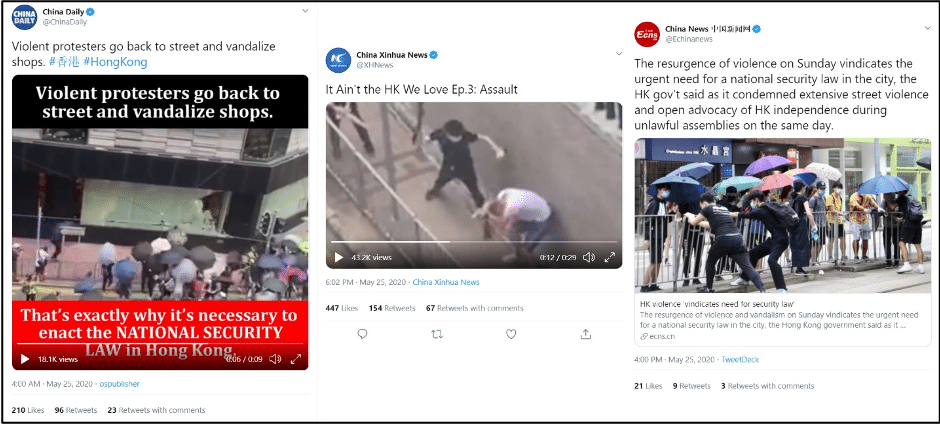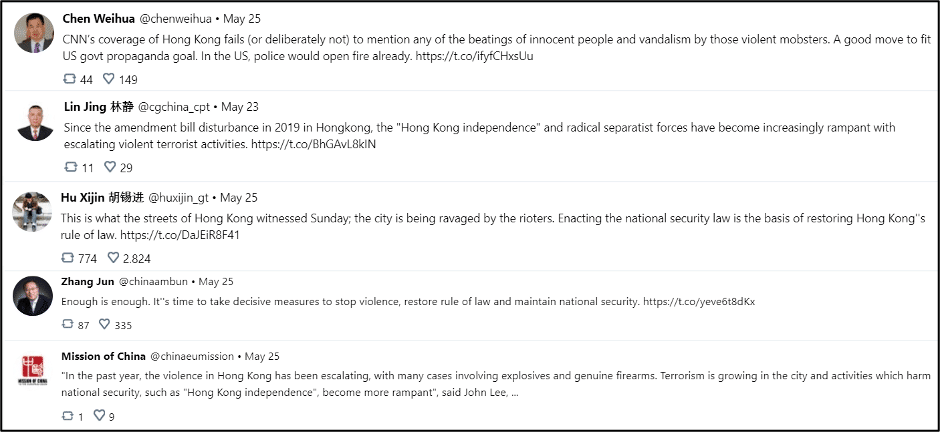 Not all hot takes hit their mark. For instance, the Chinese embassy in Paris hastily deleted a caricature it posted on May 24. The caricature was a variant of a well-known meme, repurposed here to suggest that Hong Kong would be the next victim of U.S. interventionism. In addition to its anti-American message, the illustration also portrayed Israel as an accomplice of every American bad action in the world. Beyond being anti-Semitic, the message was completely nonsensical in the context of Hong Kong. That, along with China's generally amicable relations with Israel, explains why the embassy in Paris swiftly deleted the post and scrambled to explain that any surviving screenshots were fabrications.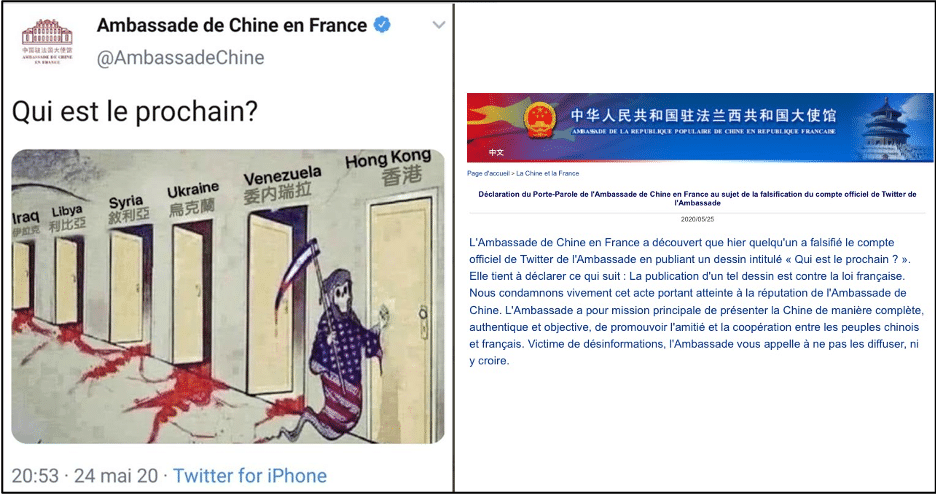 Two headlines from the nationalist tabloid Global Times underline how the embassy in Paris went from hero to zero in the space of ten days.

Without resorting to memes, China's Ministry of Foreign Affairs also embraced the idea that protests in Hong Kong were driven by foreign powers, particularly the United States. U.S. Secretary of State Mike Pompeo's determination that Hong Kong was no longer autonomous enough to benefit from special treatment under U.S. trade law drew particularly strong reactions from Beijing.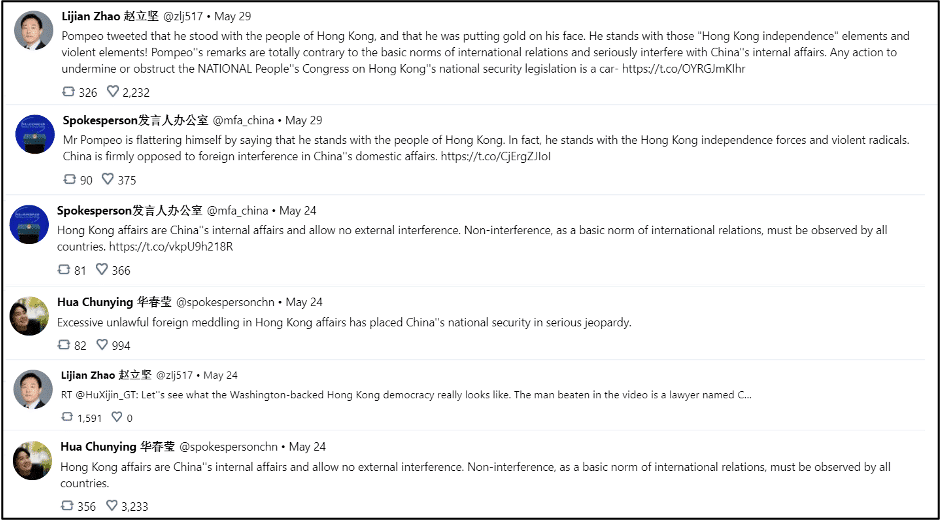 Championing civil liberties in the United States
Between Tuesday and Friday, China's state media and diplomatic Twitter accounts seized upon the unrest caused by the killing of George Floyd to expose the presumed hypocrisy of the United States. By way of illustration, mentions of "Minnesota" steadily increased throughout the week.

On YouTube, state media capitalized on the protests to show montages of police violence and buildings set ablaze.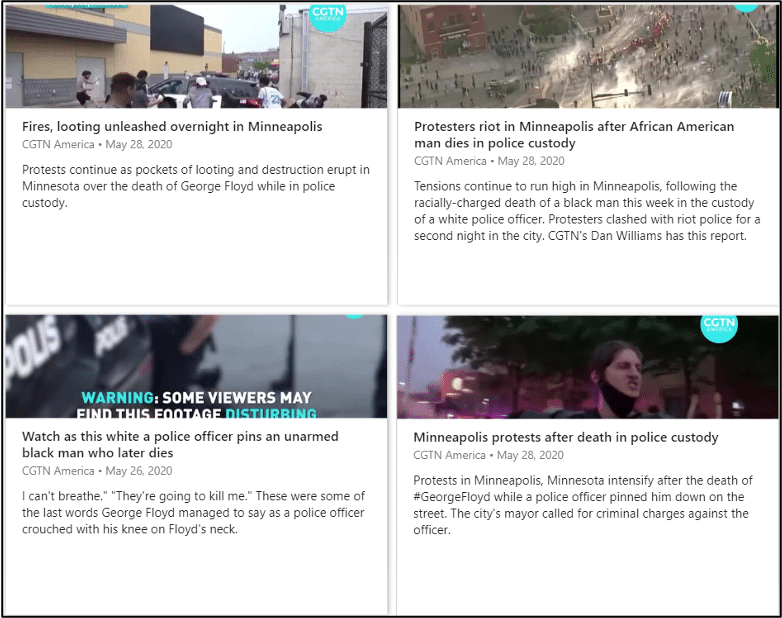 Multiple Chinese state media websites also covered the unrest, as well as Twitter's decision to attach a disclaimer to one of President Donald Trump's tweets.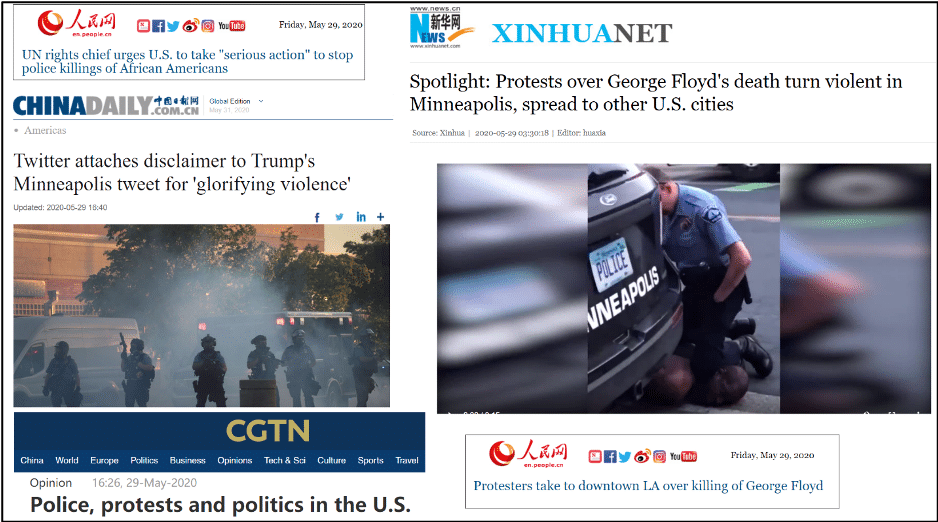 A particularly common take on the situation in the United States among the network of Chinese Twitter accounts monitored on Hamilton was to draw a parallel between the protests in Hong Kong and those in various American cities. This juxtaposition aimed to highlight the presumed hypocrisy of American commentators and politicians.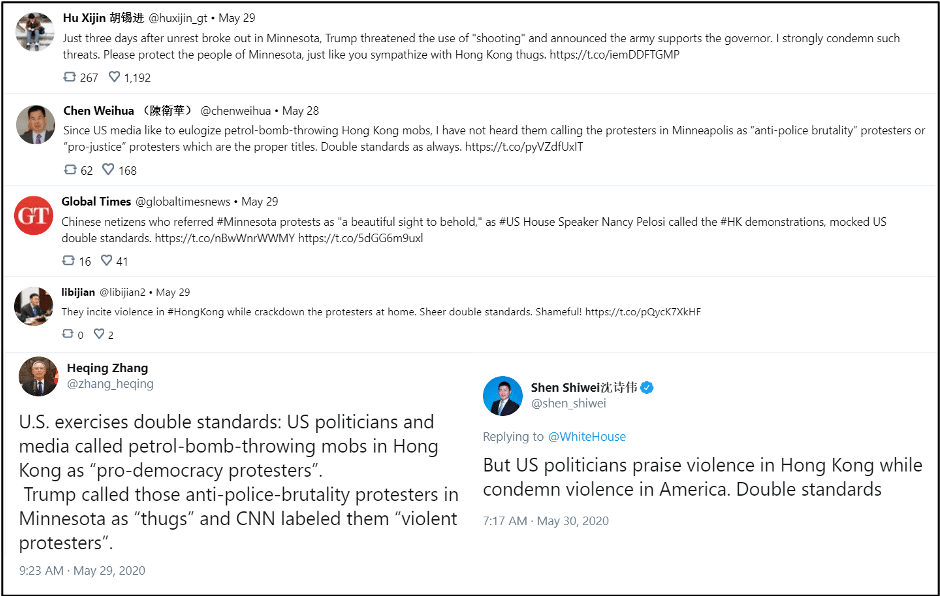 Perhaps the most interesting expression along this line of argument came from Hua Chunying, spokesperson for the Ministry of Foreign Affairs.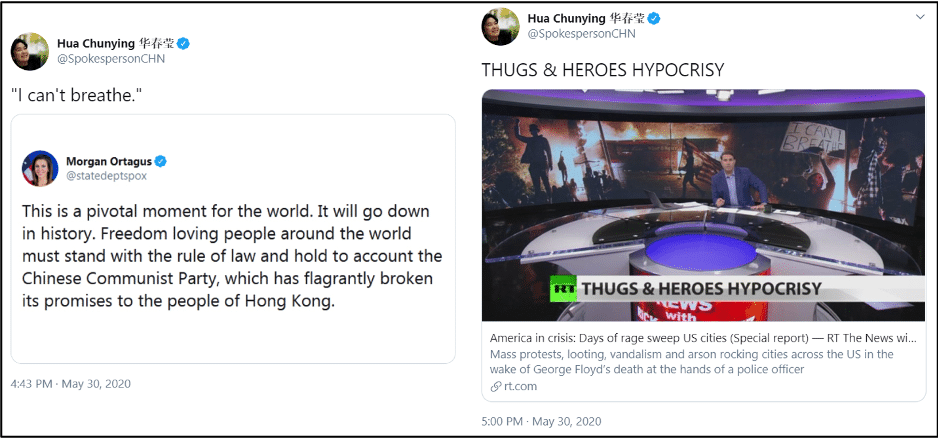 Posted within 20 minutes of each other, these two posts generated very high engagement and were subsequently amplified by several Chinese embassy accounts. In the first tweet, Hua used George Floyd and Eric Garner's final words, "I can't breathe," in response to a message from State Department Spokesperson Morgan Ortagus expressing support for Hong Kong protestors. Hua's response shows an increased understanding of the United States' current socio-political context and a willingness to use it to gain an edge in the global battle of narratives. In a 2018 report, ASD explained this modus operandi in the context of Russian engagement with the #TakeTheKnee hashtag that gained popularity during the NFL protests. The second post further demonstrates Hua's willingness to borrow from the Kremlin's playbook—and indeed to repurpose its content—as she lets a video from Russian state-media do the talking for her.
Twitter
Chinese state-funded media and government and diplomatic corps accounts:
Top 10 Hashtags — May 23-29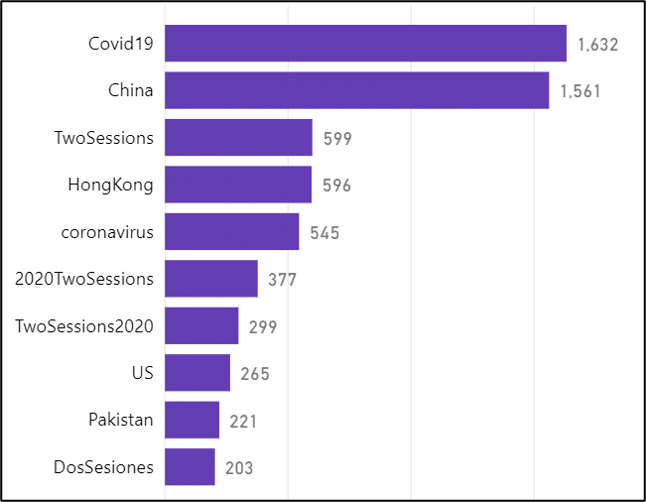 The Hamilton dashboard collected about 18,000 tweets from Chinese state-funded media and government Twitter accounts from May 23-29, up 20 percent as compared to the previous week. While the coronavirus remained the most frequently used hashtag in the network's communications, its use was down by more than 25 percent as compared to the previous week, with connected hashtags like #Covid_19 dropping out of the top ten entirely. On the contrary, mentions of Hong Kong more than doubled and instances of #US were up by 33 percent.
Websites
Chinese government-funded websites:
On Facebook, the most shared Chinese state-media story this week was about the COVID-19 death toll in the United States.
"NY Times marks grim U.S. virus milestone with front page victim list," CGTN, May 24, 2020.
"The [New York Times] front page also became a hashtag on China's social platform Weibo, with many praying for the dead and criticizing politicians' ignorance of lives. 'We do not hope dreadful things happened on each common people,' said a blogger, which won more than 7,000 thumbs-up."
Also among the most shared articles of the week was an opinion piece about China's reaction to the pandemic, which adopted a markedly different tone and generated only a fraction of the engagement.
"Commentary: In COVID-19 response, China deserves credit in human rights protection," Xinhua, May 26, 2020.
"Sparing no efforts to save lives from being ravaged by COVID-19, China has shown its steadfast commitment to protecting human rights. (…) As we speak, a few U.S. politicians are wielding the batons of bills, investigations or ludicrous lawsuits against China as if they valued lives more than others. (…) The glaring contrast between the two major countries makes people wonder: Who is the better upholder of human rights?"
Still, the focus last week was on Hong Kong, with six of the ten most shared stories related to protests in the city and/or to Beijing's national security law.
Broadcasts
Chinese state-owned media:
China's state media YouTube channels lasts week posted a string of negative stories about Brazil's handling of the coronavirus crisis. This follows a very public Twitter feud between the Chinese embassy in Brazil and Brazilian President Jair Bolsonaro.
"São Paulo's hospitals at capacity from COVID-19," CGTN America, May 28, 2020.
"The public health system in Brazil's biggest city is nearing collapse with hospital occupancy reaching levels over 90% because of the COVID-19 pandemic."
"Nurses dying from COVID-19 in Brazil," CGTN America, May 27, 2020.
"Several hours passed and patients at Salgado Filho Hospital in Rio de Janeiro were sharing the same room with a man who recently died from the deadly virus. 15 patients, many intubated, were lying in close proximity to one another."
"Latin American photographers document COVID-19 outbreak," CGTN America, May 26, 2020.
A Brazilian photographer is interviewed in the middle of one of the mass graveyards authorities have set up to deal with the victims of the virus: "We have the sad record in Brazil that 1,000 deaths per day. It's very difficult, it's very sad."
"Brazil's car production drops by 99%," CGTN America, May 26, 2020.
Videos of GM and Ford factories and car dealerships run in the background for most of the segment: "Brazil's auto industry is slowly trying to get back into gear. This General Motors plant in the suburbs of São Paulo got back to work recently, but with just a third of its normal workforce."
A couple of broadcasts also highlighted China's scientific, technological, and human achievements:
"Chinese climbers reach Earth's highest point for first time since 2005," CGTN America, May 28, 2020.
While CCTV also ran several segments on this particular expedition, the terminology used in CGTN America's coverage was noteworthy. While the description of the CGTN video reads, "Chinese surveyors have reached the top of Mount Qomolangma, also known as Mt. Everest," the text that runs during the video says that, "A team of Chinese surveyors reached the summit of Mount Qomolangma on Wednesday. Formerly known as Mt. Everest, the peak on the China-Nepal border is the highest on Earth." China has engaged in a decades-long effort to stop westerners from using the Anglicized name of the mountain instead of its official Chinese name.
"China's 3rd Batch of Astronauts to Involve Wider Talents Including Scientists," CCTV, May 28, 2020.
"The test spaceship that was successfully retrieved was designed both for the requirement of Earth orbit and the future manned exploration of the Moon, or even for manned deep space exploration."
The views expressed in GMF publications and commentary are the views of the author alone.