Russia Toplines
For the thirteenth consecutive week, coronavirus coverage dominated the Russian media ecosystem last week, though to a slightly lesser extent than in previous weeks. As usual, much of this output consisted of basic news updates on the pandemic. One notable coronavirus theme across platforms involved criticism of various U.S. media outlets' coverage of the pandemic. In non-coronavirus messaging, posts commemorating Soviet cosmonaut Yuri Gagarin and Cosmonautics Day (April 12) saw a relatively substantial push on Twitter, primarily from government accounts.
China Toplines
Coronavirus-related coverage continued to dominate Chinese official media outlets last week, with emphasis shifting from China's recovery efforts to more intense coverage of rising case numbers in the United States and the United Kingdom. The most engaged-with communication from state media outlets and diplomatic/government accounts emphasized Chinese aid provided to countries in Europe, Asia, and Africa. Overall engagement with China's official media ecosystem on Twitter was down last week, after China's ambassador in Brazil wound down a Twitter tit-for-tat with President Bolsonaro, and other official outlets stepped back from spreading controversial conspiracy theories that had become commonplace in Chinese messaging in previous weeks.
Russia
Twitter
Russian state-funded media and government and diplomatic corps accounts:
Top 10 Hashtags — April 11-17: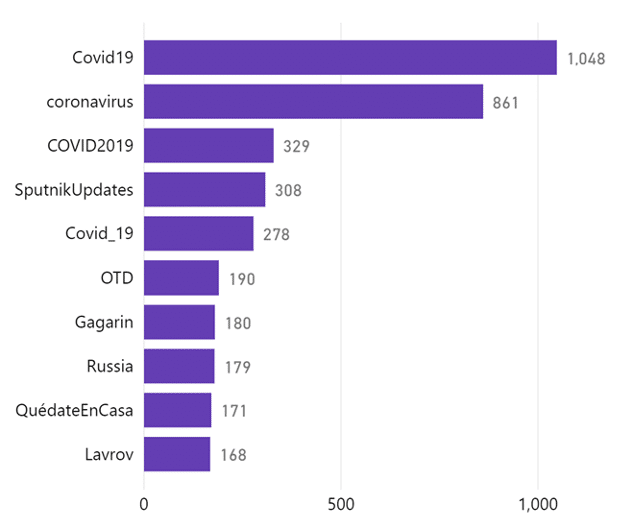 The Hamilton dashboard collected about 13,000 tweets from Russian state-funded media and government Twitter accounts the week of April 11-17 (figures as of 2pm April 10). A little over 4,300 tweets mentioned "virus," "covid," or both. Only half of the top ten hashtags were directly related to the pandemic this week (including #QuédateEnCasa, Spanish for "stay at home"), but the top two hashtags, which both referenced the coronavirus, saw more uses than the rest of the top ten combined.
Almost all of the top overall tweets by likes reported basic news updates from the three accounts that typically receive very high engagement regardless of topic (@actualidadrt, @rtultimahora, and @sputnik_tr). The dominance of these accounts may mask more widespread trends and excluding them yielded a more diverse set of top tweets. Notable tweets from this set included several tweets from the Kremlin-supported media outlet Redfish, which featured broad coronavirus-related criticism of capitalism in the United States, as well as tweets from the Russian embassy in Italy highlighting Russian medical assistance and RT describing lockdown-related violence in India:




One notable non-coronavirus messaging push featured Soviet cosmonaut Yuri Gagarin, the first person in space, and it was mainly concentrated on Cosmonautics Day (April 12 – commemorating Gagarin's space flight on the same day in 1961). The prominence of this messaging was reflected in #Gagarin appearing among the top ten hashtags, and in total over 300 tweets mentioned him in Latin or Cyrillic alphabet spellings. Government accounts were the primary drivers of this campaign in terms of number of tweets. For example:

Several diplomatic accounts also retweeted a tweet from the Russian Foreign Ministry's Russian-language account (which we do not track. See methodology). The tweet accused the U.S. State Department of disinformation for not mentioning Gagarin's name in a post commemorating the first manned space flight: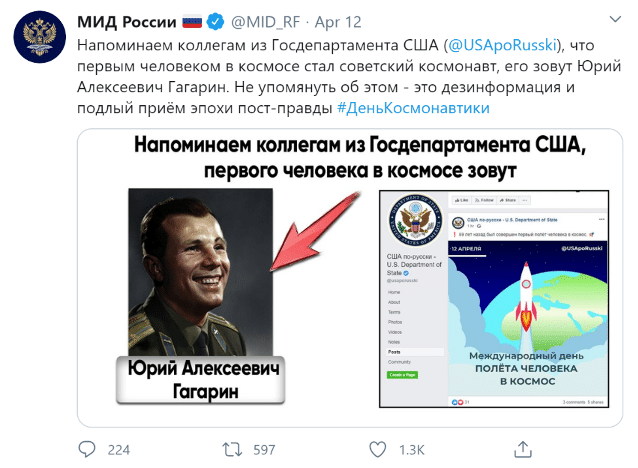 (Translation: We remind our colleagues from the U.S. Department of State that the first person in space was a Soviet cosmonaut named Yuri Alekseevich Gagarin. To not mention this is disinformation and a vile trick of the post-truth era.)
Websites
Russian government-funded websites: 
The Hamilton dashboard collected nearly 1,600 articles from Russian government-funded news websites last week, of which almost 880 mentioned "virus" in the first 200 words. Once again, basic news updates continued to dominate output. Articles of interest among the top articles by Facebook engagement about the pandemic included coverage of controversial coronavirus policies and decisions in the United States, an op-ed on "talk of secession" by Democrat-controlled states, and coverage of a U.S. investigation of the coronavirus's origin:
"Resistance loses it as Trump offers extra US ventilators to RUSSIA to help with Covid-19," RT, April 15, 2020.
"Claiming that the US was so well supplied with ventilators to deal with the coronavirus outbreak, President Donald Trump said he will send spares to other hard-hit places such as Russia, immediately triggering his critics . . . The online Resistance – die-hard believers in the conspiracy theory that Trump colluded with Russia in the 2016 US presidential election, pushed for years by the Democrats and the mainstream media – quickly seized on the comment as proof that the president was evil."
"Lotto tickets are OK, but not seeds? Residents baffled after Michigan bans purchases of 'non-essential' items," RT, April 11, 2020.
"Michigan residents and local businesses are furious over a new rule, purportedly aimed at stopping the spread of coronavirus, which bars them from buying and selling seeds – now deemed a "non-essential" item."
"Here comes 'Cascadia'? Democrat governors colluding to end Covid-19 lockdowns spark talk of secession,"Op-ed, RT, April 14, 2020.
"As California and New York said they'd coordinate reopenings with neighboring states, mainstream US media suddenly rediscovered the virtue of federalism, while some online activists even cheered the notion of separatism."
"Trump says US conducting 'very thorough' probe into Covid-19 origins, refuses to dismiss 'sources' pushing Chinese lab narrative," RT, April 16, 2020.
"US President Donald Trump hinted that a probe into the origins of the Covid-19 pandemic hasn't ruled out that it may have started in a lab in China, fanning the flames of a conspiracy theory that's turning increasingly mainstream."
In further output on the coronavirus, narratives of note included both criticism of the halt of U.S. funding for the World Health Organization (WHO) and criticism of the WHO, as well as repetitions of efforts to debunk U.S. reports that the virus might have originated in a Wuhan lab. Examples included:
"Committing Crimes Against Humanity – US Stabs WHO in the Back," Column, Sputnik News, April 15, 2020.
"The decision of US President Donald Trump to immediately suspend funding to the World Health organisation (WHO) has rightly been described as a 'crime against humanity' and a 'damnable' act that will cost lives."
 "Trump's cuts to the WHO are self-serving, but he also has a point: WHO has become a bloated bureaucracy riddled with politicking," Op-ed, RT, April 16, 2020.
"While Trump's cut-off of the WHO was mainly to save his skin, the health watchdog is surely not above criticism. To repair its reputation, it should stop meddling in lifestyles & focus on health issues, and tackling pandemics."
"Pompeo, Trump to Probe China for COVID-19 'Leak' at Wuhan Lab Despite Scientists Debunking Theory," Sputnik News, April 16, 2020.
"The US official made the claims as Fox News cited sources claiming that the Wuhan-based laboratory created the virus to demonstrate that Beijing could quickly identify and combat epidemics via efforts equal or greater than those in the United States, without citing evidence, it was revealed."
"Beijing Says There is 'No Scientific Evidence' in Claims About COVID-19 Leak From Wuhan Laboratory," Sputnik News, April 16, 2020.
"A version of events circulating in US media that COVID-19 allegedly leaked from a laboratory in Wuhan has no scientific evidence behind it, Chinese Foreign Ministry Spokesman Zhao Lijian said."
 "'Mao-style social controls' or benign citizen 'armies'? NYT flip-flops on Covid-19 contact tracers – because now it's not China," Op-ed, RT, April 16, 2020.
"The same citizen virus-tracing corps the New York Times decried in China as Maoism incarnate is being tried in Massachusetts and San Francisco, and the outlet has decided that what's bad for Beijing is good for democracies."
"Should Biden create his own 'SHADOW GOVT, shadow cabinet, shadow SWAT team' to counter Trump… asks MSNBC host," RT, April 15, 2020.
"MSNBC's Stephanie Ruhle went beyond the point of shilling for Joe Biden by asking whether the former vice president should set up a "shadow government" to counter Donald Trump's coronavirus daily briefings. Biden may be riding the momentum of endorsements from previous competitors Elizabeth Warren and Bernie Sanders, as well as from former President Barack Obama, but one MSNBC host thinks he needs to do more to "counter-program" Trump during the Covid-19 pandemic."
 "Russian Embassy Slams Pentagon Attacks on Sputnik, RT Over Alleged Fake News About Pandemic," Sputnik News, April 14, 2020.
"The Russian Embassy in Washington said it was "ridiculous" to blame Sputnik and RT for spreading fake information about the COVID-19 pandemic, adding that the US Defenсe Department should, instead, focus on fighting the infection in its own ranks. The embassy said that the Pentagon's "attacks" could have a negative impact on the safety of Russian reporters in the United States, and therefore human rights organisations should be paying attention to this issue."
Finally, Sputnik covered the omission of cosmonaut Yuri Gagarin's name from the U.S. State Department's Cosmonautics Day post described above.
Broadcasts
Russian state-owned media:
About three-quarters of the videos collected from Russian state-owned media on YouTube last week covered some aspect of the pandemic. Notable videos on this subject included:
"Will COVID-19 be the end of the EU?" RT UK, April 15, 2020.
"With the Italian PM expressing concerns over "Europe failing itself," will COVID-19 prove to be a task to big for the EU to handle?"
"Robert Kennedy Jr slams WHO's sordid ties to Big Pharma," RT America, April 14, 2020.
"Critics of the World Health Organization (WHO) allege that the organization may not have people's best interests at heart. Environmental attorney Robert F. Kennedy Jr. joins Rick Sanchez to discuss the "systemic structural problems" in the WHO arising from its reliance on the pharmaceutical industry for funds."
"How did China suddenly become the bogeyman?" RT America, April 16, 2020.
"The global community is rushing to blame China for the spread of the COVID-19 coronavirus pandemic. How fair are these allegations?"
Last week, RT America also put out several media criticism videos. These included negative coverage of liberal-leaning U.S. media outlets the New York Times and CNN, and a defense of conservative U.S. outlet Fox News:
"Challenging NY Times Baseless Anti-Russia Media Attack," RT America, April 15, 2020.
"The New York Times has published a story that seems to suggest there is only one bad actor out there in the entire world when it comes to information amid Covid-19 – Russia. The New York Times is now suggesting that Russia, in fact President Vladimir Putin himself, is using disinformation to encourage the spread of deadly viruses."
 "Lionel: Liberal's[sic] have no ground to stand on in FOX News attacks," RT America, April 12, 2020.
"FOX News is coming under legal attack as a group of Liberals are accusing the news organization of causing the coronavirus crisis. In some cases claiming FOX is killing their viewers with information. Attorney Lionel from @LionelMedia is here to talk about just how far these lawsuits could go in court."
Like the previous week, RT UK addressed 5G coronavirus conspiracy theories, debunking them and reporting on apparently widespread belief in them. Examples included:
"5G link to Covid-19 lacking scientific evidence," RT UK, April 14, 2020.
"'There is no scientific evidence whatsoever that 5G has contributed or causes any kind of harm towards people.' Jamal Ahmed, business information technology expert comments on 5g conspiracy theories."
China
Twitter
Chinese state-funded media and government and diplomatic corps accounts:
Top 10 Hashtags — April 11-17: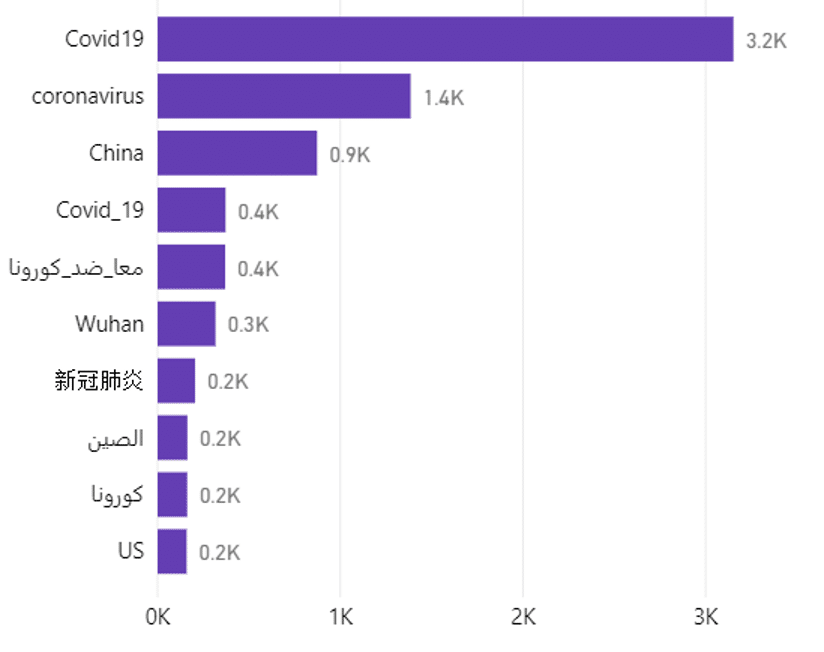 The Hamilton dashboard collected about 14,000 tweets from Chinese state-funded media and government Twitter accounts the week of April 11-17 (figures as of 2pm April 17). Roughly 6,500 tweets mentioned "virus", "covid", "coronavirus", or some combination of the three. Coronavirus-related content dominated the top hashtags.
Top tweets for the week were concentrated among state media outlets and Foreign Ministry spokespersons, and they concentrated on the competence of China's response and China's solidarity with countries affected by the coronavirus outbreak.




(Li Baorong is the PRC ambassador to Venezuela)
Overall, state media tweets of the coronavirus pandemic have shifted focus from earlier weeks. As both Italy and Spain have bent their infection curves downwards, state-tied tweets have deemphasized China-led relief efforts there. Instead, more tweets have mentioned the United States and the United Kingdom, focusing on rising case totals in both countries.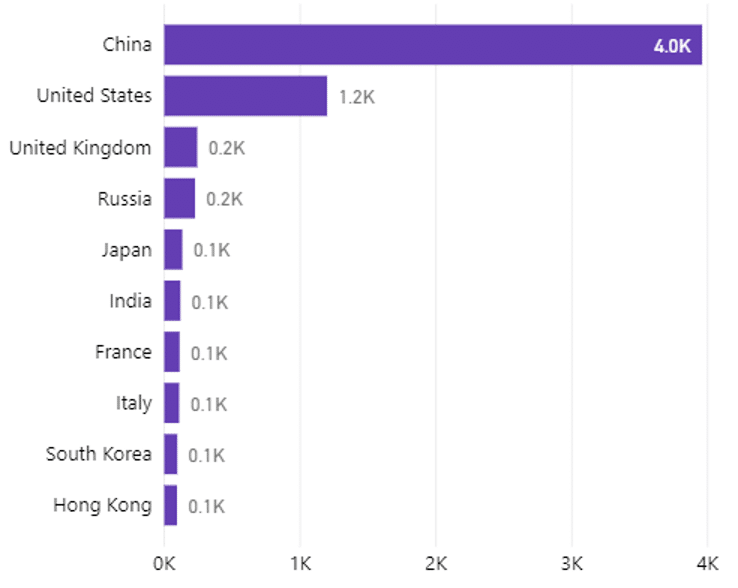 Webistes 
Chinese government-funded websites:
Of the approximately 3,600 articles collected from China's state-funded news websites last week, the top articles by shares on Facebook focused on defending China from mounting foreign criticism as the coronavirus spread to the rest of the world. Two of the top articles attacked the theory put forth by U.S. media and government officials that the virus may have escaped in an accidental release from a bioweapons laboratory in Wuhan.
"New COVID-19 study shows science must come before politics," CGTN, April 11, 2020.
"Overall there is a message that has been clear, albeit ignored from the very beginning: Viruses do not respect national borders or political ideologies. As a whole, politics is not useful at all in fighting the COVID-19 or the broader game of 'discrediting' given experts. Science is the only way, and as the world suffers we must sit tight and instead be prepared to learn, rather than point fingers."
"China dismisses claim new coronavirus originated at Wuhan lab," CGTN, April 16, 2020.
"Addressing a daily media briefing on Thursday, [Foreign Ministry spokesperson Lijian] Zhao responded that the origin of this new virus is for the scientists and medical experts to find out, and the claim itself is groundless. 'Officials of the World Health Organization have repeatedly said there's no evidence the virus was made in a lab, and many experts have also said the claim lacks scientific ground.'"
Another top article addressed controversy between China and African nations, after widespread reports of discrimination against African residents in Chinese cities appeared in both the Western and African media, as China tries to prevent a resurgence of coronavirus cases.
"China denies discrimination against Africans in Guangzhou," CGTN, April 14, 2020.
"China's Assistant Foreign Minister Chen Xiaodong met with diplomats from more than 20 African countries over the reported mistreatment of African people in southern Chinese city of Guangzhou, reassuring that all foreigners are treated equally under China's virus prevention rules."
Broadcasts
Chinese state-owned media:
The Hamilton dashboard collected more than 100 videos posted by China's state-owned media on YouTube last week. Of these, all but three were connected in some form with the coronavirus pandemic. One particular focus was the World Health Organization (WHO), after the United States criticized the WHO's role in the pandemic and its perceived closeness with China: 
"WHO Official Refutes U.S. Accusations on COVID-19 Response, China's Performance," CCTV Video News Agency, April 16, 2020.
"The World Health Organization (WHO) alerted the whole world about the spread of the novel coronavirus causing the deadly disease of COVID-19 on as early as January 5 this year, and China had done quite a remarkable job in curbing the spread."
"WHO Officials Refute U.S. Accusations with Facts," CCTV Video News Agency, April 14, 2020.
"Officials of the World Health Organizations (WHO) used facts and data to refute the accusations from U.S. leaders regarding WHO and China's early response to COVID-19."
"WHO spokesperson says China deserves praise for COVID-19 response," CGTN America, April 15, 2020.
"there has been deserved praise for China in their fight against the #coronavirus outbreak and has seen some major success in combating it and controlling it."
Another consistent theme of state media coverage was the spread of the virus inside the United States, and its damaging effects on the US economy (with very little coverage of other affected countries).
"Frustrated U.S. companies try to find a way forward," CGTN America, April 15, 2020.
"COVID-19 isn't discriminatory when it comes to draining the life out of businesses. Companies big and small, are trying to find a way forward. Many thought business interruption insurance would see them through a crisis like a pandemic – but, they were wrong."
"Outbreak hits hard in Washington D.C. during peak tourism season," CGTN America, April 12, 2020.
"with … states ordering people to stay at home, vacations, business trips and conferences are all being cancelled. That's already leading to job losses across the [tourism] sector."
"Chicago under lockdown, empty streets and parks in drone footage," CGTN America, April 12, 2020.
"Chicago, one of the most densely-populated cities in the U.S., has virtually become a 'ghost town' as streets and tourist attractions [sic] closed to the public."
The views expressed in GMF publications and commentary are the views of the author alone.