Overview
On November 30, 2020, local time, Chinese Ministry of Foreign Affairs Information Department Deputy Director General and spokesperson Zhao Lijian tweeted a doctored photo of an Australian Defence Force Special Forces (ADF) soldier slitting the throat of a small Afghan child. The doctored photo was inspired by a recent ADF investigation, which found that 39 Afghan prisoners and civilians were allegedly murdered by Australian soldiers deployed to Afghanistan.
Zhao's tweet sparked bipartisan condemnation among Australian politicians and demands for an apology from Prime Minister Scott Morrison. This tweet ratcheted up already strained relations between the two countries following China's list of 14 grievances and tariffs slapped on Australian exports, even though the two countries share a free trade agreement and signed the Regional Comprehensive Economic Partnership last month.
Just like the escalating economic sanctions test how much pain Australia can withstand before giving in to Chinese authorities' grievances, Zhao's inflammatory social media activity has prompted other Chinese officials and state media figures to see how far they can take "wolf warrior" diplomacy. With Twitter banned in China, the Chinese state propaganda apparatus is seeing how strident it can make its nationalist rhetoric before the pushback from the platform's global audience becomes unsustainable.
By the Numbers
Between November 27 and December 3, 2020, Australia was the third most-mentioned country by Chinese government and state media Twitter accounts monitored on the Hamilton 2.0 dashboard, with over 400 mentions. By way of comparison, Australia was only the tenth most referred to country over the previous two months, with a total of more than 1,000 mentions. China's propaganda apparatus has focused intensely on Australia over the past couple of days.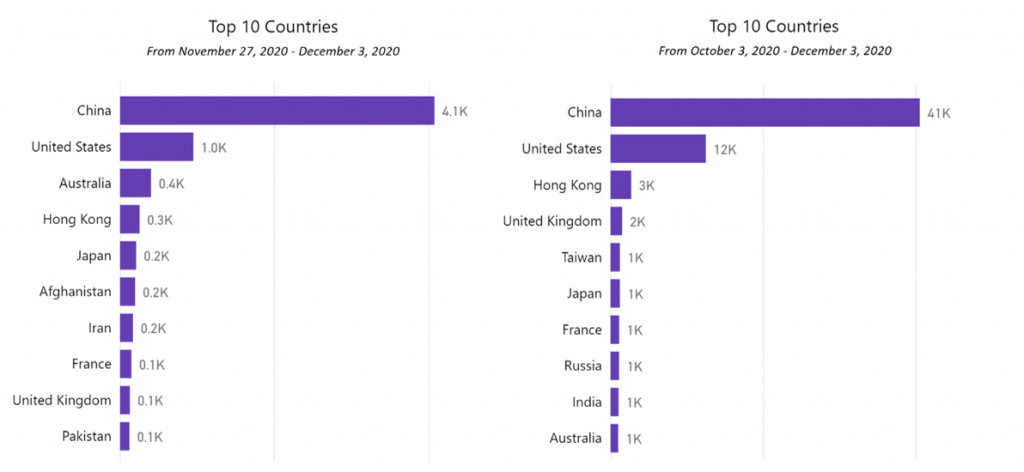 Of the ten most retweeted tweets out of the Chinese network monitored on Hamilton from the time Zhao tweeted the controversial photo on November 30 to December 3, 2020, eight concerned Australia's inquiry into war crimes in Afghanistan.
Zhao Lijian's controversial tweet has garnered close to 70 thousand likes and has been retweeted almost 20 thousand times—exceptionally high numbers from a Chinese official account posting on a platform inaccessible inside China. The shock and awe approach seems to be working as, since posting this tweet, Zhao's account has increased its follower count by almost 10 percent.
These exceptionally high numbers may not be an indication of the narrative's organic success. According to Dr. Timothy Graham at the Queensland University of Technology, roughly 8 percent of the accounts that retweeted Zhao's initial tweet were created on November 30, 2020. And the majority of self-reported locations of those Twitter accounts were in China or Hong Kong. Analysis by the Australian Strategic Policy Institute's Albert Zhang suggests that some of the accounts that retweeted Zhao's tweet did so after a long period of dormancy. And an Israeli cybersecurity company, Cyabra, found that many of the accounts that engaged with Zhao's tweet were used only once, to retweet Zhao's tweet.
What We're Seeing in Hamilton 2.0
On the same day that Zhao tweeted the incendiary, doctored photo, another Chinese Ministry of Foreign Affairs spokesperson, Hua Chunying, made a pointed declaration related to the Australian Defence Force's crimes in Afghanistan.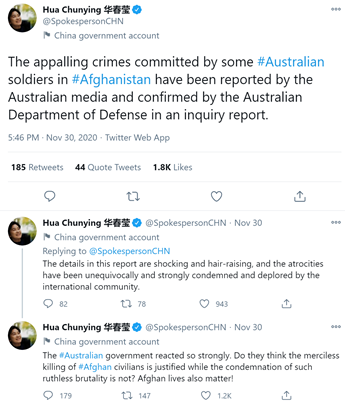 In line with analysis put forward by Graham, Zhang, and Cyabra, Zhao's original tweet appears to have been amplified by many Twitter accounts that bear hallmarks of inauthenticity. For example, one of these accounts was created in 2018 but has only retweeted one account, Zhao's, and the other only follows Zhao. Since both accounts were created, they have only amplified one tweet: the photo posted by Zhao.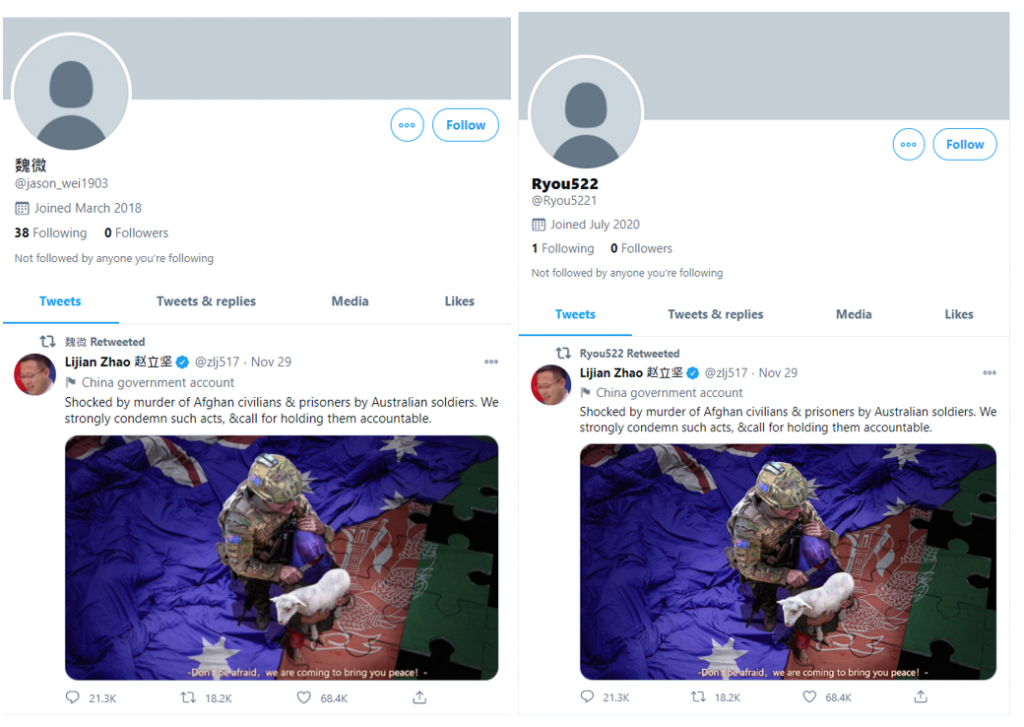 In the days after, multiple Chinese state media accounts followed suit, using visual media to criticize Australian human rights abuses in Afghanistan. This included sharing a montage by the person who had designed the doctored photo shared by Zhao. The use of this narrative by multiple accounts shows some coordination to manufacture the illusion that there is  popular backing behind Zhao's tweet.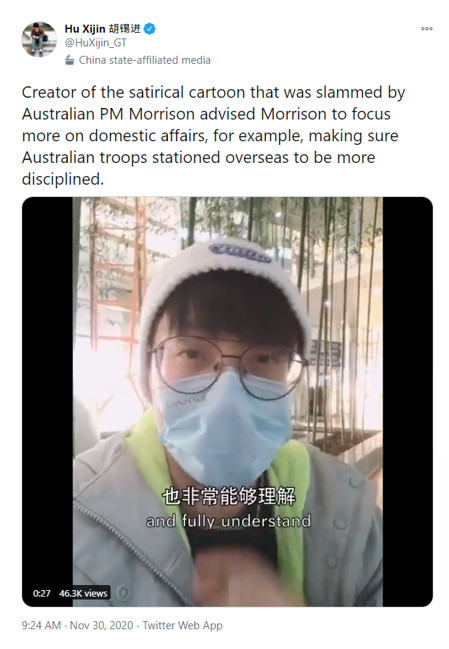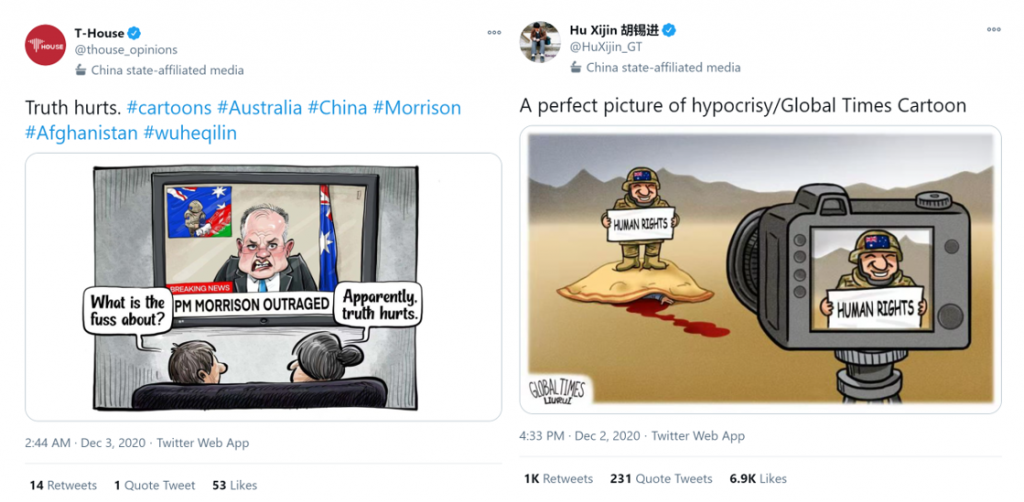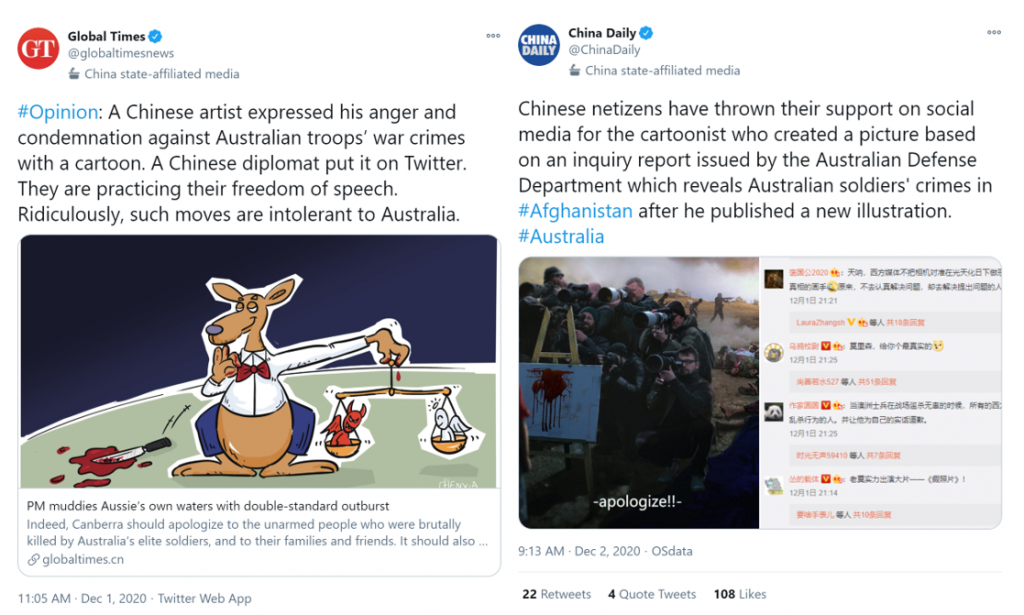 With respect to narratives, Chinese diplomats and state media journalists drew parallels between Zhao's tweet and the Charlie Hebdo cartoons in France to portray China as the real defender of freedom of speech—a freedom that is under threat from a hypocritical West.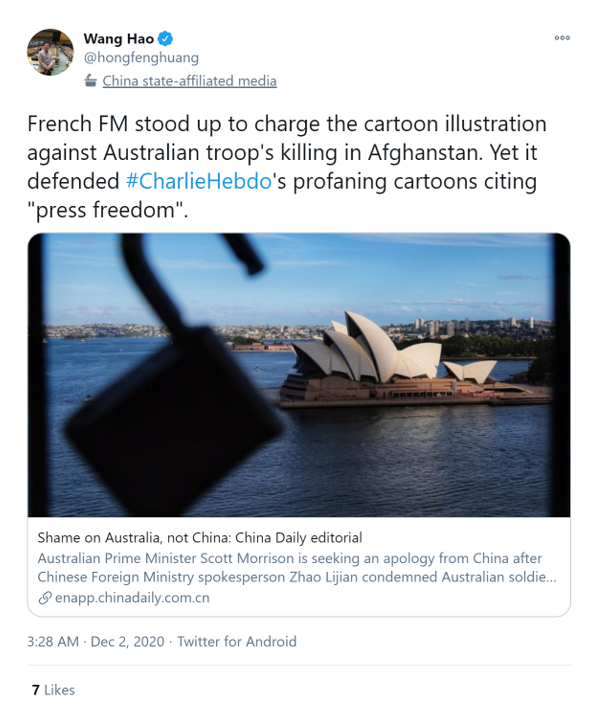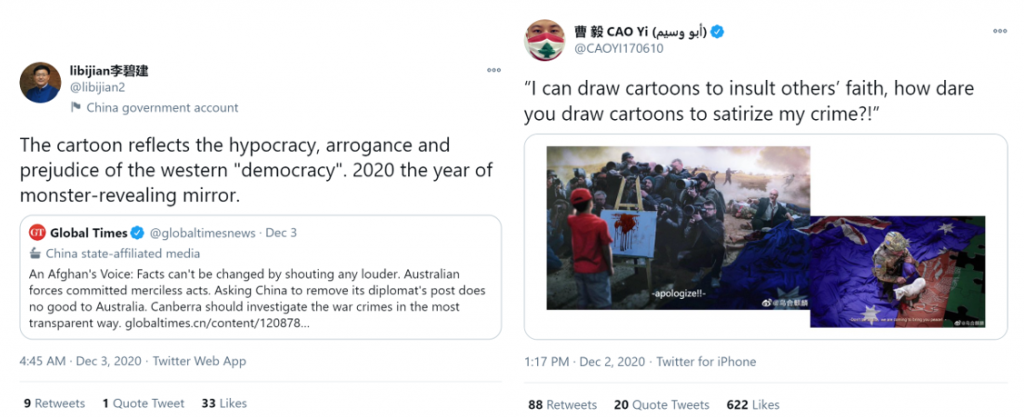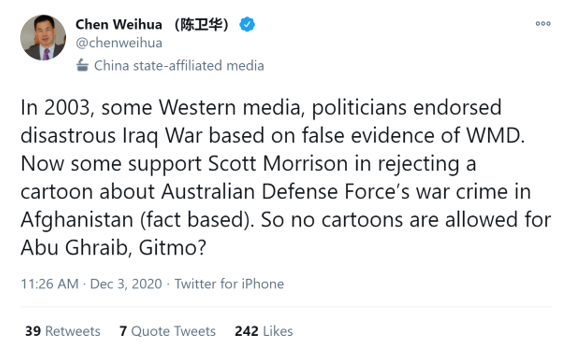 Why It Matters
Alliance for Securing Democracy researchers Bret Schafer and Jessica Brandt wrote in late October 2020 that increased Chinese "wolf warrior" diplomacy on Twitter borrows elements from Russian disinformation tactics while adding several unique plays. In this case, the spike in new Twitter accounts retweeting Zhao's divisive content shows that Chinese diplomats have used "highly suspicious personas to create an illusion of popular backing." The inauthenticity to create the illusion of popular backing by Chinese diplomats and media officials "speaks to sloppier tradecraft than Russian or Iranian diplomats, who rarely engage with suspicious accounts." Also, the reliance on cartoons and other visual supports to propagate Chinese narratives contrasts with the earlier, habitually stiffer format of Chinese communications.
In a phenomenon already observed in the past, it seems that Chinese diplomats and state media, emboldened by the huge engagement numbers of the Zhao tweets, are pushing their aggressive rhetoric as far as possible. A similar phenomenon was on over this summer when a tweet by the Chinese foreign ministry spokesperson denouncing racial injustice in the United States went viral. This prompted the Chinese propaganda apparatus to twist protesters' "I can't breathe" slogan to portray the United States as a racist and oppressive country. While Australia is now bearing the brunt of the Chinese propaganda apparatus' hostility, the head of China Daily's European office also insulted a U.S. senator on December 3, 2020, suggesting that Chinese diplomats and media outlets are once again ramping up their "wolf warrior" diplomacy globally.
The views expressed in GMF publications and commentary are the views of the author alone.