Overview
Russian and Chinese government officials and state media continued to use the ongoing protests and unrest following the killing of George Floyd to portray the United States as a country that is at once repressive and lawless. Beyond highlighting incidents of looting and police brutality (particularly against foreign journalists), both countries also sought to cast the U.S. response to protestors as hypocritical in light of past and present criticisms of human rights abuses in other countries. In the past week, "hypocrisy," "double standard," and related search terms appeared in nearly 200 tweets and 20 articles across the two dashboards. Analysis of those tweets and articles revealed nearly identical talking points, though China framed its "whataboutism" narratives in the context of U.S. support for protesters in Hong Kong, while Russia focused on alleged U.S. hypocrisy around the globe. These messages targeted both U.S. and global audiences, as evidenced by the fact that George Floyd was a top topic and hashtag from accounts as diverse as RT Deutsche and CGTN Africa. While both Chinese and Russian messengers posted or promoted content that was occasionally hyperbolic, often provocative, and almost universally full of schadenfreude, there was scant evidence of the distribution or amplification of false or misleading information. As with the previous week, the goal appeared to be damaging the appeal of western democracy at home and undermining U.S. credibility abroad, rather than influencing or radicalizing protestors in the United States.
Russia Toplines
Like the previous week, coverage of the George Floyd protests and related developments dominated the Russian media ecosystem last week. Prominent themes associated with this topic included commentary on the impact of systemic racism and police brutality in the United States on the country's global standing, emphasis on scenes of chaos and destruction, and incidents of violence against journalists covering the demonstrations. A small amount of content also pushed back on the idea of Russian involvement in the protests, recycling the standard argument that Russia is used as a scapegoat for domestic problems in the West – a position that Russia takes whenever any such claims are made. The coronavirus also remained an important topic, with pandemic coverage essentially sticking to basic news updates as the primary focus shifted to the demonstrations.
China Toplines
Chinese state media, as well as social media accounts from officials and diplomats, devoted a significant part of their attention to the protests and demonstrations that have taken place in cities across the United States and beyond in the aftermath of the killing of George Floyd. The salience of the topic was apparent in the coverage of recurring issues such as unrest in Hong Kong or COVID-19, which were frequently oriented so as to mention American protests. By shining a spotlight on discrimination in the United States and anti-racism reactions across the globe, Beijing portrayed its rival as completely isolated, even from its closest allies.
Russia
George Floyd Protests Dominate Russian State-Funded Media:
The George Floyd protests were the top story last week across the platforms tracked on Hamilton – Twitter, YouTube, and state-sponsored news websites. The topic was particularly dominant on Twitter, as evidenced by the top hashtags for the week:
Russian state-funded media and government and diplomatic corps accounts:
Top 10 Hashtags – May 30-June 5:
Racism in the United States has long been a key aspect of Russian, and earlier Soviet, systemic criticisms of the United States, pre-dating the Cold War and going back to the earliest days of the Soviet Union. (See, for instance, the plot of the 1936 Soviet film Circus, in which an American circus performer gives birth to a biracial black child and is ostracized in the United States, only to find love and acceptance among the multiethnic peoples of the Soviet Union.) Continuing heavy coverage of the George Floyd protests from Russian state-funded media, as well as diplomatic statements about the demonstrations, have again taken up this line of critique. In particular, they have emphasized claims of hypocrisy in U.S. diplomatic efforts to champion human rights abroad while cracking down on peaceful protestors at home. It is important to note that this message was not only targeted at American audiences, as George Floyd was a top topic and hashtag across many of RT and Sputnik's local and regional outlets, from Latin America to Europe:

"US oppression of their people similar to its global policy, says Iran's supreme leader," TASS, June 3, 2020.
"US authorities' oppression of their people is similar to Washington's approach to other states, Iranian Supreme Leader Ali Khamenei said Wednesday in a speech broadcast by the nation's state TV."
"'Looting is the price of freedom!' Washington has conveniently forgotten its cynical advice to post-invasion Iraq," Op-ed, RT, June 2, 2020.
"As the United States finds itself overwhelmed with protests and riots raging across the nation, its unsolicited past advice in places like Hong Kong and Iraq under similar circumstances is coming home to roost, with a vengeance . . . Today, history has been flipped on its head as the US finds itself attempting to restore law and order following the videotaped killing of a black man at the hands of a white police officer. As this tinderbox moment threatens to blow, Washington would like nothing more than for foreign governments around the world to just shut up and mind their own business. Of course, that is unlikely to happen, since not even nationwide riots have curbed America's appetite for lecturing others."
"America masterminded 'color revolutions' around the world. Now the very same techniques are being used at home," Op-ed, RT, June 2, 2020.
"Peaceful protests degenerating into riots and arson, followed by violence, clashes with police and political demands for regime change: today's America, or what happened in Ukraine, North Africa and Serbia – or both?"
"As George Floyd protests rip through America, mask of free liberal democracy is slipping," Op-ed, RT, June 3, 2020.
"What's happening in the US is a head-on collision between the story the establishment tells Americans about their country, and the reality. This disparity has been stretched to breaking point."
"George Floyd Protests Highlight Social Injustice, 'Endemic' Racial Bias in US, UN Official Says," Sputnik News, June 2, 2020.
"For a week now US cities have been rocked by large-scale protests against police brutality, negligence towards the black population, and those of colour following unarmed African American resident of Minneapolis, George Floyd, being killed by the police. UN High Commissioner for Human Rights Michelle Bachelet has stated that the protests, currently happening in the US, highlight a whole array of issues in American society. She noted that among them are not only police violence against people of colour, but also inequalities seen in health, education, employment, as well as "endemic racial discrimination"."
"Hong Kong's Lam Blasts US for 'Double Standard' Security Law Criticism Amid Protest Repressions," Sputnik News, June 2, 2020.
"Hong Kong Chief Executive Carrie Lam sharply criticized the US on Tuesday for applying a "double standard" to the city's new national security law being drafted by Beijing, as the US has seen widespread police repression and violence against Black Lives Matter protesters."
"Videos of US lynchings deal blow to US soft power – Galloway," RT America, June 2, 2020.
"As global protests for Black Lives Matter and George Floyd continue, some of the larger gatherings abroad have been seen in London and across the UK."
One notable narrative emphasized scenes of chaos and destruction related to the protests, primarily though not exclusively at the beginning of the week. Most notably, RT America featured the graphic below in  videos related to the protests – even in coverage of peaceful demonstrations and the memorial service for George Floyd in Minneapolis: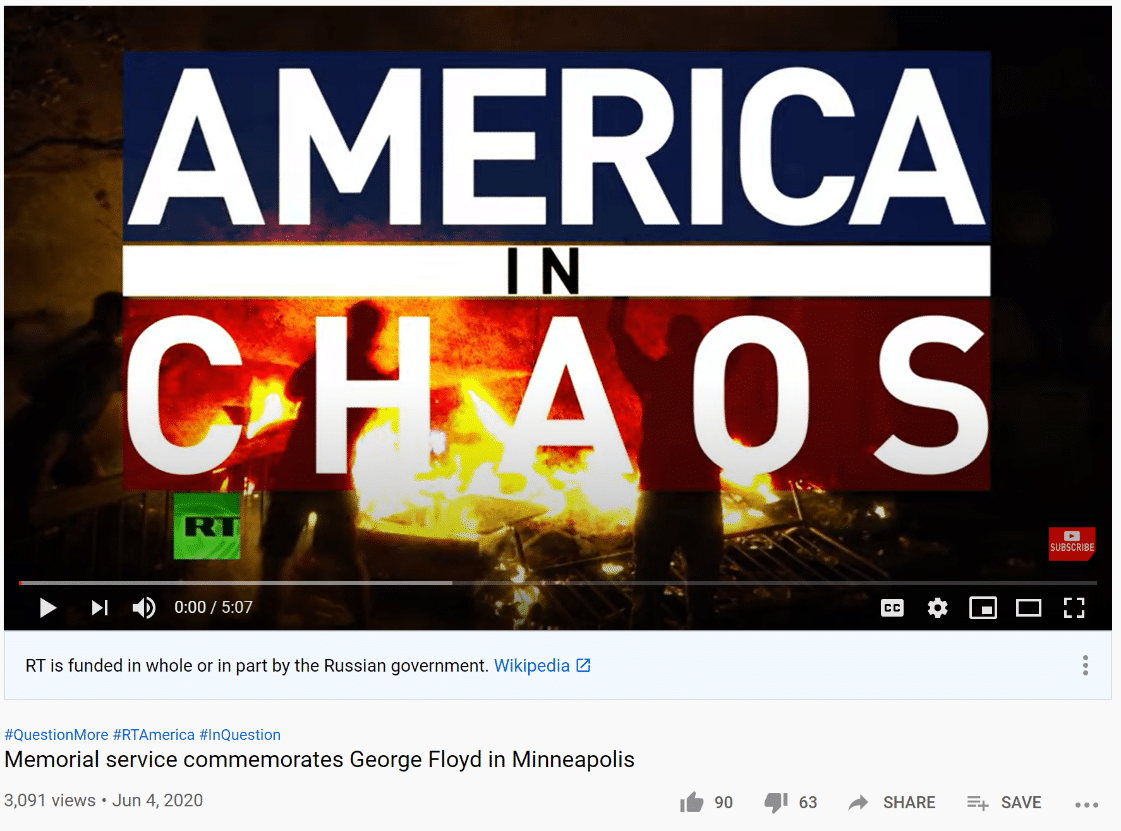 Additional examples of this focus included: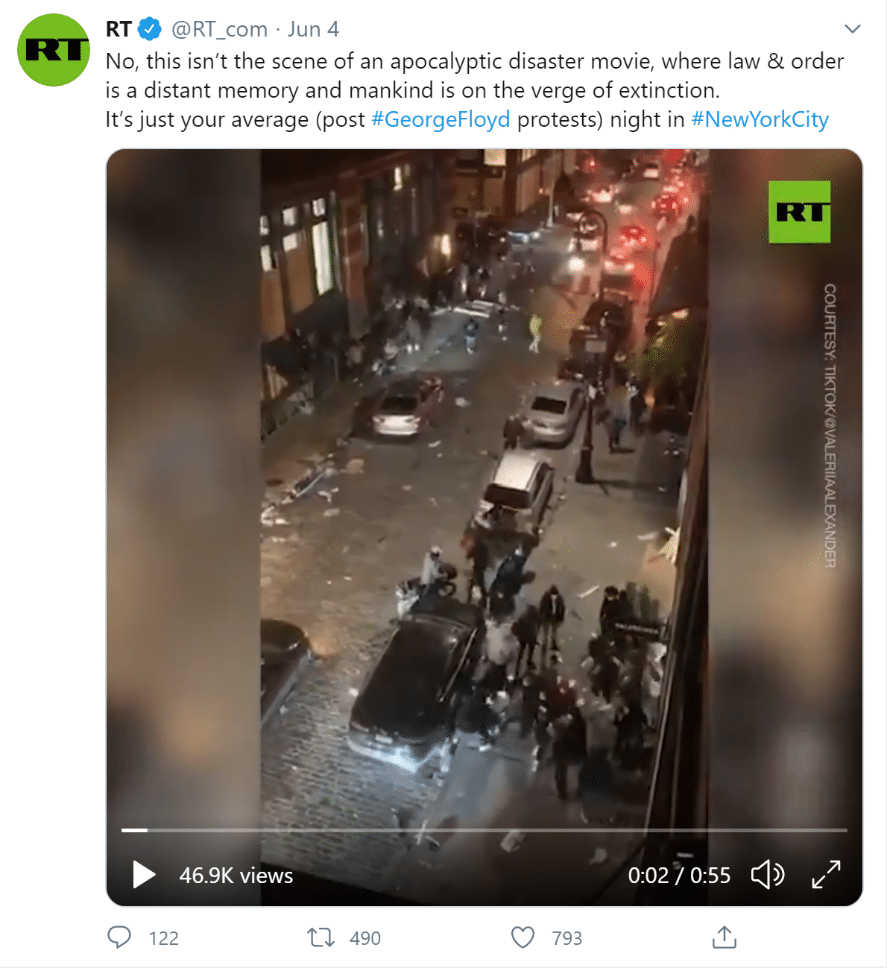 Russian state media and government officials have also highlighted incidents of law enforcement assaulting journalists covering the demonstrations, especially following two cases where Russian journalists were injured covering protests in DC: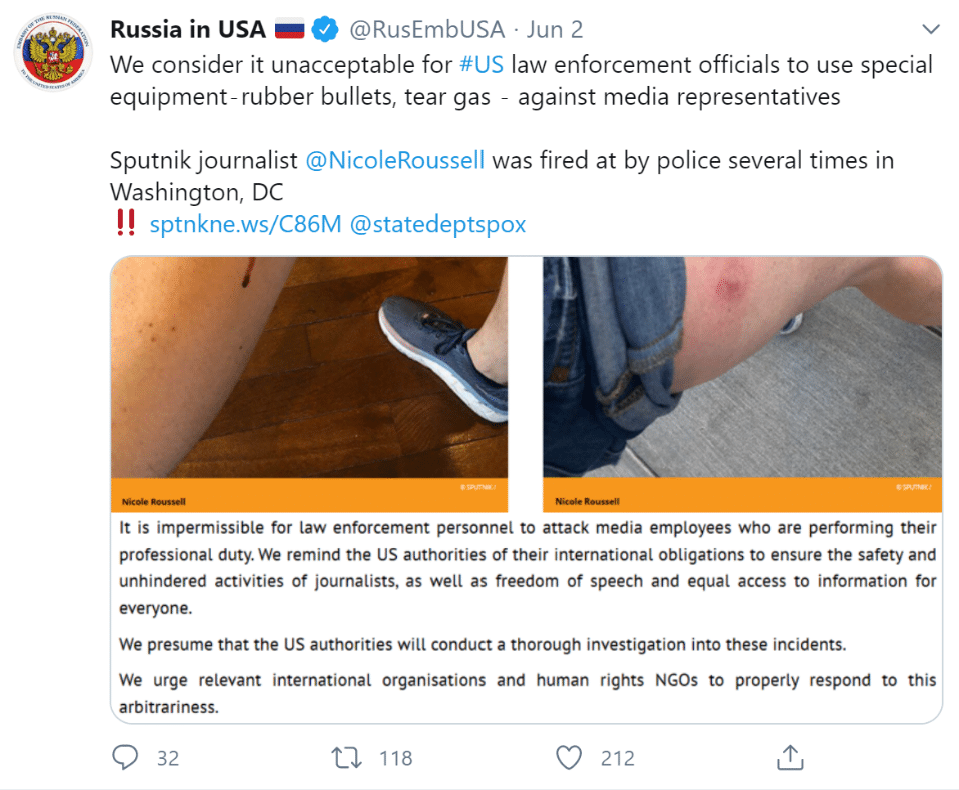 "'Looking Me in the Eyes He Shot Me' – Sputnik Journo on Police Attack During George Floyd Protests," Sputnik News, June 2, 2020.
"The protests over the death of George Floyd, an African-American man who died at the hands of a white police officer, are continuing unabated in the United States. From Minneapolis, where Floyd died, to Washington, DC, journalists covering the demonstrations have been repeatedly assaulted by the police and protesters. Nicole Roussell, a Sputnik journalist in Washington, DC, said she was shot by police at a protest over the death of George Floyd near the White House, despite the fact that she identified herself as a journalist and showed officers her press card. The incident occurred when police started dispersing a large group of demonstrators that were protesting peacefully. Together with her colleague, she went close to the scene thinking that being a journalist she would be protected."
"Moscow demands the US stop police brutality against media workers," TASS, June 2, 2020.
"The Russian Foreign Ministry demands that US authorities immediately take measures to prevent police violence against media workers. "We demand that the US authorities immediately take measures to prevent the situation in which journalists become the targets of police abuse. We state with concern that the situation with media rights in the US is getting worse day-by-day," the ministry said in a commentary circulated on Tuesday. Moscow is outraged by the incident in which Sputnik producer Nicole Roussell received wounds while covering mass protests in front of the White House, seeing it as an unfriendly move from the US."
"Rossiya Segodnya to Consider Suing After US Police Attack on Journalists, Editor-in-Chief Says," Sputnik News, June 2, 2020.
"Rossiya Segodnya information agency will consider legal action after US police attacked journalists of RIA Novosti and Sputnik, who were covering protests, Editor-in-Chief Margarita Simonyan said Tuesday."
"'Go The F**k Home': US Cops Manhandle, Force Journalists to Stop Covering Protests – Video," Sputnik News, June 3, 2020.
"The Associated Press has issued a reprimand to the New York City Police Department (NYPD) after affiliated cops were seen verbally and physically harassing two journalists attempting to cover Tuesday night's protests in the lower Manhattan borough of NYC."
"Australian Embassy to File Complaint on Behalf of News Crew Attacked by Police Near White House," Sputnik News, June 4, 2020.
"Canberra has launched an official investigation into US police violence against an Australian news crew when a journalist and cameraman were attacked with tear gas among crowds near the White House. The incident was captured on live television. The Australian Embassy in Washington, DC, has reached out to the US State Department after a reporter and cameraman for Australia's Seven Network were beaten by police just outside the White House at Lafayette Park."
A small amount of content pushed back on claims of Russian involvement in the protests, characterizing them as part of a pattern of blaming Russia for internal U.S. issues. This included a rebuttal/trolling from the official MFA account to claims of malign Russian social media activity made by former U.S. National Security Advisor Susan Rice.  (It should be noted that, while Russia is heavily engaging with the demonstrations on a narrative level, no evidence so far has pointed to any impact on the protesters.)



"George Floyd Protests: Rice's Shifting the Blame to Russia is 'Paranoia Squared', Observers Say," Opinion, Sputnik News, June 2, 2020.
"The death of a 46-year-old African American at the hands of a white police officer has poured salt in America's old wounds and revived the spectre of the 2012 Black Lives Matter movement. And yet, a high-profile Obama-era aide has somehow caught the glimmer of Moscow's hand behind the widespread riots."
Twitter:
The dashboard collected about 17,000 total tweets from May 30-June 5, of which only about 11 percent mentioned "virus," "covid," "outbreak," or some combination thereof – another decline week-on-week. This figure compares to about 15 percent that mentioned "protest," "Floyd," or both. Pandemic coverage continued to focus largely on basic news updates.
Websites:
Russian government-funded websites:
On Russian government-funded news websites, about 27 percent of output mentioned "protest" in the first 200 words, compared with 24 percent that mentioned "virus." This marks another week of relative decline in pandemic-related content, which again mainly focused on straight news coverage. Notable among the top articles by Facebook shares about the coronavirus were articles on the Chinese lab origin theory, an op-ed critical of UK government messaging about the pandemic, and an op-ed blasting the alleged hypocrisy of those who abandoned previous calls for social distancing in light of the massive George Floyd protests:
"Coronavirus was released from Chinese lab by 'accident', former MI6 chief claims, cites new study as proof," RT, June 4, 2020.
"A new peer-reviewed study shows that the Covid-19 outbreak started as a faulty experiment in China, the ex-head of MI6 says. The paper he cited was reportedly "watered down" to remove accusations against Beijing."
"Is public opinion on Covid-19 being shaped by facts – or 'terrorized' by propaganda?" Op-ed, RT, May 30, 2020.
"Have сensorship of scientists, alarmist messaging and conspiracy theory smears all been used to reinforce the 'official' narrative on coronavirus? Can these distortions ever be justified? One of the problems with researching and writing about propaganda is that so many people believe it is something alien to democratic states."
"We were told for months we'd never gather in public again 'because Covid-19.' Where do the week's riots leave 'social distancing'?" Op-ed, RT, June 1, 2020.
"The same people who convinced Americans to lock themselves inside for months for fear of a killer virus have forsaken Covid-19 to urge us all to join nationwide protests. If anyone took them seriously before, those days are over. Media, politicians and celebrities who spent the past three months lecturing Americans about the importance of staying home and keeping at least six feet away from all other humans lest they catch or spread the deadly coronavirus have suddenly pivoted on a dime – seemingly as one – to cheering on those Americans defying their advice to pour into the streets and join nationwide protests against police brutality."
In website articles and opinion pieces on topics other than the George Floyd protests and coronavirus updates, both Sputnik and RT published pieces critical of the UK reversal of its previous decision to allow Huawei into its 5G infrastructure:
"BoJo's decision to throw Huawei 5G deal on the scrapheap shows UK poodle still obeys its US master," Op-ed, RT, June 3, 2020.
"The British prime minister's hasty U-turn on a deal with China's Huawei will cost tech firms and the taxpayer a fortune, and means Donald Trump has got his way again. When Boris Johnson announced earlier this year Huawei had been given the green light to supply the UK with non-core equipment for its new 5G network, onlookers were impressed that the prime minister had stood up to Donald Trump, who was dead against the deal and, according to reports at the time, was "apoplectic" in a phone call to Downing Street."
"Market Access, Not Cybersecurity Behind US Push to Block Huawei From UK's 5G Networks – Official," Sputnik News, June 3, 2020.
"A top official at the Chinese tech firm blasted comments from a US senator at a British Parliament meeting accusing the company of endangered US troops, among other accusations, it was revealed in a statement on Tuesday. Huawei Technologies vice-president Victor Zhang slammed comments from a UK Defence Committee session discussing the company's alleged threat to UK national security, it was revealed in a statement on Tuesday . . . [Zhang] said: "It's clear its market position, rather than security concerns, underpins America's attack on Huawei as the committee was given no evidence to substantiate security allegations."
Also of note, Sputnik covered a conference held in Russia discussing "the anti-Russia information campaign being waged by foreign governments," and criticized Facebook's recent decision to label state-backed media outlets:
"Conference on Information Campaign Against Russia Held at Rossiya Segodnya News Agency," Sputnik News, June 3, 2020.
"The conference's attendees discussed the goals being pursued by Western countries in their attempts to vilify Russia and the means they are using to achieve this. A conference attended by experts on international relations, politics, and the media space has been held at the Rossiya Segodnya News Agency to discuss a report by the Kribrum analytical agency on the anti-Russia information campaign being waged by foreign governments. The experts discussed Western governments' attempts to wage the campaign in recent years, in which they have blamed Moscow for both real domestic problems and for completely made-up incidents. The goal has been to label Russia as an "aggressor state" and vilify it in order to justify hostile actions against Moscow, even if they violate international laws, according to the attendees."
"Facebook to Put Labels on Russian, Chinese 'State-Controlled' Media but Will Omit US Outlets," Sputnik News, June 5, 2020.
"The social media giant, which has long sought to quell fears about foreign interference in US elections, has also decided to label ads by foreign state-backed news organisations on the platform – while it consistently refuses to fact-check potentially misleading domestic advertising. Facebook has introduced a picky new policy warning users that some, but not all, media outlets are sponsored by their governments."
Broadcasts:
Russian state-owned media:
About 40 percent of output from Russian state-owned media on YouTube addressed the George Floyd protests, while about a third covered some aspect of the coronavirus.
Among videos not covering pandemic news updates or the George Floyd protests specifically, RT America covered the controversy surrounding Facebook's decisions regarding the removal or non-removal of content:
"Panel: Is Facebook biased against free speech?" RT America, June 3, 2020.
"Facebook CEO Mark Zuckerberg has long been criticized as "left-leaning" and of catering to a left-wing audience on his platform. But today he's getting heat from people who lean left for refusing to remove President Trump's latest remarks that "when the looting starts, the shooting starts." Some of this criticism is coming from within the ranks of Facebook itself."
RT UK also continued its reporting on the intersection of race and coronavirus deaths in the UK, amid disproportionate death rates for ethnic minorities in the country:
"Is racism contributing to high BAME Covid deaths?" RT UK, June 2, 2020.
"Could racism be causing the higher likelihood of BAME people dying of Covid-19? Human rights barrister Peter Herbert OBE explains why he believes it's contributing."
Finally, as per usual, RT UK covered an update on WikiLeaks founder Julian Assange:
"Julian Assange unable to attend hearing due to poor health." RT UK, June 1, 2020.
"Julian Assange unable to attend hearing due to poor health. Protesters gathered outside Westminster Magistrates' Court while an administrative hearing took place for the #Wikileaks co-founder. A decision on where part two of Assange's hearing will be located was not made during the proceedings."
China
Making lemonade out of American lemons:
The killing of George Floyd and the resulting protests that have shaken the United States were at the center of the Chinese messaging last week. On Twitter, #GeorgeFloyd was the third most-used hashtag after #COVID19 and #China, surpassing #HongKong, which had been a messaging priority over the two previous weeks.
Compared to the previous week, China's communications last week seemed less connected to events in China or in Hong Kong and focused more directly on the violence and chaos taking place in the United States. On Twitter, Global Times, a nationalist tabloid that constitutes the tip of Beijing's more aggressive messaging spear, was sharing and amplifying video content produced by others, simply adding its own editorial line.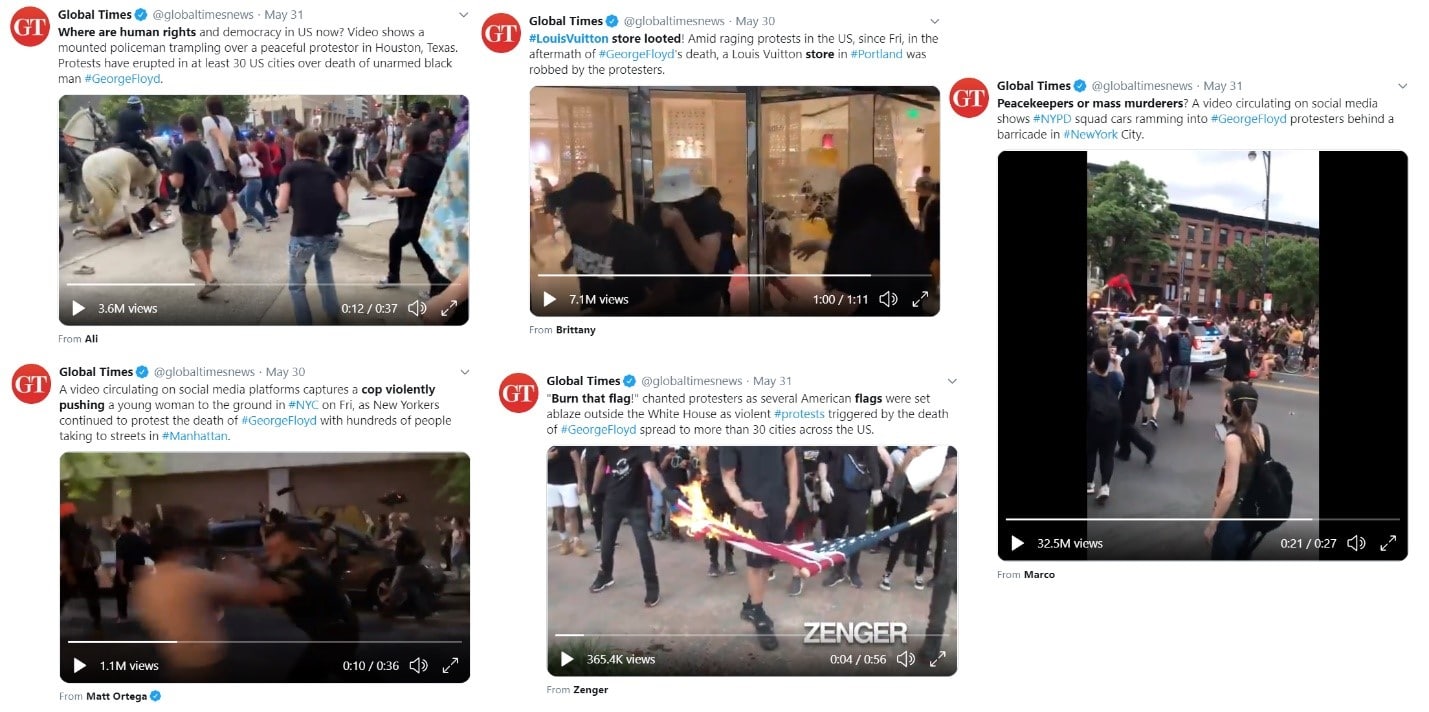 However, criticism of the United States' presumed hypocrisy, particularly concerning Hong Kong, remained a key theme.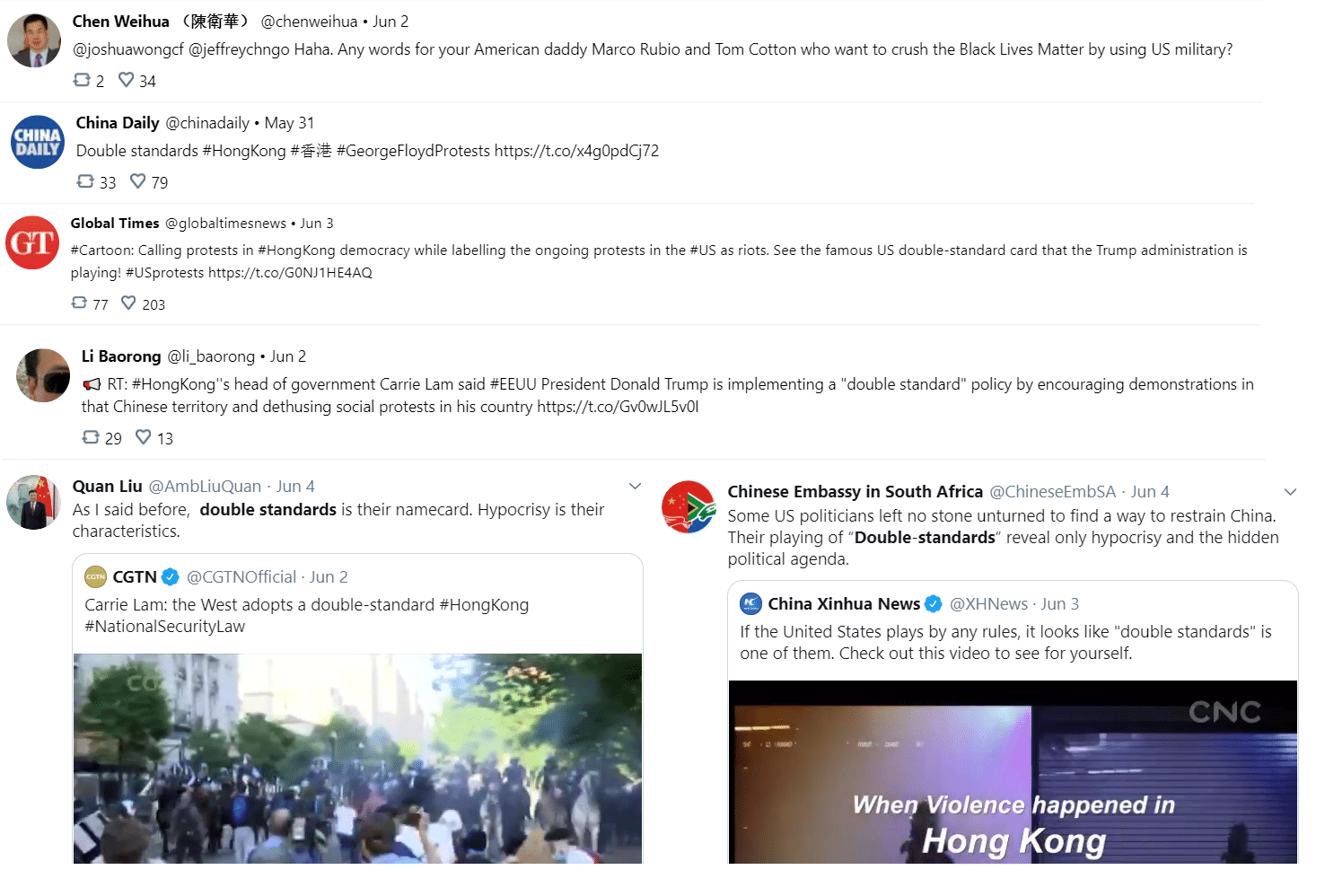 Beyond more general critiques of U.S. "double standards," Chinese MFA spokesperson Hua Chunying's "I can't breathe" tweet (see last week's report for more details), was widely adopted and repurposed by Chinese state media and government officials.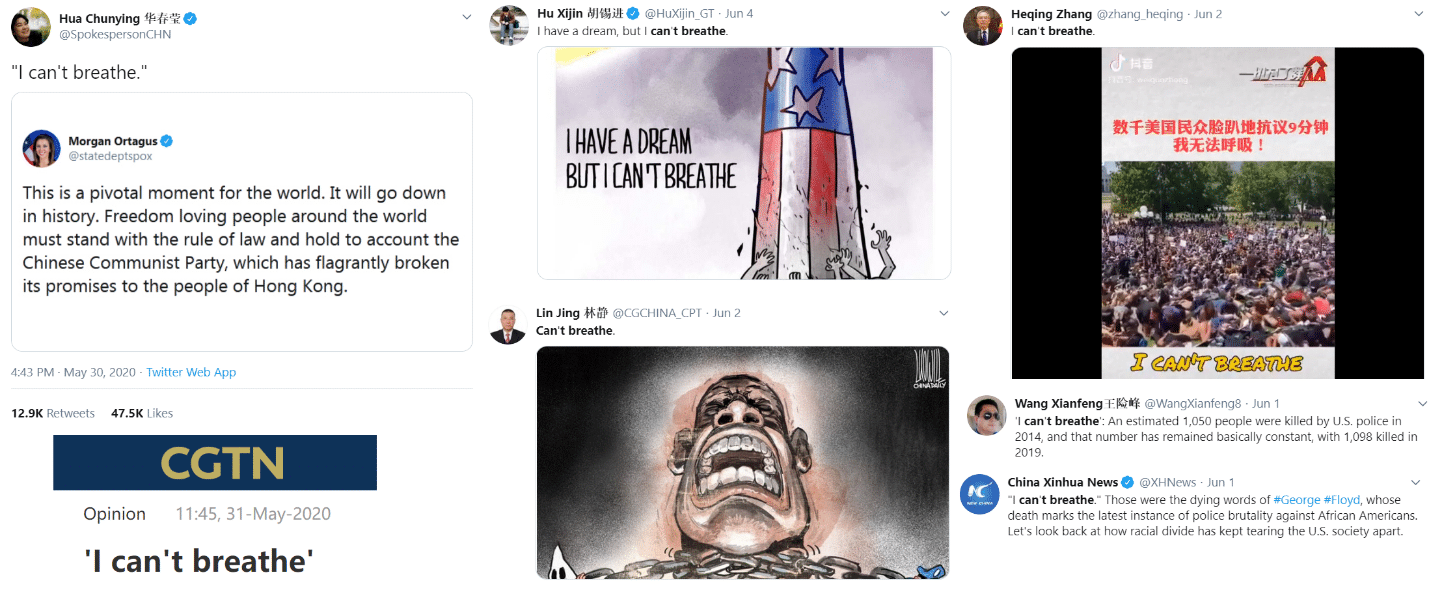 That is not to say that all Chinese attempts to blend in with the ongoing conversation about racism and police brutality were equally successful. Following her "I can't breathe" tweet, Hua proceeded to comment "all lives matter" – a line often used by those opposed to the Black Lives Matter movement – in support of an anti-racism statement by the Chairperson of the African Union Commission. Not only did this reaction garner far less likes and retweets than her original tweet, it also received a proportionately higher amount of replies, usually a sign that people object to the tweet. Many of the replies pointed to the poor treatment of Africans living in China, particularly during the COVID-19 outbreak. Hua's account remained silent for the rest of the week.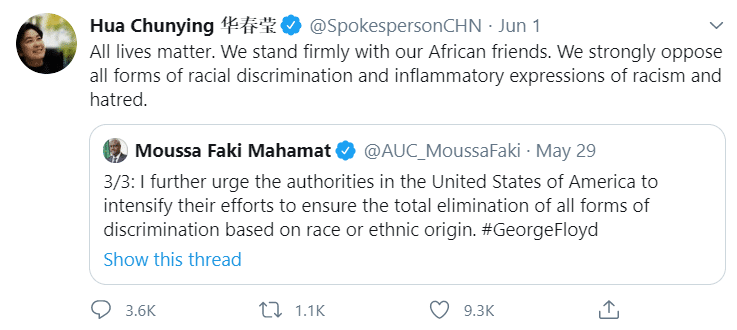 Seemingly unrelated, Hua's deputy had a message of friendship for Africa the following day.

Beijing's attempt to portray itself as a paragon of anti-racism was particularly visible in Chinese state media articles that shot to prominence on Facebook. The two most shared stories last week were "World reacts to Floyd death: Calls for justice, end to racism" and "China urges U.S. to eliminate racial discrimination, protect minorities." The latter prominently featured the statement from the African Union Commission Chairperson and stated that China would work together with Africa against racism to build "a universal consensus of the international community."
America alone:
Beijing's eagerness to portray the United States as isolated (a theme that began with COVID-19 messaging), was evidenced by Chinese state media coverage of Black Lives Matter and anti-racism demonstrations taking place around the world.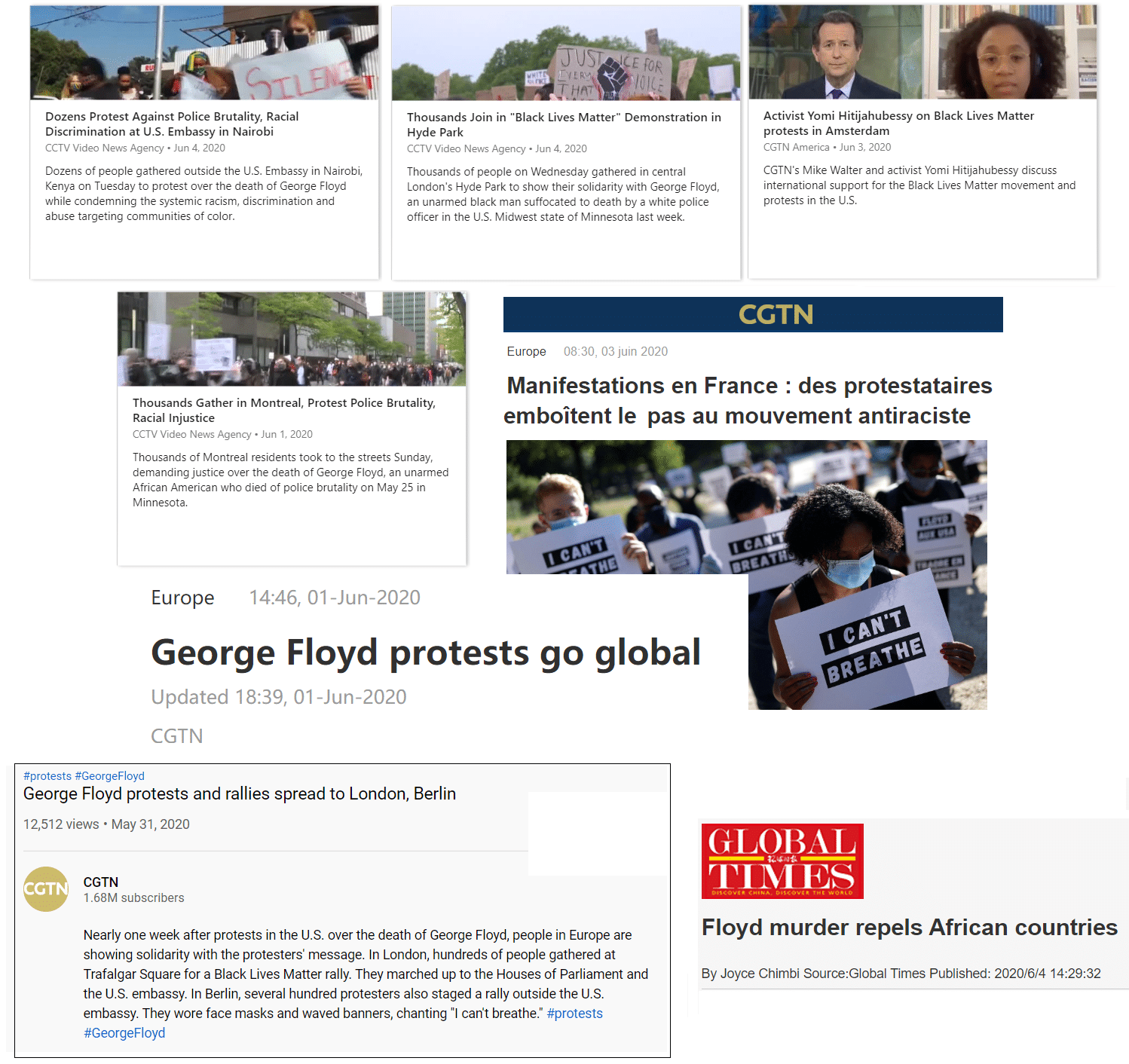 To further highlight the isolation of the United States, Beijing was even willing to lionize Justin Trudeau. This is remarkable given that, just a few weeks ago, the Chinese government had strongly condemned a decision by Canadian courts that could pave the way for the extradition of Huawei Chief Financial Officer Meng Wanzhou to the United States.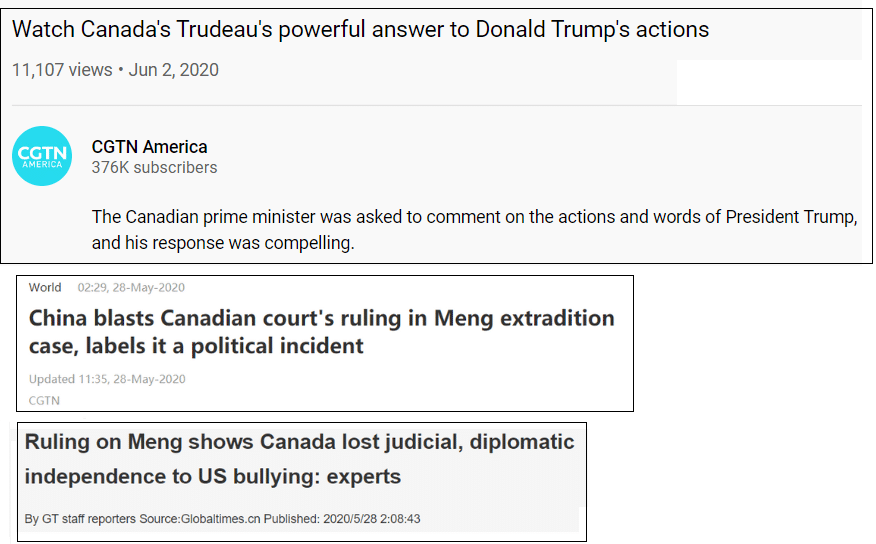 Beijing's coverage of President Trump's announcement that the United States was exiting the WHO was also used to cast the country as selfish and isolated.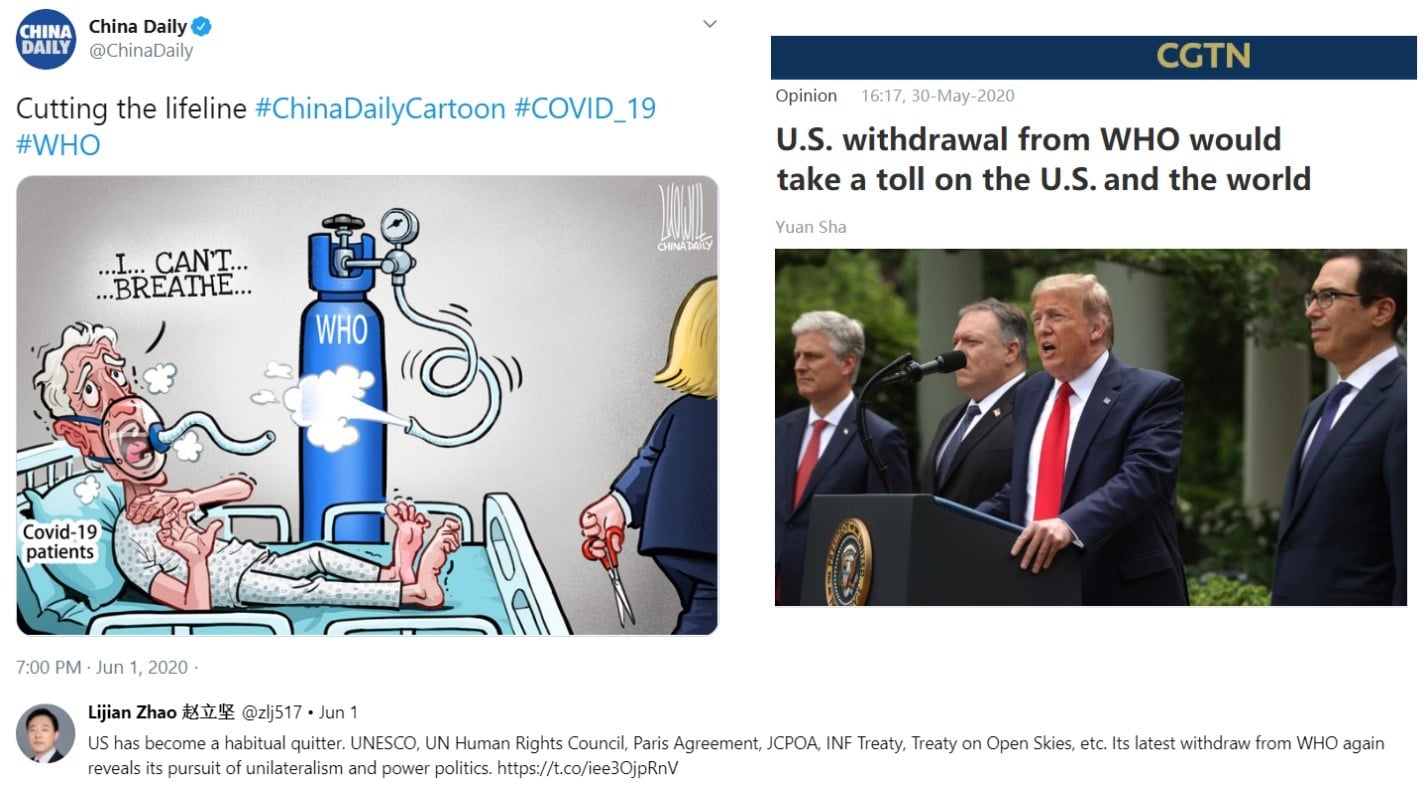 Twitter:
Chinese state-funded media and government and diplomatic corps accounts:
Top 10 Hashtags – May 30-June 5: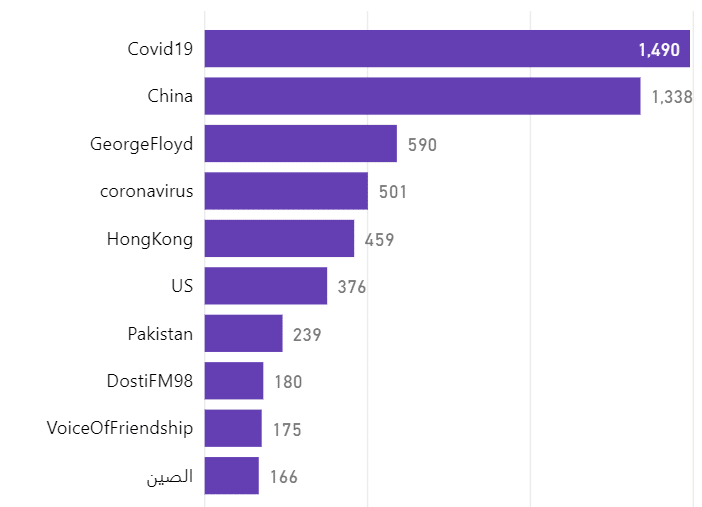 The Hamilton dashboard collected about 17,000 tweets from Chinese state-funded media and government Twitter accounts from May 30 to June 5, down slightly as compared to the previous week. While COVID-19 was still the most frequent hashtag in the network's communications, it was on a downward trend as compared to previous weeks. In addition, a portion of the tweets using virus-related hashtags were, in fact, focused on racism and protests in the United States.

Websites:
Chinese government-funded websites:
The focus this week was racism and protests in the United States, with six of the ten most shared stories on Facebook related in one way or the other to those topics. Outside of Floyd coverage, the third most shared story on Facebook from Chinese state media concerned the search for a vaccine and China's ambition to position itself as a world leader in healthcare.
"Zhong Nanshan: The progress of China's vaccine research is ahead of the world" CGTN (May 31, 2020)
"Zhong Nanshan, China's top respiratory expert, said China has five vaccines in phase II clinical trials and the progress of China's vaccine research is much ahead of the rest of the world."
Among other widely shared articles on Facebook, CGTN covered a rebuke of recent declarations from the British government concerning Hong Kong, suggesting that the issue is still very much near the top of Beijing's priority list.
"China lodges stern representations with UK over Hong Kong comments" CGTN (June 3, 2020)
"China's Foreign Ministry spokesman Zhao Lijian said (…) foreign countries including the UK must stop interfering in China's affairs. Britain now has no jurisdiction or supervision over Hong Kong (…) The UK should abandon the Cold War mentality and colonialism mentality and stop interfering in China's internal affairs in accordance with international law and rules, Zhao said."
Broadcasts:
Chinese state-owned media:
Continuing a recent trend, Chinese state media consistently singled out Brazil's poor handling of the COVID-19 crisis, this time with more emphasis on China's positive role in alleviating the country's crisis. As noted in last week's report, China has engaged in a months-long war of words with Brazilian officials after Brazilian President Jair Bolsonaro criticized China's initial response to the pandemic:
"Mixed Reactions Among Rio Residents After Easing of Lockdown Restrictions" CCTV (June 5, 2020)
"The thing that I'm most afraid of is that with this relaxing of the rules and with the WHO saying Brazil has not reached the peak yet, we will face a tragedy, a catastrophe."
"Sao Paulo's official says China is No. 1 partner in fighting COVID-19" CGTN America (June 4, 2020)
"China is the main commercial partner of the Brazilian state of Sao Paulo – the richest and most industrialized region of the country. Now the Chinese have also become the state's main international partner in the fight against the coronavirus."
"Brazil reopening despite record COVID-19 deaths" CGTN America (June 4, 2020)
"Brazilian President Jair Bolsonaro continues to downplay the virus even as the death toll skyrockets. In Rio de Janeiro, the mayor has announced the beginning of a six-step reopening of the city even as the WHO says the peak of the pandemic is still weeks away."
"A day in the life of a paramedic in Brazil" CGTN America (June 4, 2020)
"Sao Paulo has a total of 120 ambulances for (…) its population of roughly 12 million people. Health care professionals have a firsthand view of the hardships that people have faced during the pandemic – with problems extending far beyond the coronavirus itself."
"Mayor of Rio de Janeiro thanks China for support in COVID-19 fight" CGTN America (June 4, 2020)
"Rio de Janeiro – the country's second hardest-hit city after Sao Paulo is receiving tons of donated and purchased medical equipment from China."
A few stories also covered this week's scientific and technological advances of the moment; however, each of these segments also had a geopolitical bent:
"Dr. Rishi Desai gives his take on unproven herbal cures for coronavirus" CGTN America (June 3, 2020)
"Madagascar and other Indian Ocean countries are arguing that Western medicine refuses to accept traditional African medicine (…) why does that tend to happen?" "There does tend now to be a lack of trust, especially from African countries over potential vaccines from the West (…) Why is that?"
"Watch as NASA and SpaceX make history" CGTN America (May 30, 2020)
After a minute of standard coverage of the launch, the video explains that "Overall, this system has been successful, but there have been some early failures." What follows is a compilation of Space X rockets blowing up.
The views expressed in GMF publications and commentary are the views of the author alone.