September was an important month for German politics with the federal elections taking place on September 26. Our pre-election analysis demonstrated the reach of and bias in Russian coverage ahead of the elections. Both before and after the elections, Russian actors attempted to sow doubts about the legitimacy of the elections by highlighting alleged irregularities in the election process and an alleged drastic decline in election observers in Germany. Turkish media covered niche party "Team Todenhöfer" very favorably ahead of the elections and advised against voting for parties with positions that were considered pro-Kurdish or critical of President Recep Tayyip Erdoğan.
Apart from the election, Russian media extensively covered the ban of RT Deutsch's YouTube channels, continued to spread anti-vaccination misinformation, and promoted Russian interests on foreign policy issues such as Nord Stream 2 and Afghanistan. China remained primarily focused on its own positive image abroad, highlighting its success in combating Covid and supporting vaccine production abroad. Both Turkish and Iranian actors continued to stress topics relevant to their national interests.
Election Coverage
Both Turkish and Russian media covered the run-up and the aftermath of the German federal elections.
Despite biased coverage of chancellor candidates Armin Laschet, Olaf Scholz, and Annalena Baerbock earlier in the campaign, Russian state-backed media's coverage around the election was more balanced. SNA News even posted about a study published by civil society organization Avaaz that found that Baerbock was a more frequent target of disinformation than any other candidate. Nonetheless, Russian media also continued to share negative reports about Baerbock, which receive considerable attention. A tweet from September showed how anti-vaccination protesters (the tweet refers to them as anti-mandatory vaccination protestors) disturbed a campaign event and demanded that "Baerbock must go." This was the second most liked and retweeted Russian post about Baerbock of the entire year. The second most popular tweet from September about Baerbock covered the latest allegations from a plagiarism hunter, reupping earlier accusations made against the Green candidate. While Russian media also shared polarizing articles about Laschet and Scholz, these tweets did not create nearly as many interactions as did the posts about Baerbock. 
In the run-up to the election, Russian media also tried to undermine trust in the democratic process. RT Deutsch's reporter Florian Warweg falsely stated that the Organization for Security and Cooperation in Europe (OSCE) was sending considerably fewer election observers to Germany this year and suggested a higher susceptibility to election fraud or irregularities due to this change. In fact, as a report by the fact checking team Correctiv shows, the OSCE's election expert team in 2017 consisted of three people, while in 2021 four international observers came to Germany. The 56 members of the OSCE's parliamentary assembly who came to Germany in 2017 were not regular election observers and served a primarily symbolic purpose. After Correctiv debunked Warweg's statement, he accused them of working manipulatively—a claim that RT Deutsch retweeted. Russian media also covered a mistake by public broadcaster ARD two days before the elections. The German TV channel had mistakenly displayed a banner with forecasted election results. RT Deutsch used this slipup to sow doubts about the integrity of the election. After the election, Russian media highlighted an irregularity in the election process. A tweet highlighting a vote counting error in Göttingen was one of the most retweeted posts of the month.
Turkish state-backed media covered the niche party "Team Todenhöfer" very favorably ahead of the elections. While German media posted about the party's head, former CDU member Jürgen Todenhöfer, four times over the course of the full year, TRT Deutsch published four tweets in September alone, all describing him very positively.
This particular interest in a fringe party can be explained by Todenhöfer running on a platform that favors a different policy towards Turkey and calls for "change through rapprochement" vis-à-vis Russia and Turkey.
In contrast, Turkish media gave other parties and politicians mostly negative coverage. One of the most retweeted tweets by Turkish media in September addressed the Green Party's candidate Vaniessa Rashid, who ran for a seat in parliament. Turkish media scrutinized her for her pro-Kurdish positions and explicitly advised against voting for the Greens due to Rashid's position. Another tweet criticized Deutsche Welle for their favorable coverage of a left politician who is also openly pro-Kurdish and sympathizes with groups close to the Kurdish PKK group, which the Turkish government considers a terrorist organization and has been banned from operating in Germany since 1993.
Ahead of the elections, Turkish media also discussed different election scenarios from a perspective of Turkish-German relations. One article took the perspective of the Turkish government and primarily assessed parties based on their treatment of Turkish President Erdoğan and a rejection of the PKK, concluding that the FDP, the Greens, and the Linke were not desirable coalition partners. The second most retweeted tweet from Turkish actors using the elections' hashtag "btw2021" gave an overview of the parties' election programs' positions on Islam. These examples demonstrate how Turkish state-backed media's primary focus rests outside the top German election topics and instead prioritizes issues such as a favorable treatment of the Turkish government, a clear stance against the PKK, and Islam. 
Other Topics
Russia
YouTube Ban
On September 28, YouTube deleted RT Deutsch's channel as well as their second channel "Der fehlende Part," (The Missing Part), which had been used to bypass temporary bans on the platform. YouTube cited "heavy or repeated violations of community guidelines" regarding the spreading of medical misinformation, as well as attempts to circumvent temporary bans, as the reasons for the permanent closing of the accounts. In an article about the ban, RT Deutsch insinuated that the deletion was related to the election as the ban came into effect right before the election despite the fact that some videos of concern were a couple of months old. RT's CEO Margarita Simonjan spoke of censorship and a "media war" waged against Russia. She also demanded the banning of Deutsche Welle and other German media in Russia in an act of retaliation, ignoring that the ban had not been influenced or connected to the German government but had been put in place by YouTube, a private U.S. company. RT Deutsch also discussed the Russian government's threats to block YouTube in Russia should the ban not been reversed. The top three retweeted Russian posts of the month all revolved around RT Deutsch's YouTube ban.
These tweets generated so many interactions, that they are among the five most retweeted tweets by Russian state-backed accounts of all of 2021.
Coronavirus
Russian state-backed actors continued their coverage of coronavirus-related topics in September. After the YouTube-related posts, the next six most retweeted posts by Russian actors were Covid-related. As in previous months, RT Deutsch's articles spread doubts about the safety of vaccinations, rejected the need for anti-coronavirus measures, and criticized authorities for their treatment of violations of anti-coronavirus rules.  
One of the most popular tweets stated that Pfizer vaccinations kill more people than they save, a claim put forth by researcher Steve Kirsch that was rejected by the United States Food and Drug Administration (FDA). While RT Deutsch describes Kirsch as a leading Covid researcher, he is in fact known for spreading misinformation regarding vaccinations and Covid treatments. Nonetheless, RT Deutsch's article describes Kirsch's argument in great detail without explaining any counterpoints. Other coronavirus-related tweets discussed alleged deaths caused by booster vaccinations and police brutality against anti-health pass protesters in France.
Foreign Policy
As in previous months, the disputed Nord Stream 2 gas pipeline remained a central topic for Russian state-backed media and was among the top used hashtags in September. Multiple tweets covered the completion of the pipeline, with one celebrating the construction "against all resistance." The positive position towards Nord Stream 2 is also reflected in a tweet that features Russian Foreign Minister Sergei Lavrov criticizing the EU for hindering the free flow of gas through the pipeline. Another tweet argued that Nord Stream 2 is necessary due to rising gas prices.
Russian state-backed media also continued to cover the situation in Afghanistan. "Taliban" was one of the top key phrases and hashtags in September. Many of the tweets paint a negative picture of the United States' policy. One tweet suggested that President Joe Biden actually had information about an impending Taliban win against government troops and pushed Afghan President Ashraf Ghani to mislead the public. The article cites a Reuters article as its source; however, that report does not state that Biden actively misled the public, but only illustrates how large the misjudgment was. The most liked tweet about the Taliban cites Russian President Vladimir Putin, who accused the West of double standards as they initiated talks with the Taliban but not with Belarussian President Alexander Lukashenko. The most retweeted post about Afghanistan covered a video of the Taliban finding $6 million in the house of Afghanistan's former vice president.
China
China's focus in September continued to rest on a favorable display of its own country and government. September's most retweeted post features a video posted by the Chinese embassy in Germany showing the Xinjiang region's idyllic mountainous landscape. As in previous months, Chinese accounts tried to connect scenic nature or culture with Xinjiang, rather than the question of human rights abuses and the treatment of the Uyghur population.
The month's most used key phrase was "Covid." However, in contrast to August and July when many of the Covid-related posts revolved around the origin of the virus, the focus this month lay on vaccinations and China's successful handling of the virus: Many of the top tweets addressed China's vaccine donations and China's efforts to produce more of their vaccines abroad.
September's top hashtag was "Xi," the name of China's president. Under this hashtag, state-backed news outlet Renmin Ribao Online published posts about various diplomatic appointments, among others President Xi's participation in the United Nations General Assembly debate, a visit in China's Shaanxi province, and a phone call with U.S. President Joe Biden.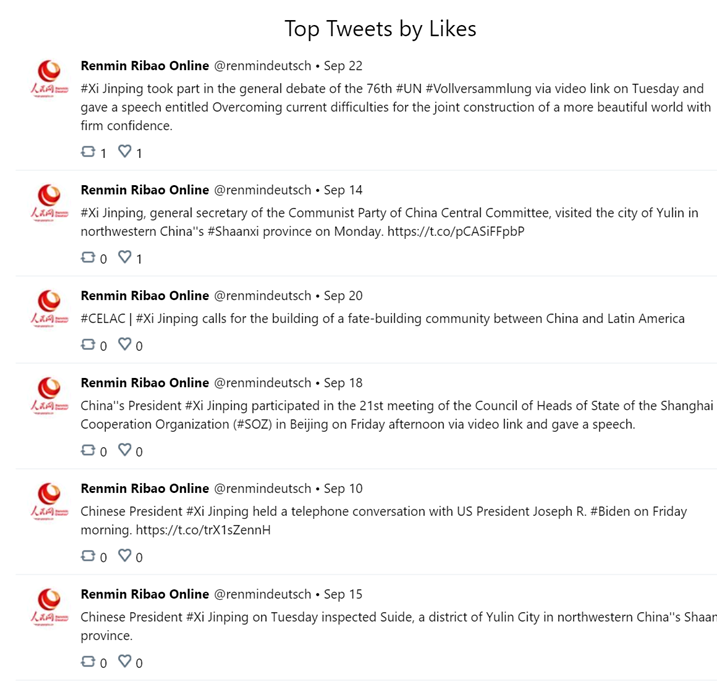 None of these tweets garnered much attention.
Turkey
Turkish media's three most retweeted posts in September were all related to soccer. The next most popular tweet dealt with the new ambassador to Germany taking office. As in previous months, Turkish accounts were also concerned with anti-Islamic incidents in Germany. One article covered discrimination against women with headscarves in Germany.
The Turkish accounts' most used hashtag in September was "NewYork." The respective tweets discussed the opening of the "Turkish house" by Turkish President Erdogan and his visit at the annual United Nations General Assembly.
Iran
As in previous months, in September, Iranian actors focused primarily on Iranian foreign interests. A tweet by IRNA Deutsch covered Iran's criticism of the International Atomic Energy Agency (IAEA) vis-à-vis Israel. The tweet reproduces a statement from the Iranian ambassador to IAEA about the "Zionist nuclear arsenal." Other tweets portrayed Iran as an internationally well-engaged actor, covering Iran's diplomatic efforts such as a visit of Iraq's foreign minister to Iran and a meeting between the Iranian President Seyyed Ebrahim Raisi and his Tajik counterpart Emomali Rahmon.
In their foreign policy coverage, Iranian actors focused largely on the United States. The country was the second most mentioned state and was tweeted about more than Germany.
Iranian actors criticized U.S. sanctions against Iran as inhumane and denounced them as a new method of war by the United States. An IRNA Deutsch tweet also accused the United States of lacking a clear understanding of the region, particularly Iran, and its people. In the context of criticizing sanctions against Iran, IRNA Deutsch also tweeted that the United States had no other choice but to treat Iran respectfully.  
The views expressed in GMF publications and commentary are the views of the author alone.