Foreign actors have demonstrated an interest in Germany's federal election this year. Of particular concern is the fact that Russian state-backed media have developed a wide reach within Germany and are actively engaging in election discourse. Since the beginning of the election campaign this spring, Russian accounts monitored on the German Election Dashboard have been covering the election campaign in an imbalanced way, targeting the Greens' chancellor candidate Annalena Baerbock with negative news more than her competitors from the Christian Democratic Union (CDU) and the Social Democrats (SPD).
Russia
Reach of Russian Coverage
The reach of Russian state-backed media cannot be overstated. RT Deutsch, the most significant German-language Russian state-backed news outlet, outperforms German media outlets in its online reach. In the past year, RT Deutsch has become one of the most important news accounts on Facebook. CrowdTangle data shows that RT Deutsch's page had one of the highest follower growth rates (19.36 percent) over the last 12 months and generated the most interactions out of all outlets covered, including established German media accounts such as Bild, Süddeutsche Zeitung, Tagesschau, and Der Spiegel, despite still having considerably fewer followers than many of these traditional outlets. Not only was the total number of RT Deutsch's interactions high, but its interaction rate, meaning the share of people who comment on or share a post, was the second highest out of all pages monitored on Facebook. RT Deutsch's YouTube videos have also reached a broad audience: The channel's ten most watched videos from April 1 to September 22, 2021 generated more than 2.5 million views. These numbers demonstrate the scope and reach of Russian coverage.
Sharing RT Deutsch Content  
An important question is where RT Deutsch's content is shared. The table below shows the ten Facebook groups that shared the most RT Deutsch content over the past seven months. This list includes anti-government and anti-vaccine groups.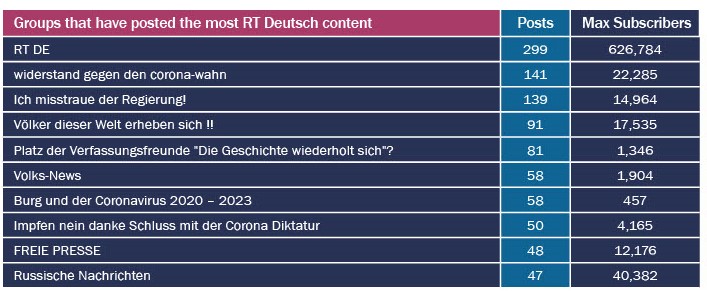 Candidate Coverage
Russian state-backed media has covered the top candidates differently than German media. Between March 1 and September 21, 2021, German media mentioned the Christian Democratic Union's (CDU) candidate Armin Laschet the most (3,937 times), with Social Democrat Olaf Scholz (2,343) and the Greens' Annalena Baerbock (1,964) getting significantly less attention. Russian media also posted more about Laschet than the other candidates (224 posts); however, Scholz (135) and particularly Baerbock (183) received proportionally more coverage than they received in German media outlets.
Our previous analysis has shown that Russian coverage has been negatively biased against Baerbock, covering her scandals in detail, while Russian outlets paid little attention to negative news about Laschet, at least in comparison to German media's coverage. Overall, the negative attention on Baerbock continued throughout the campaign and is reflected in the most retweeted tweets about her.
Laschet and Scholz also received criticism for different scandals and political mishandlings, but Russian coverage of them was less openly negative and the headlines were less provocative.
Russian state-backed sources have also covered candidates from the other, smaller parties with varying degrees of attention, sometimes giving above average attention to candidates at the political fringes. Compared to German media outlets, Russian media accounts monitored on  the dashboard mentioned Die Linke candidates Janine Wissler and Sahra Wagenknecht and AfD candidate Alice Weidel relatively often. Of all the posts mentioning Janine Wissler (Die Linke) on the dashboard, 20.83 percent were generated by Russian accounts. Interestingly, another top politician from Die Linke, Sahra Wagenknecht, proportionately received the most attention, with Russian accounts responsible for 24.77 percent of posts mentioning her name. For Alice Weidel (AfD) 17.14 percent of posts mentioning her name were generated by Russian accounts.  In comparison, Russian sources accounted for only 6.88 percent of coverage of Markus Söder (CSU) and 13.14 percent of all mentions of Christian Lindner (FDP).
Coverage of Potential Coalitions
Unless one party secures more than half of the seats in parliament, two or more parties typically form a coalition government, which collectively has a majority in parliament. Historically, there have always been two-party coalitions; however, current polling suggests the election results may render this impossible, fueling discussions about potential coalition constellations. Russian media's coverage has primarily focused on the possibility of a center-left coalition between the SPD, the Greens, and Die Linke. Russian posts mostly featured various politicians' statements about such a coalition, but a few tweets also reflected more judgmental positions. RT Deutsch highlighted Austrian chancellor Sebastian Kurz's warning against a red-green-red coalition, as well as investor Frank Thelen's announcement that he would leave the country if such a government is formed. One article also summed up failures and critiques of the prior red-green coalition that governed Germany between 1998 and 2005 and associated it with Annalena Baerbock. Other potential coalitions barely received any attention from Russian accounts;  a potential traffic light coalition received two mentions, a black-green coalition received one mention, and aJamaica coalition did not receive any attention at all. Regarding another "grand coalition," as the current alliance between CDU/CSU and SPD is called, a satirical article from RT Deutsch suggested the potential for a "very grand coalition" that would integrate the Greens into the current coalition; a "very very grand coalition" that would include the CDU, the Greens, the SDP, and the Left or the FDP; or a general shutdown of the parliament.
Conclusion
Throughout the last year, the reach of Russian state-backed accounts, particularly that of RT Deutsch, has grown tremendously, outperforming most traditional German-language media outlets in the online sphere. As our analyses show, these accounts use information manipulation techniques in their coverage of vaccines and coronavirus measures, as well as the ongoing election campaign. Russian state-backed accounts have particularly used their wide reach to portray candidates in an imbalanced way, for example, by spreading more negative coverage about the Greens' chancellor candidate Annalena Baerbock.
The views expressed in GMF publications and commentary are the views of the author alone.