"PICK A DAMN COUNTRY, AMERICA!"
The video is short, digestible, and catchy. A young Twitter personality dives into the latest news from Venezuela while trendy music plays in the background. According to the video, President Donald Trump and his "right-wing" allies in South America are supporting a "straight-up coup" in the country. She continues, "My god – one week it's Syria, today it's Venezuela, next week it's Iran. Pick a damn country America!" The video, which has over 300,000 views on Twitter and nearly 600,000 views on Facebook, has high production value and is clearly targeted at digital-oriented millennials. But this isn't a BuzzFeed or Vice production. Instead a watermark for "Soapbox," an online media company, sits in the right-hand corner. What many people watching and sharing the video probably don't know is that – along with several other social media channels targeting young, digital consumers – Soapbox (@SoapboxStand on Facebook) is a product of Russia's state-backed media.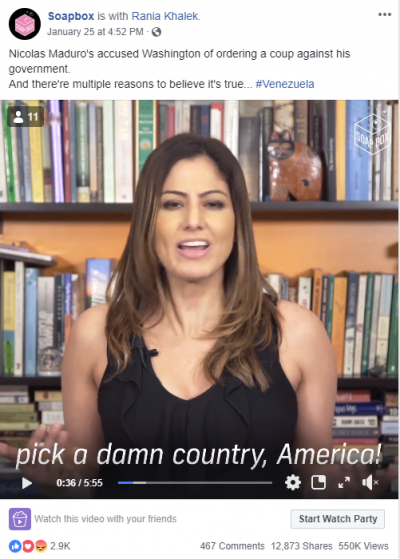 Via: facebook.com/SoapboxStand
Despite the massive view-counts on its videos, @SoapboxStand has only 37,000 followers on its Facebook page. But it benefits from other forms of distribution. Its material is commonly shared by other digital news organizations and personalities, such as Anissa Naouai. Naouai is the host of In The Now, another news program that specializes in short, striking, contrarian "journalism" for consumption and viral distribution on social media. In The Now maintains nearly four million followers on Facebook. Until recently, In The Now – and Naouai – were openly affiliated with RT (formerly Russia Today), a media outlet identified by the U.S. Intelligence Community as a vector for Kremlin propaganda abroad.
Last month, however, In the Now accelerated its efforts to distance itself from RT and the Kremlin. The program – complete with a re-brand – launched a new YouTube account, forgoing its former channel, which retains almost 50,000 followers. Videos on In The Now's new account have thus far escaped YouTube's labeling system for state-funded media. The new YouTube channel also lists a new email address under its contact information: inthenowyt@maffick.media.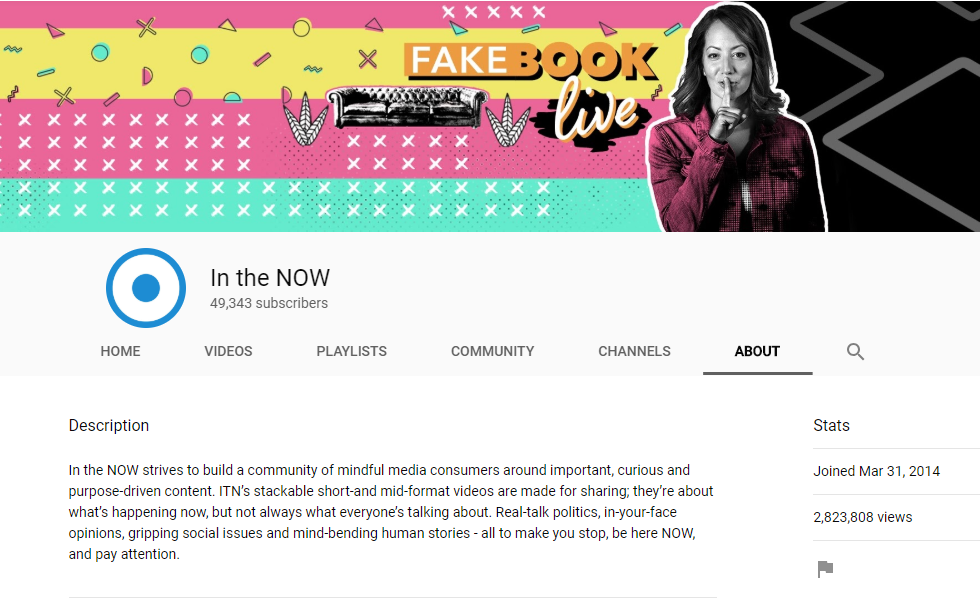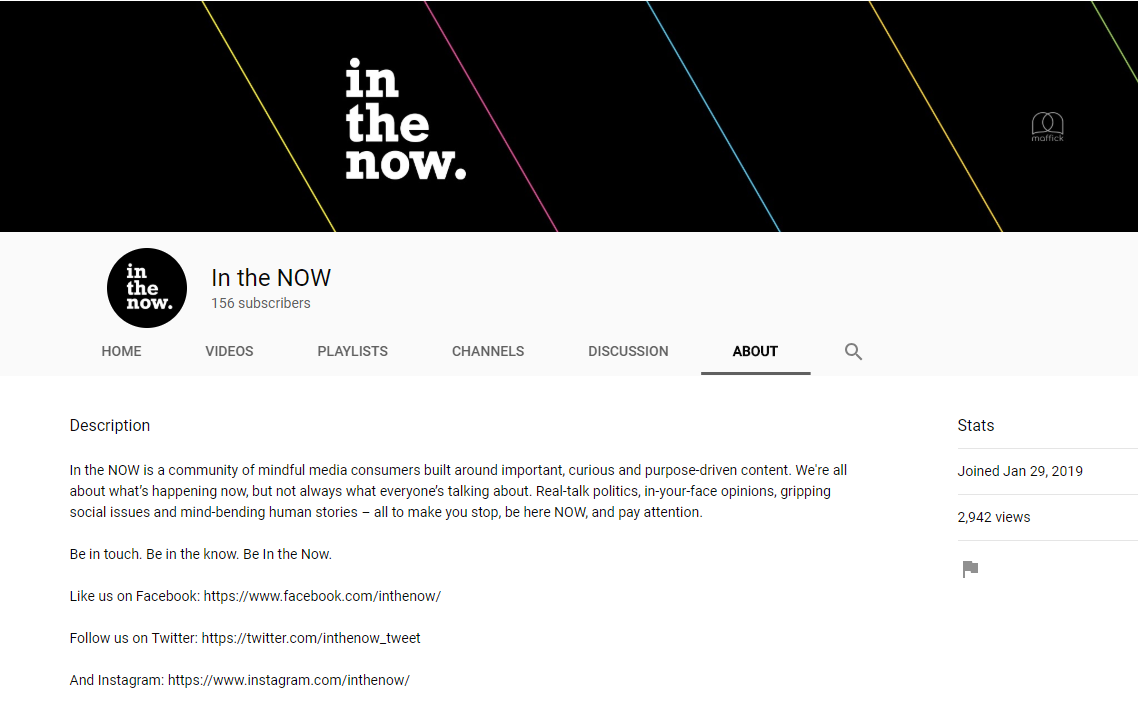 Maffick Media and The Kremlin's Millennial News Network
Maffick Media is a Berlin-based company registered in March 2018 that runs a network of media productions, all of which have significant social media presence and content targeted towards young, digitally inclined, English-speaking consumers. In The Now and @SoapboxStand are Maffick Media productions focused on contemporary social and political issues. Other programs include Waste-Ed, which claims to support environmental sustainability but often spreads false or misleading information about environmental issues, and BackThen, which provides revisionist perspectives of history. While the programs appear innocuous, they take strong, often-fringe political stances. One of BackThen's most recent Facebook videos, which has garnered over 250,000 views, is titled "US DESTROYED CHILE'S DEMOCRACY IN '73." The description reads, "Think the #VenezuelaCoup is a good idea? Never forget what the US did to Chile in '73." Similar videos top the pages of @SoapboxStand and In the Now, with many gaining hundreds of thousands of views as they are spread across social media.
While none of Maffick Media's accounts admit to any connection to the Russian government, recent reporting in the German press and an examination of the company's history and financial filings reveal close ties to Kremlin-controlled media. According to registration documents for Maffick Media, the majority shareholder of the company is Ruptly TV, an openly acknowledged RT subsidiary based in Berlin (the other, minority shareholder is former RT employee Anissa Naouai).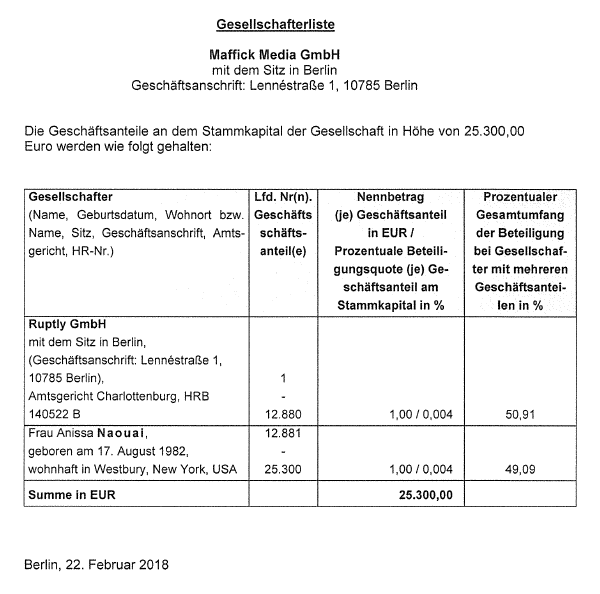 Via: German Handelsregister // List of shareholders of Maffick Media GmBH. Ruptly GmBH is the majority shareholder, while Anissa Naouai holds a minority stake.
Ruptly's stated goals include to build and extend the "core strengths and values of our parent company RT." According to RT Editor-in-Chief Margarita Simonyan, those strengths include serving as an "information weapon" against the Kremlin's adversaries. But Maffick Media is not the Kremlin's only trendy outlet.
In February 2018, The Daily Beast released a deep dive into another Berlin-based media company called "Redfish." Describing itself as a "new kind of media company … aimed to inspire social and economic change," Redfish quickly gained attention (and praise) last year for its reporting on the Grenfell Tower Fire in England. The company's Facebook page lists nearly 300,000 followers, and recent posts have focused heavily on criticizing the United States for its policy on Venezuela.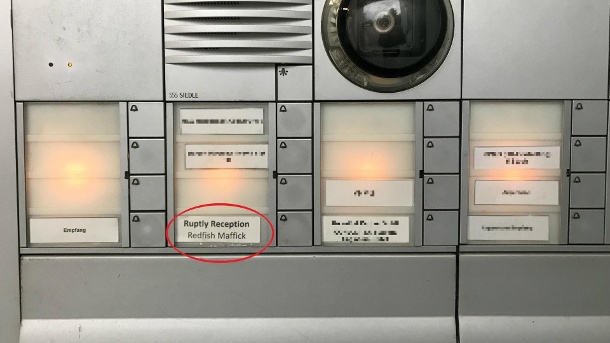 Via: Jan-Henrik Wiebe/T-Online // The doorbell buzzer at Lennéstraße 1 in Berlin. Note that Ruptly, Redfish, and Maffick share an office at this address.
However, as The Daily Beast reported, this seemingly independent company maintains close ties to the Russian government, including through several of its employees, all of whom were former RT reporters. Additionally, as exposed by T-Online, Redfish's headquarters are co-located with two other companies: Ruptly TV and Maffick Media, at Lennéstraße 1 in the Mitte neighborhood of Berlin. An examination of Redfish's registration documents reveals that the company's sole shareholder is Ruptly TV.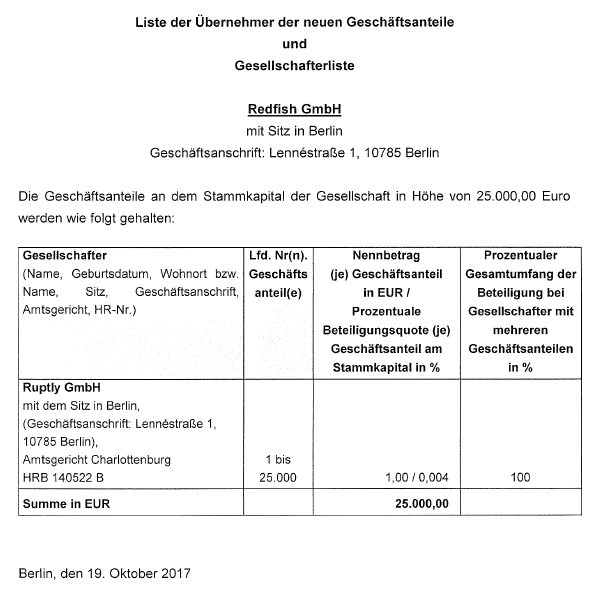 Via: German Handelsregister // List of shareholders of Redfish GmBH. Ruptly GmBH is the sole shareholder. Note that Redfish is also registered at Lennéstraße 1.
All this shows that – under the guise of "independent" and tech-savvy journalism – Russia's state-controlled propaganda network is targeting young, often left-leaning Western consumers with slickly-produced misinformation packaged as meme-able satire and no-nonsense takes on history, environmental issues, and sensitive global politics. Although much of this content is labeled as state-funded on YouTube, content on Facebook, Twitter, and Instagram – which make up the bulk of the network's outputs – lack any sort of label or contextual information. The Kremlin knows that the truth is not on its side, and has realized that it is unable to convince younger Western audiences of its positions with its previous, more straightforward Russia-based networks like RT and Sputnik. Accepting this, it has resorted to hiding its propaganda behind good graphic design and an ever-growing number of unlabeled media outlets to obscure with lies that which it has been unable to support with the truth.
The views expressed in GMF publications and commentary are the views of the author alone.