Overview
On June 24, the US Supreme Court struck down the constitutional right to an abortion, sparking an outpouring of protests and national media coverage. Russian and Chinese propagandists also weighed in, though their messaging strategies on the issue differed. While Russian state media used extreme reactions from pro-choice activists to paint the United States as divided and unstable, Chinese state media focused on how the court's ruling violated women's rights and undermined the United States as a global leader. Moreover, in contrast to Russian diplomats who stayed away from commenting on the issue, Chinese diplomats were heavily involved in the messaging, posting more than 100 tweets about the ruling in the week that followed the decision.
By the Numbers
Russia
The Supreme Court's decision prompted coverage from Russian state media, though, unsurprisingly, not enough to overtake the flood of war-related content. In the week after the ruling, the most frequently used key phrases and hashtags by Kremlin-linked Twitter accounts largely focused on the war. However, when you drill into US-related tweets in the week after the decision, "abortion" and "Supreme Court" are the first and third most used phrases. The 324 tweets mentioning "abortion," "Supreme Court," or "Roe" brought in 6,022 retweets and 14,780 likes. Interestingly, not a single Russian diplomat tweeted about the issue.
China
In the week that followed the US Supreme Court's overturning of Roe v. Wade, Chinese diplomats and state media devoted far more attention to Beijing's core issues, such as Hong Kong or the promotion of the BRICS format, than to the court's decision. As is customary, however, the United States was the second most mentioned country, after China, in tweets from both Chinese diplomats and state media. When looking specifically at those US-related tweets, the Supreme Court's decision was clearly the key topic covered by Chinese accounts between June 24 and July 1. In that timespan, the five key phrases most frequently used by Chinese diplomats and state media when tweeting about the United States were in some way related to the overturning of Roe v. Wade. The 667 tweets mentioning "abortion," "Supreme Court," or "Roe" generated 4,057 retweets and 21,503 likes.  
Isolating US-related tweets by Chinese diplomats also reveals that many Chinese diplomats weighed in on this clearly domestic issue, breaking from Beijing's self-professed principle of non-interference in other countries' domestic affairs. (Though it should be noted that this principle is often not followed in Chinese messaging targeting social issues in the United States.)
What We're Seeing on Hamilton 2.0
Russia
Russian state-backed outlets used the Supreme Court's decision to show the United States as divided and filled with left-wing radicals, to paint the Democratic Party as ineffective and apathetic, and to highlight international opposition to the ruling. 
Kremlin-funded outlets showcased the most radical reactions from progressives to the Supreme Court decision, at times by amplifying far-right domestic content. RT noted that the ruling prompted the US government to warn about an increase in domestic violent extremism, while the Russian intelligence-linked site NewsFront warned that the left was preparing for a "night of rage," a phrase that a group called Janes Revenge pushed in an anonymous post and right-wing figures peddled to depict pro-choice activists as violent. Lee Stranahan, a Sputnik Radio host, also retweeted a post that insinuated a pile of bricks in Washington, DC was strategically positioned to be used by left-wing rioters. Rep. Lauren Boebert (R-CO) made a similar claim, which the AP debunked by showing that the bricks were part of a construction project. Stranahan, who has 85,000 followers, also retweeted a series of posts featuring extreme left-wing reactions from the Libs of TikTok account, which is infamous for mainstreaming anti-LBGTQ+ content. Other Kremlin-linked accounts showed protesters clashing with police, burning American flags, vandalizing churches, and screaming, "I f*cking love killing babies."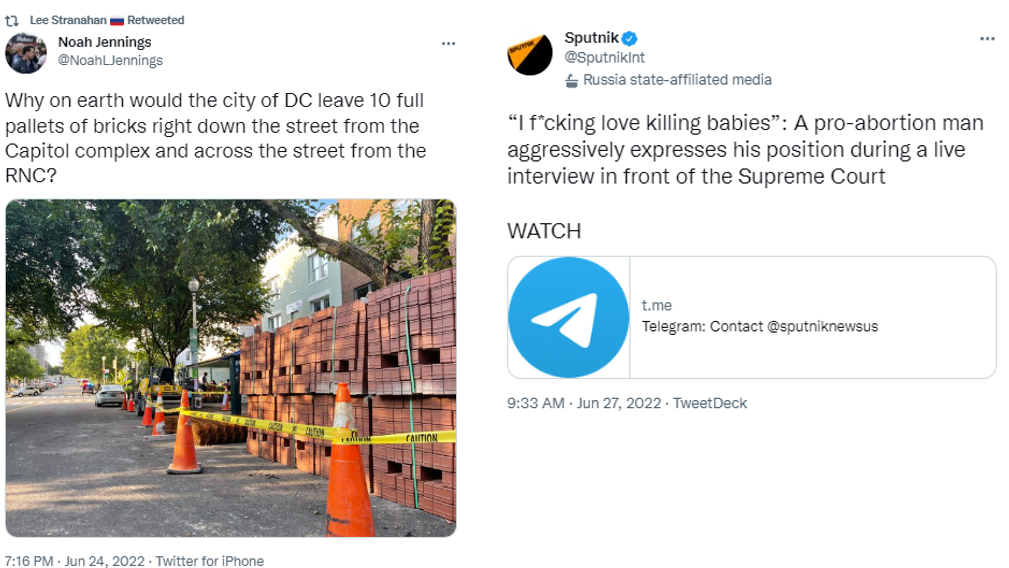 Russian accounts also insisted that Democrats "never cared about abortion rights" and emphasized Republican celebrations. Hellen Villar, a RT en Espanol reporter, said that Democrats have had opportunities to codify those rights but chose not to, adding "now they ask for the vote in November to do so." Another RT reporter claimed that Democrats were seeking to spark riots to distract from how the party "ruined their [American's] economy and laundered Billions in Ukraine." Sputnik echoed praise for the court's move by former president Donald Trump and Fox News host Tucker Carlson. Not all coverage of the right was uncritical, though. RT highlighted Rep. Mary Miller's (R-IL) "seemingly racist" comment that Dobbs was a "victory for our white life."

While Kremlin-backed outlets were primarily interested in highlighting chaos within the United States, they also made some attempts to frame the court's decision as a geopolitical blow to Washington. NewsFront said that NATO member states were concerned that the Supreme Court ruling and political instability in the United States could damage alliance cohesion. The left-leaning outlet RedFish posted a video of an Irish lawmaker bashing the decision. RT showed feminist groups protesting the court's move outside of the US Embassy in Buenos Aires. Another Kremlin-backed account noted that the Soviet Union was the "first modern state in history to formally legalize abortions."   
China
Although Chinese messaging is usually rather hierarchical, the official reaction from the Chinese Ministry of Foreign Affairs' (MFA) came relatively late and was rather measured. It focused on women's rights and stayed away from more divisive "culture wars"-type rhetoric.

In that same "restrained" tone, several Chinese diplomats such as Assistant Foreign Minister Hua Chunying and the Chinese Ambassador to Qatar used US coverage critical of the Supreme Court's decision to attack the United States' overall record and global leadership on human rights.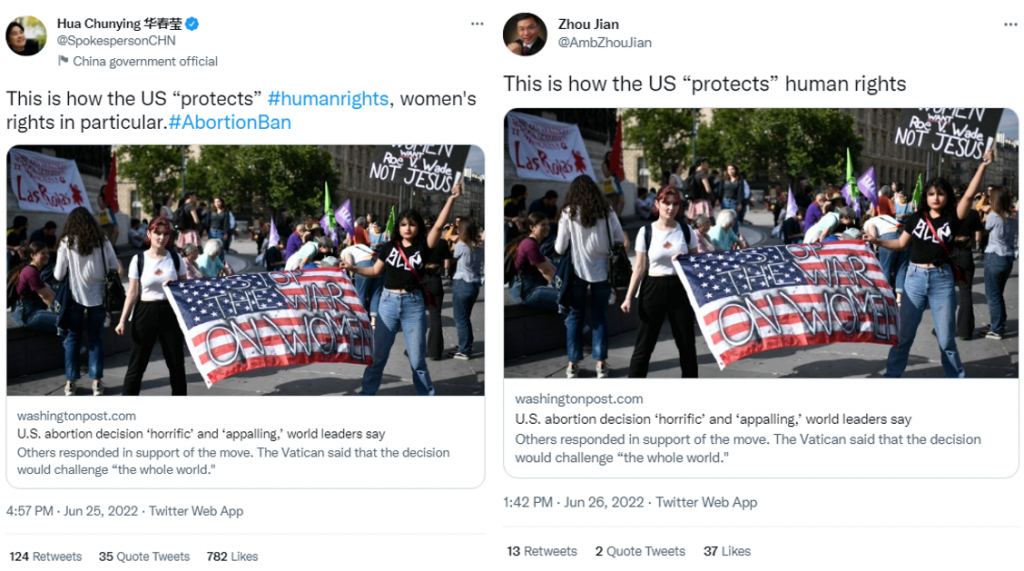 Other Chinese diplomats were more abrasive and connected the decision to more divisive domestic US issues. For instance, the Consul General in Karachi referenced the Black Lives Matter movement while the Consul General in Cape Town connected the decision to gun violence.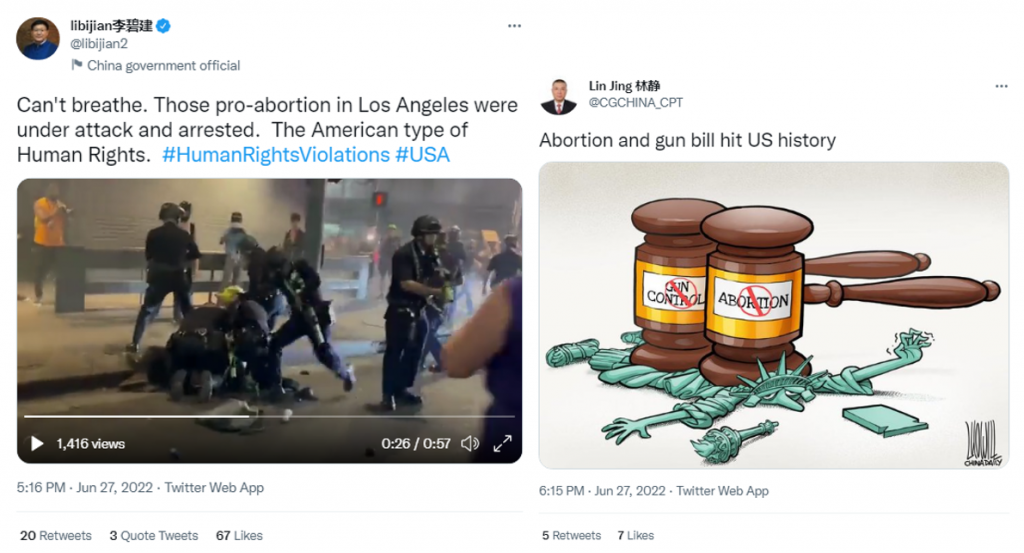 Chinese state media employee Chen Weihua was both more abrasive as well as more successful than his diplomatic counterparts in spreading messaging critical of the US Supreme Court's decision.

Chinese state media also consistently highlighted protests against the ruling, portraying chaotic scenes of a "society ripping apart from top to bottom."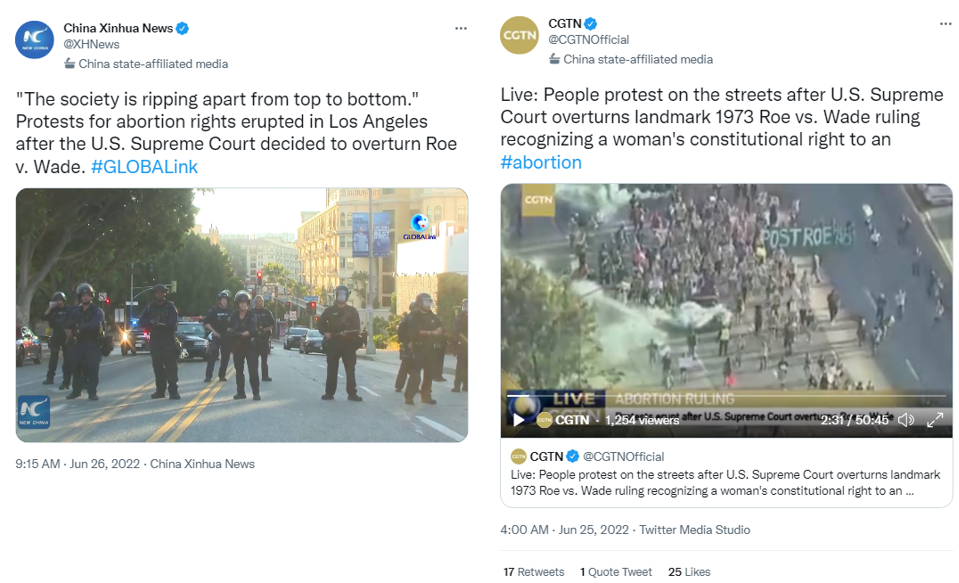 Finally, both Chinese diplomats and state media attacked the United States' democratic allies for not criticizing the US Supreme Court's decision in strong enough terms, with the Deputy Consul General in Auckland going as far as to argue that European countries should pass sanctions on their ally.

Why It Matters
Russian and Chinese coverage of the Supreme Court's move to overturn Roe v. Wade demonstrated their different messaging strategies and, perhaps, their core audiences. Russian propagandists sought to further inflame culture wars in the United States by depicting progressives as radicals and spreading conspiracies about violent pro-abortion protests. Meanwhile, Chinese messengers aimed to diminish the United States' global reputation, condemning the Supreme Court's ruling as a blow to human rights and calling into question Washington's ability to lead on that issue. Though both Russia and China leveraged the court's ruling to criticize the United States, their commentary was dwarfed by domestic media outputs.