Russia Toplines
Coronavirus maintained its position as the most prominent topic for the Russian media ecosystem last week, though its dominance declined from the previous week. Much of this coverage focused on basic news updates, with some emphasis on related geopolitical tensions. In non-coronavirus coverage, Russian government and diplomatic accounts on Twitter began a World War II messaging push emphasizing the Soviet role in the war and its cooperation with Allied countries ahead of the 75th anniversary of VE Day. A small number of these tweets relayed familiar accusations that other countries were "rewriting" history, but the majority highlighted individual heroes or specific events.
China Toplines
China's information competition with the United States continued unabated this week, with the most engaged-with content blasting the United States for its handling of the coronavirus pandemic. The two most liked and retweeted tweets of the week both featured a viral video from Xinhua News Agency framing the U.S. response as incompetent and its efforts to blame China as contradictory and desperate. Variations on these themes also played out across YouTube and state-backed websites, where top content blamed the United States for the outbreak of coronavirus in Canada, accused Washington of spreading conspiracy theories to cover for its own "political dysfunction," and generally framed China as a victim of "scapegoating" from the West. Beyond coronavirus coverage, "human interest" stories also comprised a significant portion of the top content, including tweets and stories mourning the passing of Bollywood legend Irrfan Khan.
Russia
Twitter
Russian state-funded media and government and diplomatic corps accounts:
Top 10 Hashtags — April 25-May 1:
The Hamilton dashboard collected about 14,000 tweets from Russian state-funded media and government Twitter accounts between April 25 and May 1 (figures as of 1pm May 1). For the first time in many weeks, less than half of the top ten hashtags referenced the coronavirus; although, their number of uses still outnumbered the uses of top non-coronavirus hashtags. The top four overall tweets by likes, all posted by Kremlin-backed media company Redfish, addressed themes of revolution and anti-fascism:

Slightly more than 3,700 tweets mentioned "virus," "covid," and/or "outbreak" last week, an approximately 14 percent decline in coronavirus content from the previous week. Top tweets focused on China's fiery responses to Western governments' pressure on China to provide financial compensation for the pandemic and investigations into the virus' origin. Redfish also highlighted Cuba's medical aid:



Last week also saw a significant messaging push related to World War II history, as evidenced by the appearance of #Victory75 and #WWII among the top ten hashtags, totaling a little over 300 tweets. These posts, primarily from government and diplomatic accounts, emphasized the role of the Soviet military in World War II and its cooperation with Allied countries. The messaging comes ahead of VE Day, which is celebrated in Russia as Victory Day on May 9 and is a holiday of major cultural significance. However, as we have noted previously, Russia often weaponizes revisionist versions of World War II events against the West and criticizes other countries for "falsifying" or "forgetting" history. Examples from last week including this type of criticism included:



Websites
Russian government-funded websites:
Close to half of the 1,228 articles from Russian government-funded news websites collected on the dashboard last week mentioned "virus" in the first 200 words, which is a slight decline from the previous week measured by proportion of total output. Much of the content again consisted of basic news updates. Based on Facebook shares, the top article by far, with over 4,000 shares, covered a reported baby trafficking ring in Ukraine. This article is consistent with efforts to highlight negative stories out of Ukraine. The second-most shared piece was an op-ed disputing whether President Trump suggested injecting disinfectant to treat coronavirus:
"Ukraine busts 'human trafficking ring' that sold BABIES to Chinese 'single men of certain orientation,'" RT, April 26, 2020.
"Ukrainian police have raided a private reproductive clinic that has been allegedly "selling babies" to China. While the suspects are accused of "human trafficking," surrogate motherhood is a legal gray area in Ukraine. The scandalous case was brought to light by the country's interior ministry late on Saturday. The police broke up a "human-trafficking" ring that was centered at a private reproductive clinic in Kiev.
"No, Trump did NOT suggest injecting disinfectant to treat Covid-19," Op-ed, RT, April 24, 2020.
"Mainstream media fact-checkers have rushed to the rescue after US President Donald Trump mused that injecting disinfectant might cure Covid-19. Except he said no such thing, and claiming he did is the laziest kind of "fake news" . . . Mainstream media pounced on the "Trump says drink bleach" narrative, distorting the game of telephone one step further with its usual patronizing 'fact-checks.'"
Further articles of interest among the top overall articles by Facebook shares included coverage of Chinese and Iranian government officials' statements related to tensions with the West:
"China is victim, not mastermind of Covid-19 disinformation – Foreign Ministry," RT, April 27, 2020.
"As the EU continues to blame China for misinforming the world about Covid-19, Beijing has once again dismissed these claims, insisting that it is actually the target of someone else's disinformation campaign."
"'It's the Persian Gulf, not Gulf of NY': Rouhani schools US as Iranian military tells America to prepare for 'HARDER SLAP,'" RT, April 29, 2020.
"American forces will get a heavy response if they cause trouble in a gulf that is historically linked to Persia, not to the US, Tehran has warned, a week after Trump vowed to "shoot and destroy" its ships in the troubled waters. Iran's President Hassan Rouhani has needled Washington once again by recalling Middle Eastern toponymy in a recent speech to his cabinet, local media reported on Wednesday."
Some common themes in coronavirus output included support for the World Health Organizaton and criticism of the U.S. response to the pandemic, along with mixed messaging related to controversies surrounding China's response (one example highlighted Huawei's role, while another covered reports of private requests from China that German officials praise its response). Examples included:
"'Counterproductive & unfair': Russian FM defends WHO after US attacked organization, stopped financing," RT, April 27, 2020.
"Russian Foreign Minister Sergey Lavrov has defended the World Health Organization (WHO) against allegations that it is to blame for how the novel coronavirus pandemic unfolded. Lavrov, during an online conference with students, called the attempts to place blame on the WHO "counterproductive and unfair," adding that he believes that the organization acted "professionally" at all stages of the crisis."
"The Covid-19 pandemic exposes deep flaws in America's broken healthcare system," Op-ed, RT, April 26, 2020.
"The coronavirus crisis is demonstrating why it's time we replaced a system that exists purely for profits with one that puts public health first."
"Berlin Confirms China Asked German Officials to Praise Its Handling of Pandemic – Reports," Sputnik News, April 26, 2020.
"According to Welt am Sonntag, the government has now confirmed receiving such requests in response to a relevant inquiry from the parliament. The German government has said that Chinese diplomats requested German officials to positively assess in public Beijing's handling of the coronavirus pandemic, Welt am Sonntag reported on Sunday."
"Huawei 5G, AI Tech Boosting Frontline Services, Instrumental In Fight Against COVID-19 – White Paper," Sputnik News, April 27, 2020.
"The Chinese tech giant has stepped up efforts to tackle the ongoing pandemic using numerous disruptive technologies aimed at monitoring, diagnosing and blocking the spread of COVID-19."
Outlets also covered official Russian pushback on EU claims that Russia was spreading coronavirus disinformation:
"Lavrov: EU Hasn't Provided a Single Fact About Russia's Alleged Disinformation on Coronavirus," Sputnik News, April 28, 2020.
"Last month, Russian presidential spokesman Dmitry Peskov stated that claims that Russia had been feeding disinformation campaign on the coronavirus pandemic are unfounded. Russian Foreign Minister Sergei Lavrov stated on Tuesday that the European Union hasn't provided any facts on Russia's alleged disinformation campaign over the coronavirus outbreak."
Fewer than 30 articles mentioned protests of any kind in the first 200 words last week, mainly covering anti-lockdown demonstrations in Europe in the first half of the week. Articles of interest included:
"'Let me go to work!' Hundreds of protesters demand removal of fence on Polish-German border amid Covid-19 lockdown (VIDEO)," RT, April 25, 2020.
"Protesters have demanded the reopening of the border between Poland and Germany, which was closed due the Covid-19 pandemic. The quarantine rules have left them unable to commute to work and see their families."
"'Outrage': Bernie Sanders Protests Cancellation of Democratic Primaries in New York Due to COVID-19," Sputnik News, April 28, 2020.
"The New York State Board of Elections on Monday decided to cancel the Democratic presidential primary election scheduled for 23 June amid novel coronavirus (COVID-19) fears and lack of competition, US Senator Bernie Sanders' campaign said in a statement in protest to the move."
Broadcasts
Russian state-owned media:
Close to three-quarters of the videos collected from Russian state-owned media on YouTube last week covered the pandemic and its impacts. Notable RT America videos covered U.S. social and political controversies, both linked to the pandemic and not, and U.S. anti-lockdown protests, although in more limited numbers. RT UK continued to focus on criticism of the U.K. coronavirus response and related privacy concerns. Examples of each included:
"Maskless Mike Pence afraid of Trump, not COVID-19," RT America, April 29, 2020.
"Vice President Mike Pence was widely criticized for touring the Mayo Clinic without wearing a face mask. Broadcasting icon and 'PoliticKing' host Larry King joins Rick Sanchez to weigh in. He condemns the move as 'ridiculous' and 'a terrible example.'"
"Cuomo attacks McConnell, de Blasio calls out Hasidic Jews," RT America, April 29, 2020.
"New York City Mayor Bill de Blasio has come under fire for criticizing "the Jewish community" for flouting social distancing orders after police dispersed a dense crowd of mourners at the funeral of a Rabbi. Meanwhile, NY Gov. Andrew Cuomo has lashed out at the federal government and Senate Majority Leader Mitch McConnell (R-Kentucky) for hypocrisy in the ongoing "political brawl on state and local funding" as New York struggles against the COVID-19 pandemic."
"Wall Street stealing COVID-19 bailout from Main Street," RT America, April 28, 2020.
"Consumer confidence has hit record lows but stocks continue to climb thanks to manipulation by the Federal Reserve. How does Washington continue to bail out Wall Street at the expense of "Main Street?""
"Facebook removing anti-lockdown events that defy government guidance," RT America, April 24, 2020.
"The pandemic will pass. The surveillance state is here to stay."
"Is the media being 'unfair' to the re-open protestors?" RT America, April 24, 2020.
"Protests are popping up across the US demanding local governments re-open their communities. But coverage of the protests are viewed very differently depending on political alignment."
"'SAGE lack of transparency is dangerous for the public,'" RT UK, April 29, 2020.
"Members of the chief scientific panel for combating COVID-19 – SAGE – remain anonymous – but what is this lack of transparency hiding? Dr Gabriel Scally thinks the need to know is paramount – especially when what's coming out is not focusing on public health."
"Who should control the track and trace app?" RT UK, April 30, 2020.
"If a track and trace app is needed to lift lockdown, then who should be in charge of it? Public health professor Allyson Pollock says no to centralisaton, but yes to localisation as a way of fighting COVID-19 most effectively."
RT America also covered geopolitical topics separate from the coronavirus related to China: Huawei and sanctions, as well as the South China Sea:
"China arrests Huawei workers who discussed Iran," RT America, April 29, 2020.
"A new report shows that China arrested five Huawei employees in 2015 in connection with admitting that the company violates US sanctions on Iran despite a dearth of tangible evidence. The accused ex-employees were in disputes with the telecom giant. RT America's Michele Greenstein reports. Then former UK MP George Galloway joins Rick Sanchez to weigh in. He points out that there is "constant tension" between Chinese business interests and the Communist Party government."
"South China Sea dispute explained," RT America, April 30, 2020.
"Rick Sanchez discusses the importance of the South China Sea in terms of resources and trade and what China is doing to bolster its claims to the area to the chagrin of countries like the US."
Finally, RT America put out an advertisement featuring a poem and heroic depictions of its reporters:
"We go to work so you can stay home informed — with RT America," RT America, April 28, 2020.
"America has stopped.
Her factories, still;
Her businesses, closed —
But she's not lost her will.
We go to work.
There's just too much to lose.
We go to work
Because now,
more than ever,
It's time to do news."
China
Twitter
Chinese state-funded media and government and diplomatic corps accounts:
Top 10 Hashtags — April 25-May 1: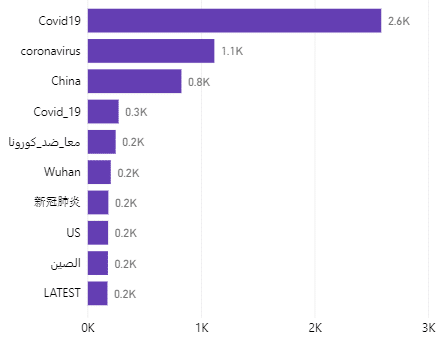 The Hamilton dashboard collected about 12,000 tweets from Chinese state-funded media and government Twitter accounts the week of April 25-May 1 (figures as of 3pm May 1), a drop of roughly 2,000 tweets week-on-week. The coronavirus continued to dominate all top hashtags; every top hashtag was either directly related to the virus or promoted epidemic-related coverage ("LATEST", for example, dealt almost exclusively with updates on coronavirus case numbers in countries outside China.).
By far the most engaged with tweet of the week was a viral video from Xinhua News Agency (@XHnews) trolling the U.S. response to the virus and defending Beijing's handling of the early stages of the outbreak. As of Sunday afternoon, the original tweet had received 44,000 likes and over 23,000 shares.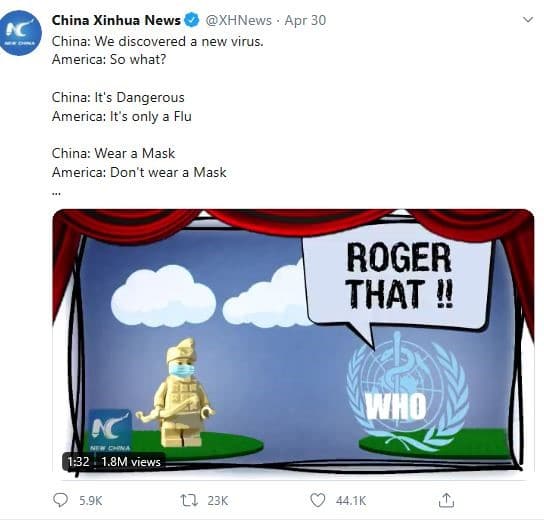 Those engagement numbers significantly undersell the overall reach, as the week's second best performing tweet featured the Xinhua video embedded in a tweet from the Chinese Embassy in Paris. Multiple other diplomats and embassies retweeted both tweets, including China's ambassadors to the Dominican Republic and Qatar.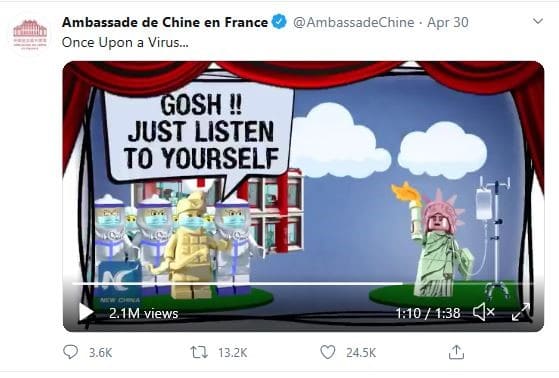 Another example of negative messaging last week was a tweet by Ministry of Foreign Affairs spokesperson Hua Chunying that linked to an April 24 Politico article detailing how the National Republican Senatorial Committee advised GOP candidates to attack China as part of their reelection strategy.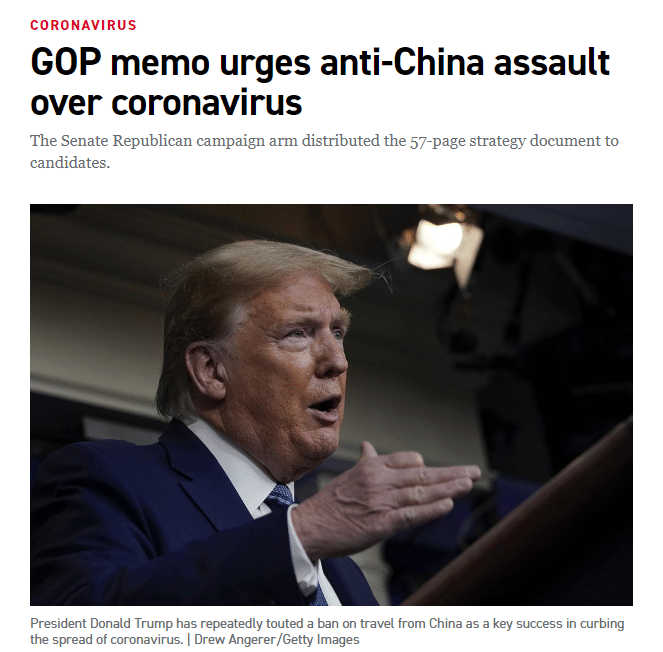 Chunying's tweet was retweeted by at least ten other accounts monitored on the dashboard, making it one of the most amplified tweets of the week by Chinese media and diplomatic accounts.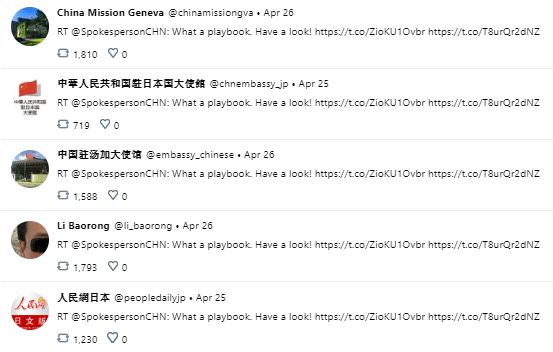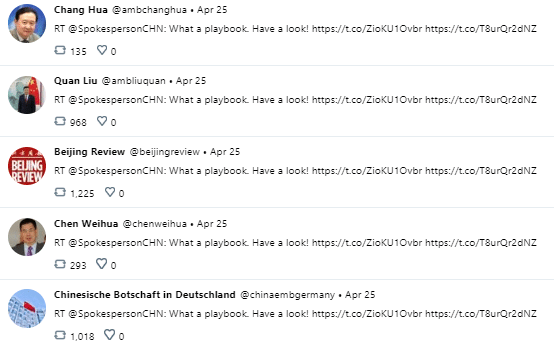 (Xu Hong is the Chinese ambassador to the Netherlands, Li Baorong is ambassador to Venezuela, Chang Hua is ambassador to Iran, Quan Liu is ambassador to Suriname).
The article itself was also shared at least 18 times by accounts monitored on the dashboard between April 25 and April 27, making it the second most linked-to article of the week.
Websites
Chinese government-funded websites:
Last week, the most shared story by state media on Facebook was an article blaming the outbreak of coronavirus in Canada on the United States instead of China—an attempt, perhaps, to drive a wedge between the United States and its nearest ally. Other top articles covered coronavirus patients being discharged from hospitals in Wuhan (an attempt to portray China as returning smoothly to normal life following the disruptions of the epidemic), as well as articles lashing out at the United States, either by implying that the epidemic may have begun in the United States, or by accusing the United States of "politicizing" the epidemic at a time when leaders should focus on saving lives. Finally, two articles highlighted the information war between the United States and China, including interviews with the Grayzone's Max Blumenthal and the head of a Russian think tank who both claimed that the Trump administration was blaming China to deflect from its own failures.

Most shared stories on Facebook for the week of April 25-May 1
"Data shows Canada's early COVID-19 cases came from the U.S. not China," CGTN, May 1, 2020
"Data from Canada's largest provinces show it was American travelers, not Chinese, who brought the novel coronavirus to Canadian shores, according to the National Post Friday."
"Wuhan hospitals discharge last COVID-19 patients," CGTN, April 26, 2020
"All COVID-19 patients in hospitals in the central Chinese city of Wuhan have been discharged, a health official announced on Sunday. As of Sunday, no COVID-19 patient remains in hospital in the city, Mi Feng, spokesperson for the National Health Commission said at a press briefing."
"Chinese official: World needs to know when coronavirus started in U.S.," CGTN, April 29, 2020
"Chinese Foreign Ministry spokesperson Hua Chunying said on Wednesday that the American people and the world need to know when the COVID-19 virus first started in the United States, in response to U.S. Secretary of State Mike Pompeo's recent attack on the Communist Party of China (CPC) over its response to the outbreak."
"Interview: West scapegoating China to divert attention from its own incompetence, says Russian expert," Xinhua, April 28, 2020
"The West is blaming China for the COVID-19 pandemic to divert attention from its own incompetence in fighting the global threat, a Russian expert said on Monday. 'The example of China has shown everyone that defeating the coronavirus epidemic is possible. And this, of course, will have a serious impact on the position of many people in the world,' Alexei Mukhin, director general of the Center for Political Information think tank, said in an interview with Xinhua."
"Conspiracy theories are deceiving Americans into greater hostility against China," CGTN, April 27, 2020
"Max Blumenthal, an award-winning journalist and founder of the Grayzone, told Global Times that the conspiracy theory of COVID-19 escaping from China's Wuhan Institute of Virology, is the Trump administration's Iraqi WMD (weapon of mass destruction) and the unpacking of misinformation is blocking the American public from learning the truth about the epidemic and China's efforts to contain it."
"Attacking China to win the White House," CGTN, April 25, 2020
"It doesn't take a memo to notice that attacking China has become the way out of COVID-19 for the current U.S. administration. President Donald Trump, his current and former officials and the Republican Party at large have been unloading their criticism against China since the virus outbreak has spread beyond their control on U.S. soil."
Broadcasts
Chinese state-owned media:
Several segments broadcast between April 25-May 1 had a stronger geopolitical bent than in previous weeks, including one scathing video assembled by CGTN opinion affiliate T-House that called the pandemic "Waterloo for America's Leadership." CGTN also aired a two-part interview with Singaporean academic Kishore Mahbubani, who is known for predicting the end of Western hegemony and the rise of a new, China-centric Asian order. As in previous weeks, some segments focused on narratives of economic displacement or injustice in the United States, including pieces on gig workers and delivery drivers. Interestingly, one segment broadcast on May 1 specifically decried any intent by China to meddle in U.S. elections. China has issued such denials in previous circumstances, such as election in Taiwan and Australia, where evidence suggests they may have interfered in other countries' political affairs.
"China Not Interested in Meddling in US Elections," CCTV News Video Agency, May 1, 2020.
China is not interested in meddling in the upcoming presidential election of the United States, said Geng Shurang, spokesman of the Foreign Ministry, at a press briefing in Beijing on Thursday.
"Waterloo for America's leadership," CGTN America, April 26, 2020.
"The coronavirus outbreak is ending countless lives, paralyzing entire countries, and bringing the global economy to a grinding halt. The pandemic is also having political repercussions, fundamentally transforming the world and its balance of power."
"Full Frame: New Global Order with Kishore Mahbubani," CGTN America, April 25, 2020.
In the 1800's, the West began to extend its rule over foreign countries, by using force.  Western nations quickly expanded into Asia, Africa and the Middle East.  It was known as the 'Age of Imperialism'. Today, centuries of Western global dominance are coming to an end.  So, in the 21st century, what will be the new world order? 
"Class of 2020 heads into uncertain world and job market," CGTN America, April 29, 2020.
"Graduation season is approaching for universities around the world. In the United States, the college class of 2020 was preparing to enter a hot job market with the lowest unemployment rates on record. But that's all changed. So what are these soon-to-be graduates facing now?"
"Dozens of oil tankers sitting still off the California coast," CGTN America, April 29, 2020.
Check out dozens of oil tankers lining up in the California coast to store unused oil as demand for crude oil has plummeted.
"China Gives Top Priority to People's Lives, Health in Fight against COVID-19," CCTV News Video Agency, April 28, 2020. 
"The fight against the COVID-19 epidemic in China shows that the country has put the lives, safety and health of the people in the first place, according to experts and patients."
"Full Frame: New Global Order with Kishore Mahbubani Part 2," CGTN America, April 25, 2020.
"China is leading the largest urbanization and infrastructure development plan on earth.  In 2013, China proposed the Belt and Road Initiative…an effort to create economic and trade ties connecting Asia with Europe, Africa and beyond. The initiative is expected to make a global impact." 
"Most gig drivers get no unemployment benefits during COVID-19 pandemic," CGTN America, April 27, 2020.
"Millions of out of work rideshare drivers in the U.S. are struggling to collect unemployment benefits during this pandemic."
"Safety Concerns, Treatment of Workers in Delivery Industry Trigger Protests in US," CCTV Video News Agency, April 27, 2020.
"The COVID-19 lockdown in the United States has brought the e-commerce and delivery industry at the forefront of the country's economy, providing various employment opportunities and people with their basic needs, but major concerns remain about the safety and treatment of the workers."
"The Impact of COVID-19 on Native Americans," CGTN America, April 25, 2020.
CGTN's Rachelle Akuffo spoke with Kevin J. Allis, Chief Executive Officer of the National Congress of American Indians about the impact of COVID-19 on the Native American community.
The views expressed in GMF publications and commentary are the views of the author alone.