Top Headlines in Russia
This week, we examined the headlines on Yandex that feature Russia as the primary country mentioned. Four of the top six key phrases in these articles relate to the economy, dwarfing coverage of Russia's aggression in Ukraine. The significant percentage of headlines on the economy could speak to what's really on Russian citizens' minds: how will the war in Ukraine affect their pocketbooks and everyday lives? It also shows that the Russian government's agenda is to convince Russian citizens any economic decline since the start of the war in Ukraine and imposition of western sanctions is temporary, reversible, and will ultimately hurt the West more than Russia.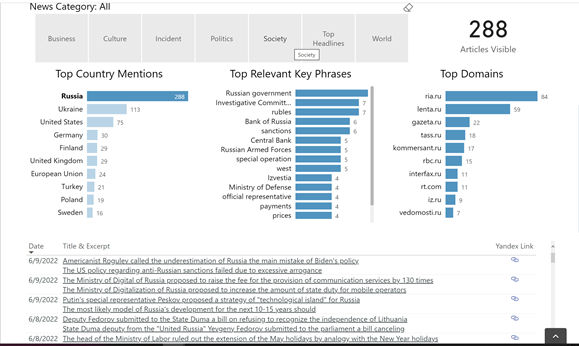 Many of the articles featured on Yandex that discuss the Russian economy try to portray a picture of Western sanctions failing and an economy that will rebound. Some articles mention the current obstacles facing the economy neutrally. On the rosier side, here are some typical pieces:
Yet, there are a handful of sober articles too. They include:
A June 8 article in Lenta states that Chinese telecom giant Huawei has closed four of its 19 stores in Russia, citing reduced stock because of the supply chain disruptions and reduced demand in Russia; the article also mentions that Huawei had already reduced its supply of telecom equipment to Russia.
A June 7 article in Kommersant mentions that the Russian GDP will fall by 8.9 percent in 2022 and will likely continue to fall in 2023, and that international sanctions have led to a sharp decline in domestic production and an increase in prices .
A June 6 article in RT describes how they're running out of hard liquor in Russian restaurants because the main alcohol suppliers are foreign companies.
Regional Headlines
If you're sitting in Moscow looking for news headlines, you could be forgiven for thinking Russia isn't in a state of war with its neighbor. The top key phrases have to do with the economy, housing, transportation, commerce, etc.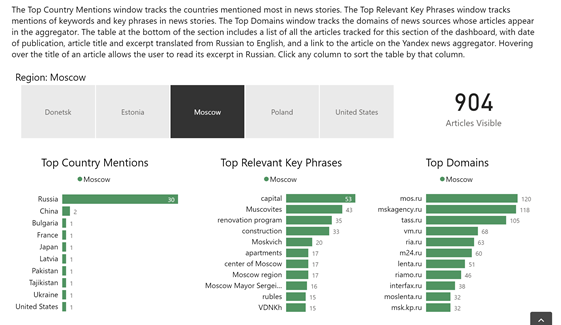 Pick any random day and you're unlikely to find a single headline about Ukraine. Here's a view of June 9. There are only two articles that touch on the war. The first, a Kommersant piece that discusses how the Moscow city government will compensate local movie theatres for showing domestic Russian films, doesn't even directly refer to war, but rather to international film companies pulling out of Russia (the reason is left unsaid). The second, an article in RT that describes how Muscovites have gathered more than 2 million essential items for refugees from the Donbas, more directly mentions the war, of course, but also omits that many refugees from the Donbas have been brought to Russia against their will.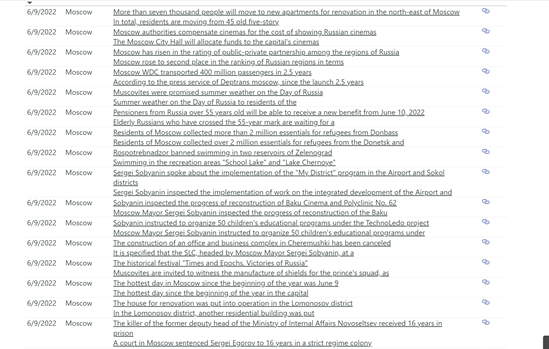 Let's compare what a Muscovite sees regionally with what a Russian speaker sitting in Warsaw might see. In Poland, "Ukrainian refugees" is tied for the third-most relevant key phrase; if you combine the results from "Ukrainian refugees" with those from key phrase "refugees," it's actually the top-ranked key phrase for news coverage in Poland. Moreover, the coverage is largely negative. Articles include stories about a health and housing challenge in Poland because of Ukrainian refugees; declining support among Poles for providing refugees financial assistance; refugees destroying a humanitarian aid center; and the EU leaving Poland to face the refugee crisis on its own.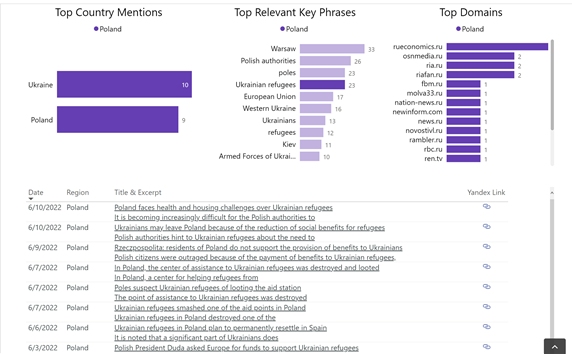 If you're a Russian speaker in Washington, D.C., you'll see quite a few headlines on the war in Ukraine. In fact, "Kiev" is the second-ranked key phrase. Drilling into those articles, many of them quote Western news sources or American analysts promoting views Moscow might see as advantageous to their side of the story. For example, there's an RT story citing a New York Times article describing the Ukrainian government as an unreliable sharer of information with U.S. intelligence services (also cites Russian Foreign Minister Sergei Lavrov saying there have been hundreds of CIA operatives in Ukraine for years). An article on lenta.ru quotes an American analyst who argues that by providing security assistance to Ukraine, the United States could end up in a direct conflict with Russia. RIA.ru quotes the conservative online magazine American Thinker's Frank Howard, who wrote that the United States should pressure Ukrainian President Volodymyr Zelensky to allow Russian-speaking populations in Ukraine's south and east to separate from Ukraine and be under Russian control. 
Search Results
Though Western media still face an uphill battle having their articles featured on Yandex's search function, it's not impossible. Of the 808 mentions of Ukraine across all 15 search queries, the bbc.com makes the top ten domains, and the U.K. news outlet's "War in Ukraine" Russian-language homepage is the sixth-most ranked individual URL. The BBC is still dwarfed by Russian state-sponsored media organizations and other news outlets promoting pro-Kremlin spin on the war, but the fact that the BBC is featured at all in top Yandex search results provides a glimmer of hope that Russian speakers can find more nuanced information on their military's invasion of Ukraine.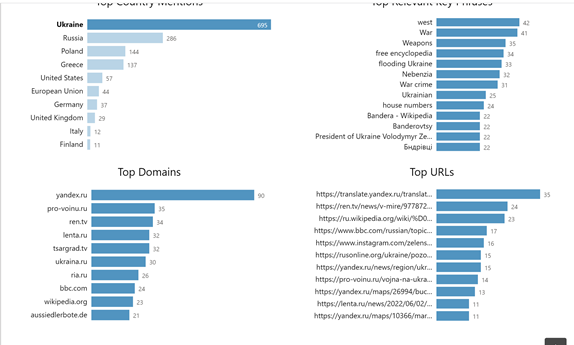 The views expressed in GMF publications and commentary are the views of the author alone.