NATO's role in countering Russian aggression during the war in Ukraine has made the alliance a repeated target of Kremlin-linked propaganda campaigns. Central to this effort is an attempt by Russian state-affiliated media and diplomats to exploit or invent divisions between member states to disrupt Western unity and weaken the alliance's resolve.
In May 2022, Sweden and Finland announced a joint bid to join NATO. Despite Russian President Vladimir Putin's assurances that he does not view their potential accession as a threat, Kremlin-backed propaganda routinely highlights tensions between the two Nordic countries and Turkey, a NATO member state that has supported Ukraine militarily but has not severed ties with Russia economically.
In January 2023, Sweden saw a number of pro- and anti-Turkish protests related to tensions over Turkey's ongoing effort to block Sweden from joining the alliance due to its policies towards the Kurdistan Worker's Party (PKK) and other groups Ankara considers "security concerns". During one of these protests, Danish far-right political activist Rasmus Paludan set fire to a copy of the Quran near the Turkish Embassy in Stockholm. Notably, a day prior to the protest, Swedish and other media reported that Swedish journalist Chang Frick, a former RT contributor, had financed Paludan's protest permit. Immediately following the demonstration, tensions soared; Turkey cancelled a planned visit from the Swedish defense minister and indefinitely halted its support for the joint Swedish-Finnish NATO bid.
Considering Turkey's strategic neutrality during the war, Russian diplomats and state media are seemingly working to gain a much-needed ally, impelling the country to veer east at its proverbial crossroads. Analysis of data from the Alliance for Securing Democracy at GMF's Hamilton 2.0 dashboard shows that Russian state-sponsored media and diplomatic outlets have capitalized upon the anti-Turkey protests, promoting narratives that portray Russia as a stronger ally than the West and that question Turkey's place in the NATO alliance.
Freedom of Speech?
In discussing the demonstration, propagandists highlighted the approval of Paludan's protest permit, emphasizing Swedish authorities' "permission" and "silent consent" of the act. Posts also zeroed in on security at the event, noting that Paludan was given "great protection" and "extensive security" from Swedish police—a norm for demonstrations in Sweden. Nonetheless, propagandists implied that granting Paludan the permit was a Swedish endorsement of the act, rather than a bureaucratic rubber-stamp.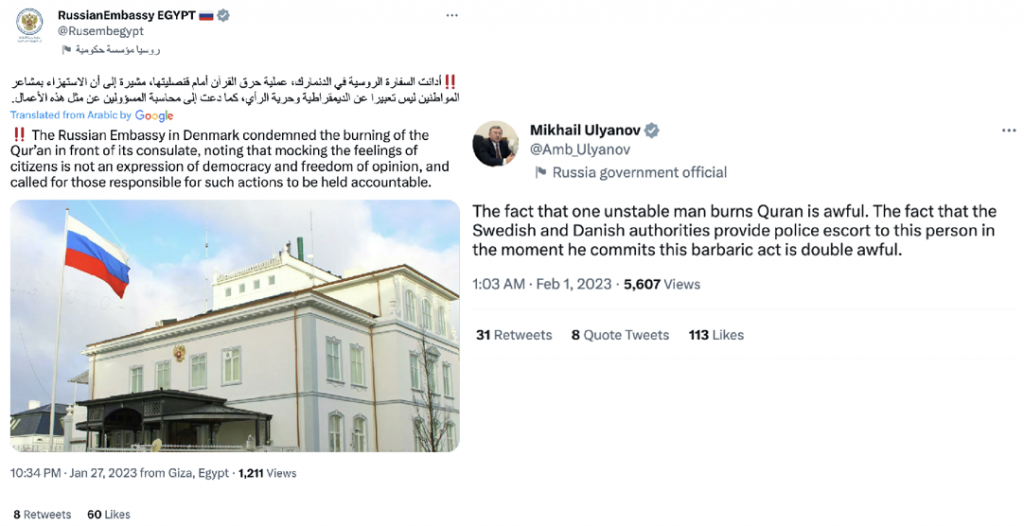 Additionally, Russian-linked media and diplomatic accounts took aim at democratic freedoms—insisting that neither freedoms of speech nor expression were apt justifications for the demonstration. In some instances, media accounts retweeted posts contrasting the approval of the Quran-burning protest with Sweden's ban on Russian-state sponsored media outlets.
Russia, the Great Ally
Kremlin-linked accounts portrayed Swedish officials' condemnations of the burning as anemic in contrast to what they presented as a flood of strong denunciations from Russia. Those accounts mentioned condemnations from Russian political and religious officials more than 35 times. Propagandists also elevated quotes from Ramzan Kadyrov, the pro-Putin president of the Muslim-majority Chechen Republic who has been accused of perpetrating "crimes against humanity"; Kadyrov criticized Paludan as a "religious terrorist" and blamed the West for an "incitement of religious hatred".
Other than a single tweet from the Russian Embassy in Egypt, diplomatic accounts steered clear of mentioning Kadyrov, opting instead to promote condemnations from the Russian Ministry of Foreign Affairs' spokeswoman Maria Zakharova. Zakharova dismissed NATO Secretary General Jens Stoltenberg's condemnation of the demonstration, noting that, contrary to NATO member-states, "[Russia] will remember it".
Turkey-NATO Relations
For the week and a half following the demonstrations, only Russia, Ukraine, and the United States were mentioned more by Russian propagandists than Sweden and Turkey in NATO-related tweets. Those posts regularly cited Turkish officials' negative outlook on Swedish accession and questioned Turkey's place in the alliance. Notably, posts claiming that Turkey would soon leave NATO appeared three times as often as  corrections from Turkey's ruling party assuring that the country will remain in NATO. Russian-linked media accounts, particularly Sputnik's Turkish outlet, also amplified claims that Turkey was at odds with NATO, that the alliance was the biggest threat to Turkish sovereignty, and that the alliance "takes orders" from the United States, allegedly to the detriment of Turkish interests.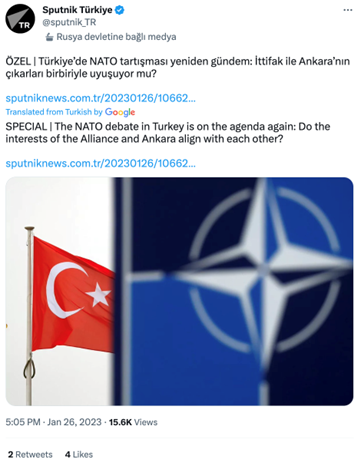 Russian propagandists also injected flattery into their coverage, promoting claims that Putin considered his Turkish counterpart, President Recep Tayyip Erdoğan, to be a "real man". Other accounts alleged that the Turkish public is beginning to "sympathize" with Russia and Putin, while others took direct aim at Turkey's international image, asserting that the country's only "serious" option is a prevention of Sweden's accession to NATO.
Why It Matters
The Kremlin didn't create the divisions between Turkey and Sweden, nor did it create the conflicts within the transatlantic alliance. However, its exploitation of these faults serves Moscow's interests and benefits the anti-NATO narrative the Russian government has long promoted, particularly amid its war in Ukraine. At a time when the West has proven its strength and unity, it appears that Russian messengers are determined to use the accession debate to divide the alliance and to get Turkey to waver from its strategic neutrality.
The views expressed in GMF publications and commentary are the views of the author alone.