Days after an errant Ukrainian missile tragically killed two civilians in Poland, Russian state-sponsored media began reporting on a strange conspiracy theory—that Poland wants to annex three counties in western Ukraine. ASD at GMF's Yandex Dashboard shows that from November 30 to December 1, Yandex's news aggregation site (now known as dzen.ru) featured headlines from Russian state-sponsored or pro-Kremlin outlets alleging that Poland has designs on Ukrainian territory. The irony of Russian officials and Russian media criticizing and spreading disinformation about a country's designs to annex another's territory may have been lost in Moscow.  
Here are the articles featured on Yandex:
Media outlet RBC Group quoted the Director of Russia's Foreign Intelligence Service Sergey Naryshkin, who claimed that Polish authorities were preparing referendums of annexation in three western Ukrainian regions ostensibly to ward off any agreements between NATO and Russia on Ukraine's fate. To be charitable to RBC, it did cite the Polish Ministry of Foreign Affairs calling the allegations "disinformation."
An article in Gazeta cited a senior Russian Duma representative, Konstantin Zatulin, who, perhaps wishing to instill more fear among Ukrainians, claimed the United States would stop providing military assistance to Kyiv in the event Poland annexed Ukrainian territory.
Finally, an article on Poland's alleged plans in IANED featured a map of Ukraine that more or less wipes Ukraine entirely off of it. The map uses the term "Novorossiya," or "New Russia," to describe almost all of Ukraine's territory. Novorossiya is the historical label for parts of eastern and southern Ukraine, which Vladimir Putin has used to give supposed historical legitimacy to Russia's dismembering of its neighbor. In a bit of black humor, the IANED map labels the three counties Poland allegedly plans to annex "Ukraine."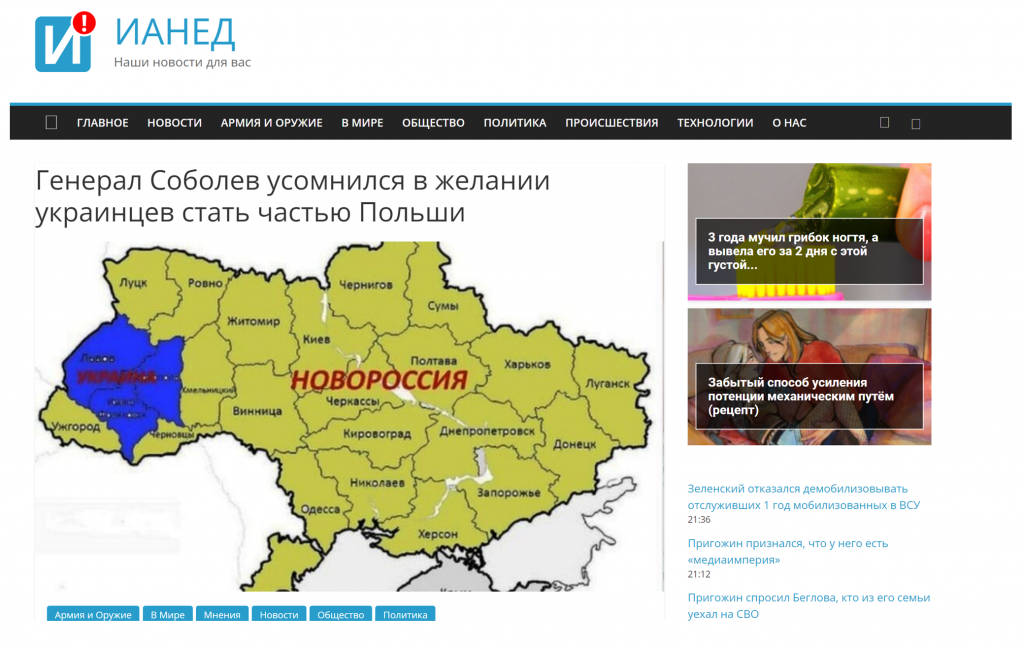 The deputy head of the Ukrainian Presidential Administration, Mykhailo Podoliak, took to Twitter to respond to—and laugh at—Russia's disinformation campaign.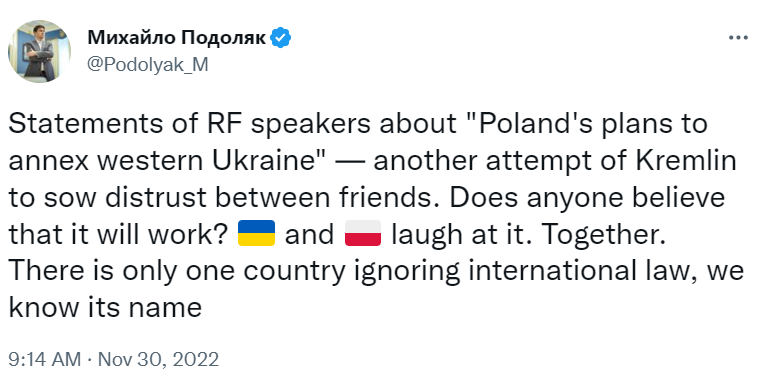 The views expressed in GMF publications and commentary are the views of the author alone.