Since the war in Ukraine started, Chinese diplomats and state media have attempted to portray their country as a neutral third party interested only in restoring peace to Europe. But that effort has been belied by Beijing's own messaging, which has consistently spun events in Moscow's favor, from ascribing blame for the war to NATO to minimizing the intensity of the conflict by adopting Russia's "special operation" designation to describe the war.
The most acute test of China's newfound allegiance, however, has been its reaction to mounting evidence of Russian war crimes, most tragically exemplified by the massacre in Bucha, Ukraine. Rather than defend the indefensible, Beijing has largely avoided the issue, mixing "calls for [a] full investigation" with a heavy dose of strategic silence. But as has been the case with China's messaging throughout the war, there have been Chinese outlets and officials who have used their official platforms to directly and indirectly promote pro-Kremlin conspiracy theories about Bucha, including the claim that the massacre was staged.
Superficial Neutrality
As Ukrainian forces retook control of Bucha in the first days of April, Chinese state-affiliated media tended to follow international reporting on the situation in the city, factually reporting on the killings. However, Chinese state media also frequently added qualifying Russian statements to their reporting. On Twitter, for example, various arms of CGTN relayed the Russian allegation that Bucha was a "staged performance" at least six times between April 3 and April 5. But perhaps the most telling aspect of China's coverage has been the absence of it: since April 15, CGTN has published just two articles and six tweets about the killing—a fraction of the coverage provided by Reuters, according to data from the Hamilton 2.0 dashboard.
Chinese diplomats have also largely avoided the topic. Due to a Chinese national holiday between April 3 and April 5, the Ministry of Foreign Affairs (MFA) did not comment publicly on the massacre until April 6, several days after images of dead Ukrainian civilians had gone around the world.  At that time, the MFA called for an "independent investigation" in order to "establish the truth." Even as Beijing presented these calls as neutral and level-headed, the MFA's warnings that "all sides should exercise restraint and avoid unfounded accusations" in the face of overwhelming evidence of Russian war crimes provided reason to question Chinese diplomats' commitment to neutrality and impartiality.
"Just Asking Questions"
Following the MFA statement on April 6, most Chinese outlets and diplomats that mentioned the killings relayed the push for an international investigation while meticulously avoiding pointing a finger at Russia. There were exceptions, however. Both the Global Times and the Chinese Consul General in Cape Town strongly suggested that the massacre had been staged by "the West" to derail peace talks.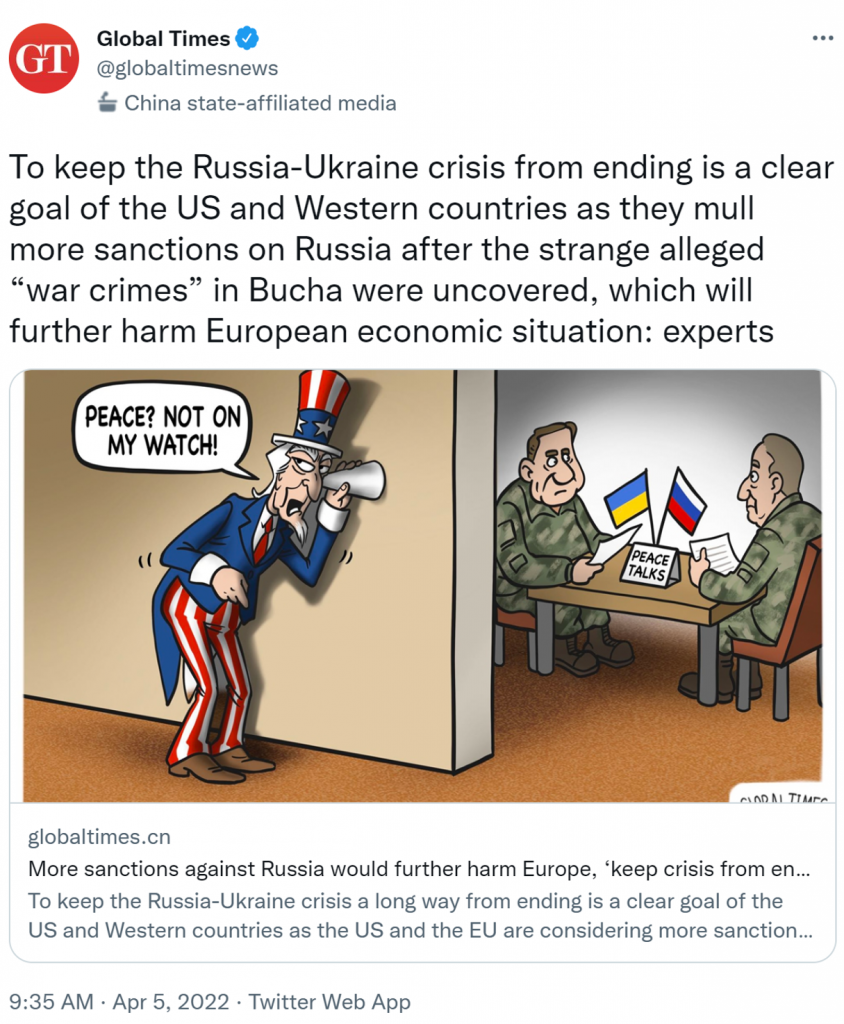 Several Chinese officials also used retweets to amplify conspiratorial content from others, including the Chinese Embassy in France, which, on the same day the Chinese MFA asked for restraint in spreading unfounded accusations, retweeted a video shared by their Russian counterpart claiming that British intelligence staged the Bucha massacre. The Chinese Consul General in Beirut gave an additional boost to Russian denials by retweeting British politician-turned-Russian-state-media-pundit George Galloway's disingenuous insinuations about the United Kingdom's decision to block Russia's request to convene the United Nations Security Council to discuss the alleged war crimes.

As evidence has continued to mount that the massacre in Bucha was both real and perpetrated by Russian forces, Chinese state media outlets and diplomats have increasingly shied away from the topic. A notable exception is the Consul General in Osaka, Japan, Xue Jian. Since the beginning of April, he has amplified a steady stream of overtly conspiratorial content, often posted by anonymous Twitter accounts. On April 12, he relayed a statement from Russian President Vladimir Putin calling the massacre a "fabrication." A week later, he amplified a tweet implying that, based on "forensic medicine," the corpses in Bucha had been moved. In late April, he retweeted another message claiming that the Ukrainian Azov Battalion was behind the Bucha massacre. And in early May, he retweeted a claim that efforts to blame Bucha on Russia were a "classic" CIA tactic that was also being used to falsely frame China for the genocide of Uyghurs in Xinjiang.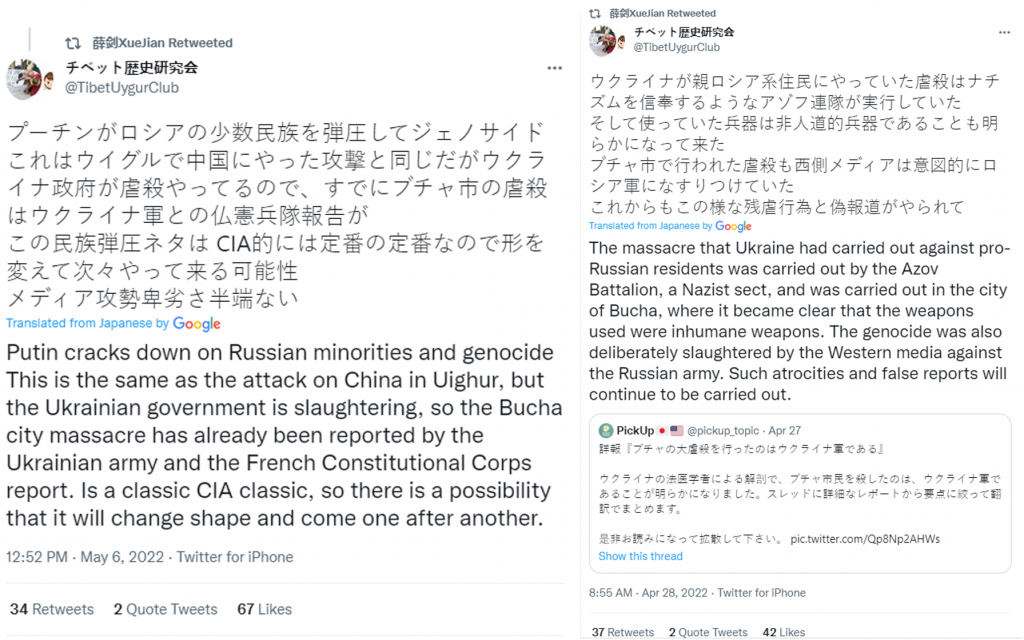 In total, Jian has retweeted more than 20 tweets about Bucha—more than any other Chinese diplomat. Nearly all of them have promoted pro-Kremlin conspiracy theories.
Why It Matters
Chinese diplomats and state media's reaction to the Bucha killings is symptomatic of Beijing's disingenuous stance towards the Russian invasion of Ukraine. Contrary to China's calls for restraint, Beijing's passivity and refusal to condemn Russian atrocities has likely exacerbated the severity of the humanitarian and security crisis in Ukraine. In addition, Chinese diplomats' promotion of inflammatory, and at times openly conspiratorial, content, with no apparent repercussions, reinforces the perception that the MFA's calls for "investigations" and "negotiation" are barely concealed attempts to stall international efforts to bring Russia to account for its war crimes.
The views expressed in GMF publications and commentary are the views of the author alone.