Overview
On August 11, 2020, Russian President Vladimir Putin announced that Russia had approved the world's first coronavirus vaccine, which it dubbed Sputnik V in reference to the Soviet Union's famous orbital satellite—the world's first in 1957. Russian state media and government officials touted this "breakthrough," emphasizing positive claims about the vaccine's safety and efficacy, as well as international demand for the vaccine. Moscow also pushed back against international criticism of the vaccine's lax safety testing, accusing critics of Russophobia and withholding of information, while portraying itself as the benevolent leader in the fight against the virus.
By the Numbers
Between August 8 and August 14, #vaccine was the sixth most-used hashtag by the Russian government and diplomatic accounts monitored on Hamilton 2.0. In total, close to 1,200 tweets from monitored accounts mentioned "vaccine" during the same period.
Meanwhile, close to 70 English-language articles and broadcasts from Russian state-funded media tracked on Hamilton 2.0 covered the Sputnik V coronavirus vaccine.
What We're Seeing on Hamilton 2.0
Accompanying the August 11 announcement, Russian state media and government officials celebrated being the first country to register a coronavirus vaccine, portraying Russia as the global leader in the race for a coronavirus cure. Russian patriotism was evident in much of the messaging, as diplomatic and state media accounts touted the development as not only a win for public health but also for the Russian state. Russia Beyond, for instance, capitalized FIRST in its headline, adding the tagline "made in Russia."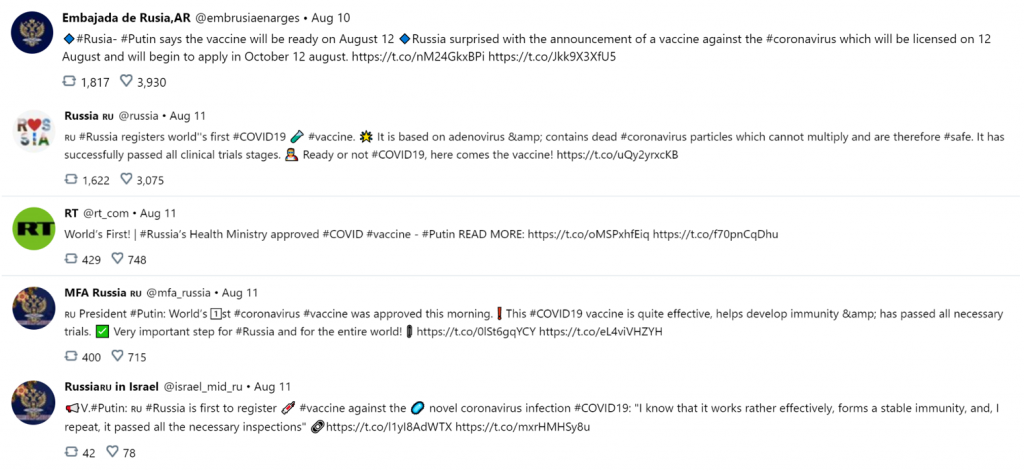 TASS in particular emphasized international interest in purchasing the vaccine. It identified more than 20 countries and published individual articles on at least six that indicated interest. RT also reported on Russia's UN envoy Vasily Nebenzya's statement portraying Russia as a global benefactor "ready for international cooperation" on vaccine research and production.
In response to international criticism, Russian diplomats and state media decried what they deemed a "politicized" and Russophobic response to the Russian vaccine in Western media. Some even alleged a coordinated smear campaign against the Russian vaccine: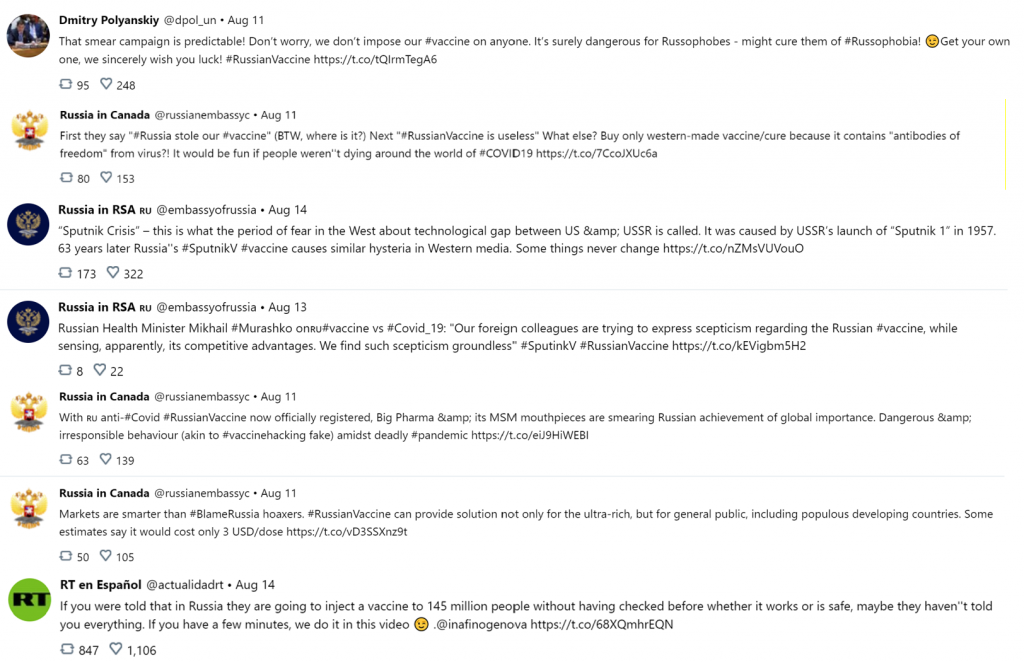 "Why 'Sputnik Moment' of Russia's First COVID Vaccine Triggered 'Sour Grapes' Reaction in Western MSM," Opinion, Sputnik News, August 11, 2020.
"On 11 August, Russia announced the world's first vaccine for COVID-19, named 'Sputnik V', in a bid to curb the pandemic that has currently killed over 737,000 globally. International observers detail why the breakthrough development has been met with either silence or rejection from the Western press."
"'Safe & effective' over 'first': US throws shade at Russia's first-to-market Covid-19 vaccine," RT, August 11, 2020.
"Top US health officials insist they're holding out for a "safe and effective" Covid-19 vaccine, hinting that Russia's shot is anything but – or even that it's a plot to 'goad the US into forcing early action on our vaccines.' . . . ]. The Trump administration's own vaccine development program, called Operation Warp Speed, has been criticized even by the country's most fervent vaccine boosters for its "unsafe" timeline, which has contracted from an ambitious 18-month projected schedule to "maybe before the election.""
"First registered COVID-19 vaccine worldwide is named Sputnik V," TASS, August 11, 2020.
The article describes the vaccine's official website, which claims to have been created "to fight the disinformation campaign about the vaccine launched by several international news outlets."
"Russian vaccine against COVID-19 subject to coordinated information attacks — developer," TASS, August 11, 2020.
"The Russian vaccine against COVID-19 has become subject to coordinated information attacks, Kirill Dmitriev, head of the Russian Direct Investment Fund (RDIF), told an online conference on Tuesday. 'Coordinated and carefully prepared information attacks on the Russian vaccine are trying to discredit and hide the correctness of the Russian approach to drug development,' he said. According to Dmitriev, 'a politicized approach to the Russian vaccine on the part of a number of Western countries endangers the lives of their citizens.'"
The head of the Russian Direct Investment Fund, Kirill Dmitriev, also published an op-ed in Sputnik, which emphasized Russia's desire for international cooperation and argued that "politics again stand in the way of the Russian technology, which can save lives around the world." The outlet dramatically described the piece as "forbidden" after it was supposedly "rejected by all leading Western media" due to an alleged "blockade imposed on positive information about the Russian COVID-19 vaccine." An RT America segment devoted to the topic took a similar approach, suggesting that the world had missed an opportunity to unite around the vaccine, that the West is jealous of Russia's progress, and that approved British or U.S. vaccines would have been rushed to market for monetary reasons, rather than Russia's supposedly benevolent motives.
Why It Matters
As the coronavirus pandemic rages on globally, progress in treatment and vaccine development has commanded a massive degree of public attention and funding, and the first effective vaccine would represent a major milestone in this fight—as well as global influence for the first mover. It is not surprising that Russia, or any country, would seek to promote such progress. However, while Russia's overt channels tout its accomplishment, promote an image of Russia as a benevolent savior, and decry the West's Russophobia and alleged withholding of information, more covert Kremlin-linked websites have pushed false reports about deaths caused by a U.S.-made vaccine. This is consistent with Russian messaging around other public health and technology related developments, where narratives around Western advancements often stress (or manufacture) public health concerns while Russia's efforts are deemed "safe" (see 5G coverage).   
The views expressed in GMF publications and commentary are the views of the author alone.