Overview
Over the past ten days, renewed violence in Israel and the Palestinian Territories has become a major story in the global news cycle. Russia, China, and Iran have each devoted significant coverage to the situation, but Chinese diplomats and state media have put a distinctive spin on the story by focusing on two narratives. First, they have blamed the United States for enabling the conflict and, second, they have presented the Chinese government as an alternative, more impartial, global leader.
By the Numbers
Between May 8 and May 18, Chinese coverage of Israel increased significantly. When looking at the prevalence of "Israel" or "Israeli" in tweets from Russian, Chinese, and Iranian propaganda networks on Twitter, the Chinese network went from being the least interested ten days ago to overtaking the Iranian network from May 16. This was particularly remarkable given the prominence of Israel-related coverage in Iranian propaganda.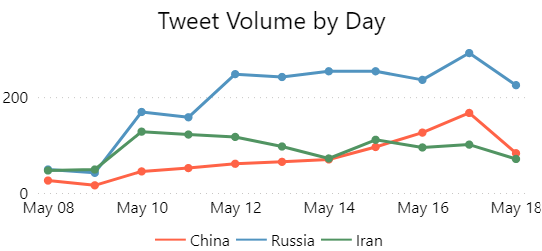 While the Russian network monitored on Hamilton 2.0 produced more Israel-related content overall, an interesting nuance appeared when singling out official and diplomatic accounts. As was the case with the entire network, Chinese diplomats went from being the least vocal on Israel-related topics to overtaking their Russian colleagues and trending in the same direction as their Iranian colleagues from May 14. Again, this was remarkable given the emphasis Iranian officials always place on Israel in their statements.
Another interesting data point was that Chinese tweets containing "Israel" or "Israeli" mentioned the United States far more than any territory other than those involved in the conflict or China itself. This suggests that one of the main aims behind Chinese coverage of the crisis was to score geopolitical points at the United States' expense.
What We're Seeing on Hamilton
Chinese state-affiliated and -backed media as well as diplomats have accused the United States of unfairly siding with Israel in the current conflict. In a tweet that generated a lot of engagement last week, Chinese Ministry of Foreign Affairs spokesperson Zhao Lijian shared a short excerpt from a U.S. State Department press briefing in which a U.S. official denounced "rocket fire targeting innocent civilians in Israel." As commentary, Zhao deplored the United States' "#Double Standards."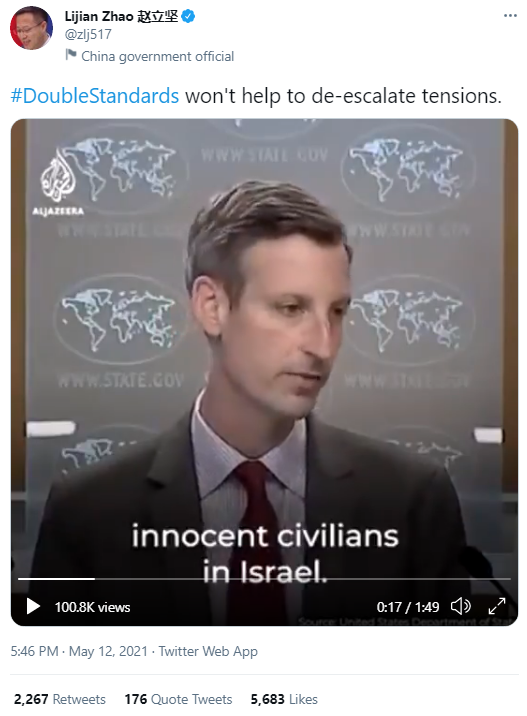 Some members of the Chinese network accused countries other than the United States of pro-Israel bias. See for instance what the head of China Daily's Europe bureau had to say about an EU statement calling for de-escalation in the Middle East.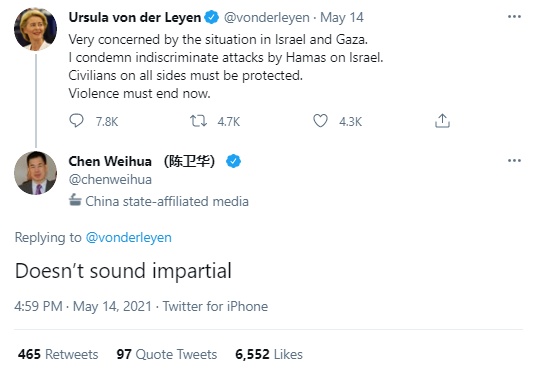 Chinese diplomats and state media argued that any concern those countries claim to have for Muslims is feigned. Chinese authorities' objective there is to rebuff criticism of their human rights abuses against the Muslim minority in Xinjiang.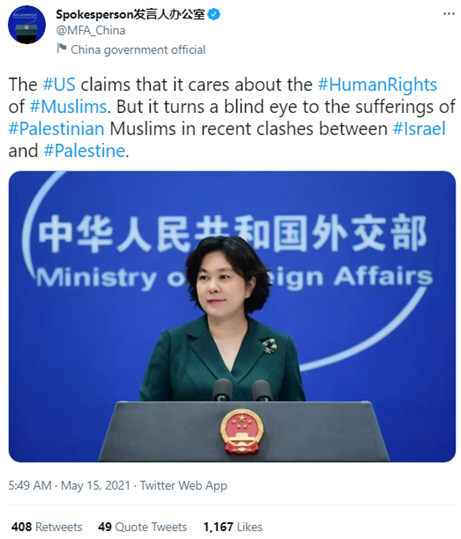 The Chinese state-affiliated and -backed networks also used this narrative to portray the United States as an isolated and destabilizing force in the world. For instance, Chinese diplomats and state media strongly criticized U.S. positions in the United Nations' Security Council (UNSC).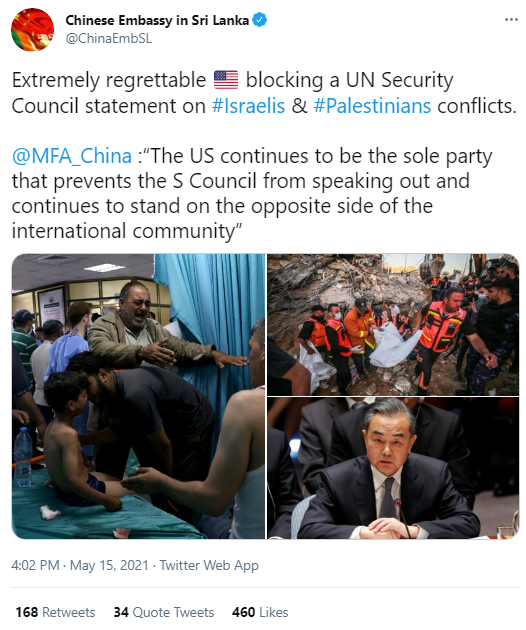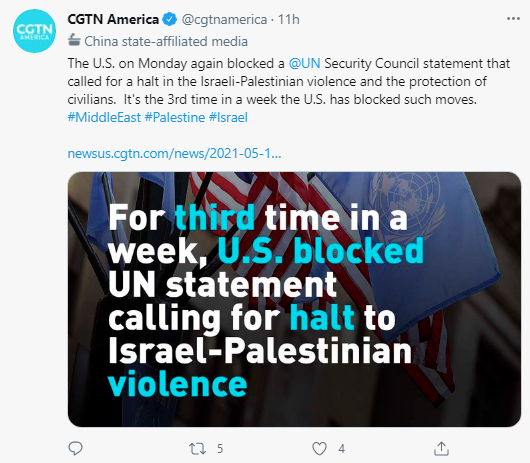 In contrast to their very negative portrayal of U.S. positions, Chinese diplomats and state media consistently promoted what they argued were Chinese authorities' "constructive" and "commendable" positions. For instance, a lot of attention was devoted to the UNSC meeting chaired by Chinese Foreign Minister Wang Yi on May 16. As the Global Times noted, Wang Yi's professed reliance on multilateralism to solve the conflict was designed to stand in contrast to the United States' "under the table" diplomacy.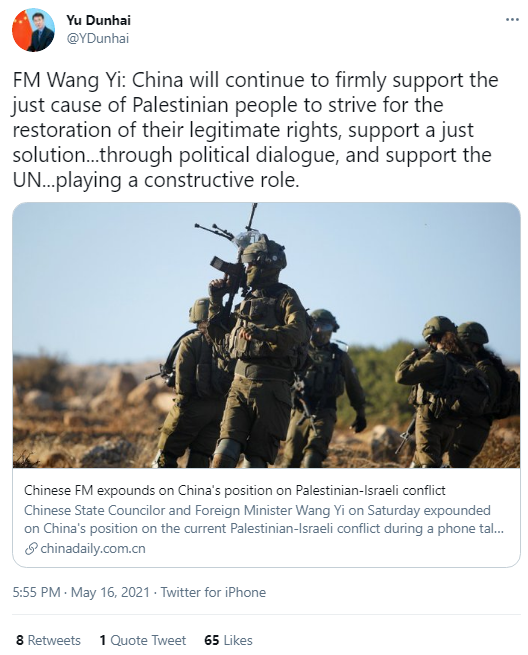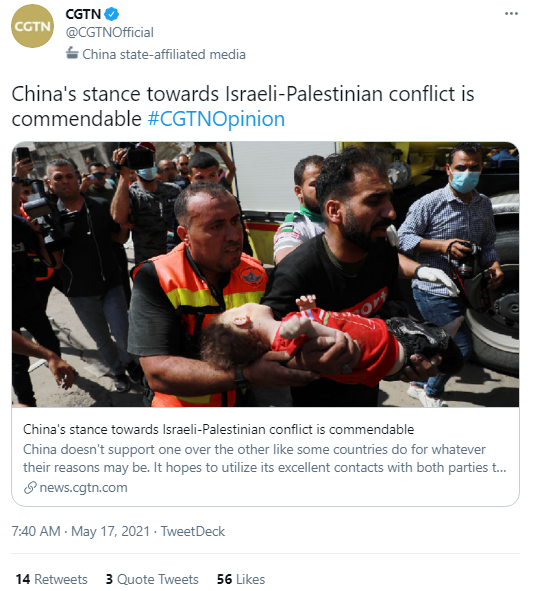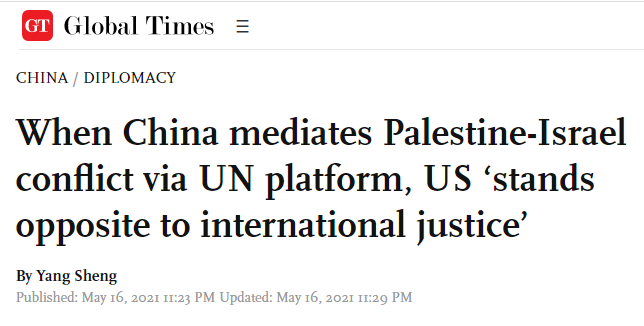 By juxtaposing a biased and obstructive United States with a reasonable and constructive China, the Chinese network monitored by Hamilton 2.0 ultimately wanted to damage U.S. international standing, and to present the Chinese state a more effective global leader.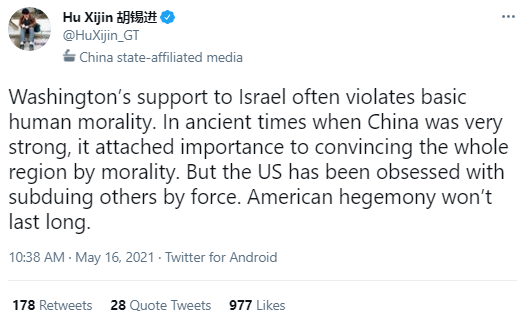 Why It Matters
The Chinese state-affiliated and -backed social media networks monitored on Hamilton 2.0 have seized upon the recent violence as an opportunity to criticize the global leadership of the United States and its European allies. Between May 8 and May 18, Hamilton 2.0 registered a significant increase in Chinese coverage aiming to discredit U.S. positions by portraying them as insincere. By contrast, Chinese state-affiliated and -backed media and diplomats presented China's initiatives as impartial and constructive. The message they hoped to imply, and at times openly expressed, was that the United States is no longer worthy of its international standing and that the time has come for a more effective government—one with "Chinese characteristics"—to take up the mantle of global leadership.
The views expressed in GMF publications and commentary are the views of the author alone.