Overview
On Sunday, November 15, 15 Asia-Pacific nations signed the Regional Comprehensive Economic Partnership (RCEP) via video conference. Comprising China, the Association of Southeast Asian Nations (ASEAN) member states, Japan, South Korea, Australia, and New Zealand, RCEP is now the world's largest free-trade bloc.  While the jury is still out on the agreement's ability to deliver substantial trade benefits for all its participants, Chinese state media and diplomats have been hard at work to ensure that RCEP enhances their country's prestige and international standing, while denigrating the United States and India's relations in the region. It is also further evidence that a new alternative to the Washington Consensus-led global order is emerging.
By the Numbers
Between November 14 and 20, RCEP has been the second most-used term by Chinese diplomatic and state media Twitter accounts monitored on Hamilton 2.0. When looking only at diplomatic accounts, RCEP has been the third most-used term for the entirety of November (as of November 20).
A similar emphasis on RCEP was evident on other platforms used by Chinese state media, with over 100 articles published on state-backed websites between November 14-20. Over that same period of time, CGTN America, the Chinese state media outlet aimed directly at the Americas, produced seven video segments on various aspects of the deal. Beijing evidently wanted North and South American audiences to see RCEP as a real game-changer.

What We're Seeing in Hamilton 2.0
Chinese diplomats and state media were keen to stress the size and scale of RCEP, highlighting the overall significance of the deal.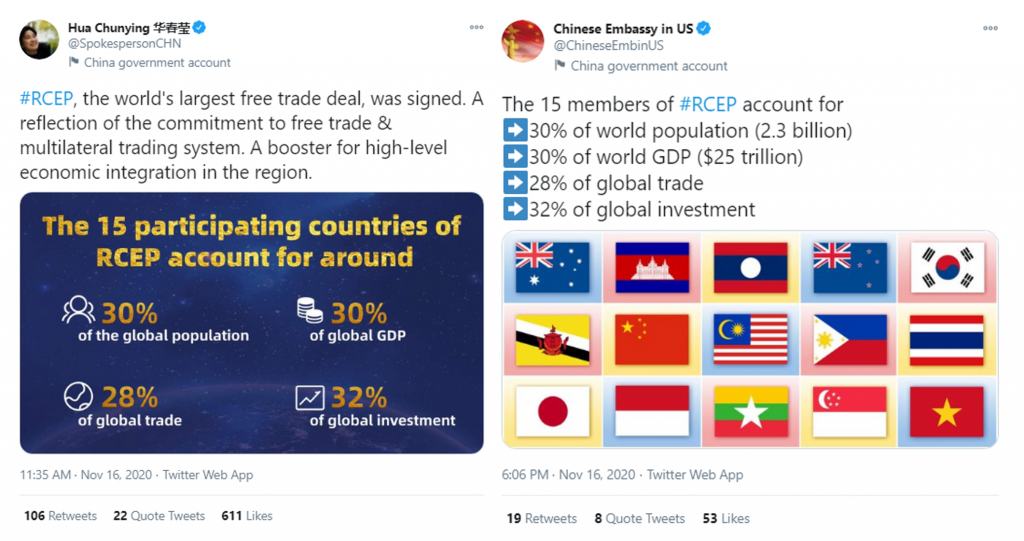 However, Chinese Premier Li Keqiang's proclamation that RCEP is a "victory of multilateralism" signaled state media and diplomats' efforts to portray the agreement as a win for all its participants, not just for Beijing.
Further highlighting the idea of China as part of a broader coalition of like-minded partners in Asia, Chinese diplomats and state media frequently advanced the role of ASEAN in the deal as well as the inclusion of two Western countries, Australia and New Zealand. Outputs stressing this collaboration were mixed with posts meant to rebut critics of the deal and highlight that the deal is an alternative to the Washington Consensus, not a direct repudiation of it.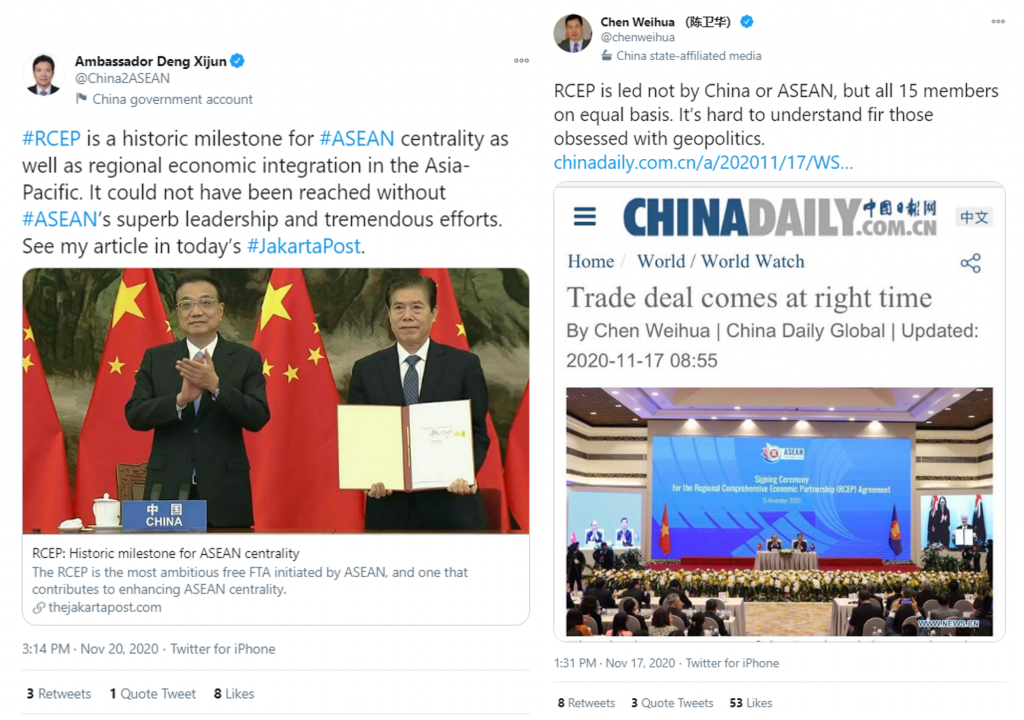 Chinese messaging also directly criticized countries that were not signatories to the agreement, namely the United States and India.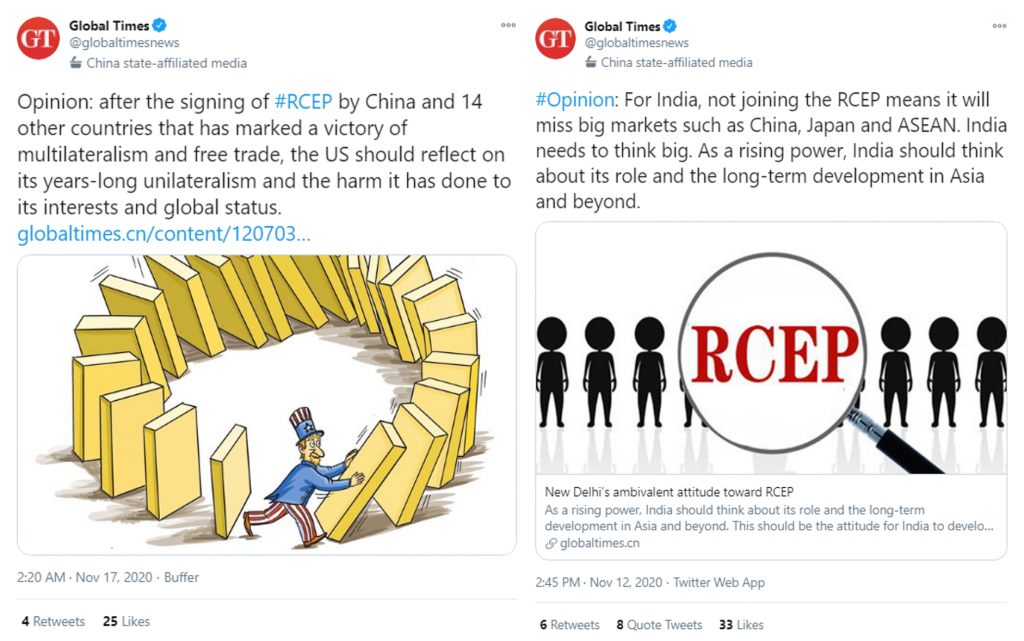 Lastly, Chinese state media messaging praised RCEP as a triumph over the Trump administration's "America First" policy and its attempts to decouple the United States and China's economies. Other tweets emphasized that U.S. "influence is waning in Asia" because allies like South Korea and Japan "are making policies more out of their own interests than thinking about pressure from the U.S." And a CGTN op-ed noted EU ties with the U.S. are "too close already and come at the detriment of Europe's development," suggesting that the regional bloc should not fear RCEP and should forge its own path separate from the U.S. within the new global order.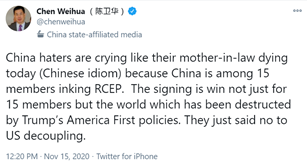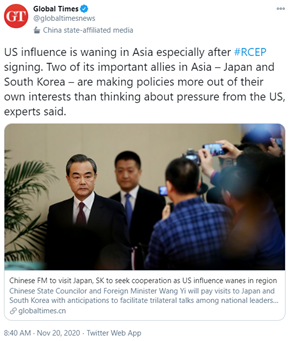 As has become a customary feature of China's messaging on Western social media platforms, Chinese diplomats also relied on suspicious accounts to manufacture "public" support for RCEP. For example, Zhang Heqing, a Chinese diplomat in Pakistan, retweeted an account created in November 2020 that Twitter has currently restricted due to unusual activity.

Why It Matters
The bulk of Chinese diplomatic and state media messaging around RCEP's ratification portrayed the deal as a symbol of China's commitment to multilateralism and a rules-based international trade system. However, an attentive look at Chinese outputs reveals that Beijing also views the agreement as a symbol of its pre-eminence in the Asia-Pacific region, its outflanking of the United States and India, and the emergence of a new global order that serves as an alternative to the Washington Consensus. In the emerging information competition between China and the transatlantic community—one increasingly defined by China's use of information manipulation—China's ability to present itself as the only reliable and responsible superpower presents a challenge for the West's collective efforts to shape global public opinion on a range of issues.
The views expressed in GMF publications and commentary are the views of the author alone.