March and April Monitoring: Russian State-Backed Media
ASD and GMF analyzed data from the German Elections Dashboard to understand the narratives that state-backed actors are pushing ahead of the German federal elections in September. In March and April, Russian state-backed media outlets focused on the German government's handling of the pandemic, the vaccine rollout, the escalating security situation in Ukraine, and the imprisonment of Russian opposition leader and anti-corruption activist Alexei Navalny. Russian state-backed media outlets, including RT Deutsch and SNA, manipulated information by using misleading headlines, inserting false suggestions, and making references to conspiracy narratives. Additional narratives focused on Nord Stream 2 and critiques of the German media landscape.  
Our analysis suggests that Russian state-backed media outlets seek to undermine trust in the German government's handling of the pandemic, including its vaccination strategy. In the cases of Ukraine, Alexei Navalny, and Nord Stream 2, Russian state-backed media outlets struck a Russia-friendly tone, attempting to further support for the Kremlin's policies among Germans.
Why I
t Matters
Ever since Russia interfered in the 2016 presidential election in the United States, which included a concerted information manipulation effort, there has been growing attention across Europe and globally on Russia's activities in the information sphere. Russian state-linked actors have also tried to interfere in the German discourse. Their information manipulation campaigns have targeted minorities and migrant groups, including the Russian-speaking minority, as in the false "Lisa F." case in 2016.  
Germany is an attractive target for Russian interference due to its political position in the European Union. Germany was a driving force behind European consensus on sanctions against Russia after the illegal annexation of Crimea in 2014. Sanctions against Russia, as well as the German-Russian relationship, continue to be a fiercely debated topic in Germany, with some political forces, particularly in Eastern Germany, calling for an easing of the sanctions. These debates are currently intensifying in the context of the discussions around the completion of the Nord Stream 2 gas pipeline.  
An Alliance for Securing Democracy (ASD) analysis suggests that Russian operations seek to undermine the integrity of German institutions and the cohesiveness of German society. This is often achieved by exploiting Germany's East–West divide, amplifying extreme voices on both sides of the political spectrum, and enflaming tensions over contentious issues such as immigration.  
In the run-up to the federal elections on September 26, it is likely that most of the topics that were prominent in Russian state-backed media in March and April will remain relevant throughout the rest of the election campaign. Issues surrounding Russia, such as the situation in Ukraine and the Navalny case, will certainly continue to receive a lot of coverage. Similarly domestic affairs such as the rise of the Querdenken movement and Covid-19 vaccination campaigns will also play a major role in Russian state-backed messaging. It will also be interesting to see how coverage of a number of other contentious topics, such as climate change and migration, as well as of the Greens and their foreign policy agenda, especially their positions on Nord Stream 2 and geopolitics, develops. 
What We're Seeing on the
2021 German Elections Dashboard
Covid-19 
Russian state-backed media extensively and, compared to German media outlets, disproportionately covered coronavirus-related topics. The hashtag #lockdown, for example, appeared in at least 52 tweets from RT Deutsch's Twitter account between March 1 and April 30, 2021, more than in any monitored German media outlet.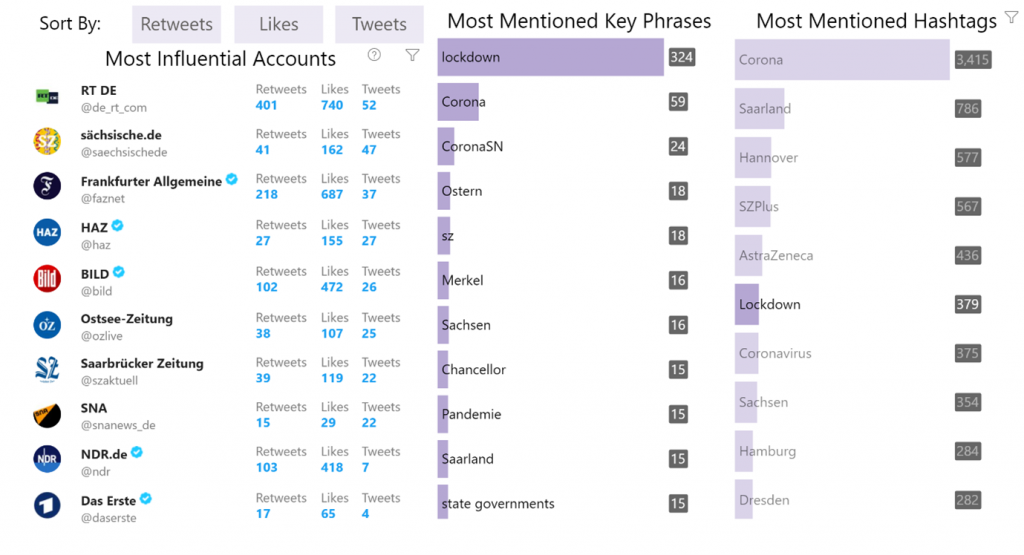 Coverage of the anti-Covid policy Querdenken protests brought attention to both sides of the issue. On the one hand, RT Deutsch criticized protesters who attacked the police in Thuringia. On the other, the news outlet criticized the arrests of protestors who did not comply with anti-Covid regulations. One story sensationalized the punishment of a person who refused to wear a mask, as shown in this headline. SNA News shared a story of a policeman lecturing Querdenken protesters on the love of neighbor, but also suggestively asked whether all critical citizens were now under suspicion after the domestic intelligence service announced that it would surveil parts of the Querdenken movement.  
RT Deutsch's Twitter account disseminated opinion pieces that expressed a critical position towards the government's coronavirus strategy and at times alluded to conspiracy narratives: This article ridicules the German testing strategy, insinuating an utter uselessness to testing, and  this video strikes a similar tone. The clip further refers directly to a conspiracy narrative about microchips being planted under the skin for total surveillance. The theme of full surveillance through measures introduced in the context of the pandemic is also picked up in this op-ed, which further discusses the conspiracy ideology of "The Great Reset," Bill Gates as the evil mastermind behind the vaccination agenda, and vaccinations as being implemented secretly and as mandatory. 
Vaccination-related topics dominated the coverage of Russian state-backed media. A variety of articles described the dangers and casualties of the different vaccines, sometimes with misleading headlines implying claims that are then refuted in the actual article (like the death of an 80-year-old in Russia after getting his vaccine or a connection between myocarditis and the BioNTech/Pfizer vaccine). A video recorded last summer that seeks to spread skepticism of Covid-vaccines continues to be linked to in articles on vaccines. Russian state-backed media mainly focuses on potential negative side effects of the vaccines, and only a little coverage is dedicated to the health-related consequences of a Covid-infection. In contrast to the vaccines produced by Western companies, RT Deutsch and SNA News portray the Sputnik V exclusively in a positive light, and coverage highlights the vaccine's effectiveness, global demand, and recognition.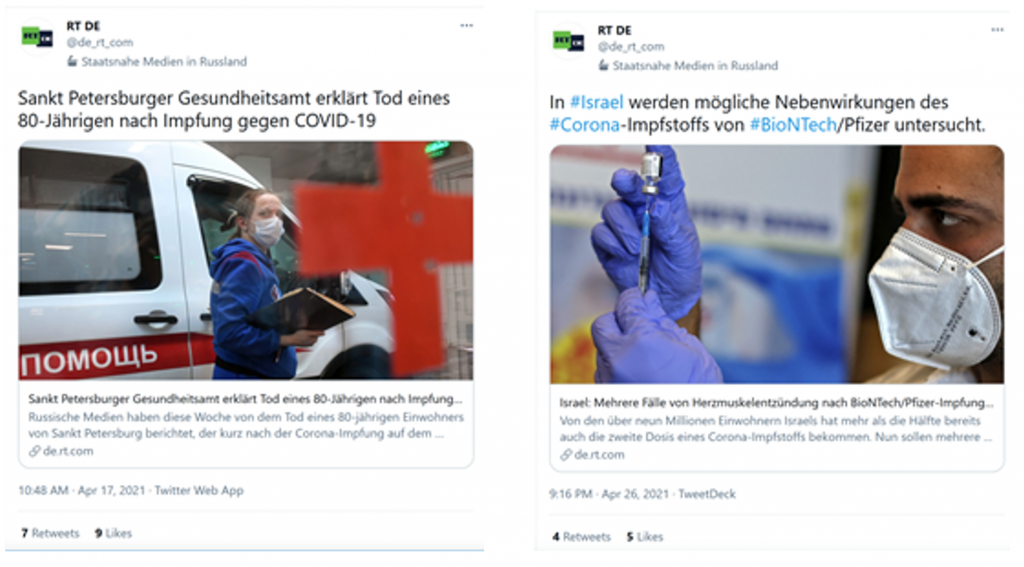 After the RT Deutsch YouTube channel was taken down for two weeks after posting what the platform had considered medical disinformation about the coronavirus, RT Deutsch complained about it in an article, calling the temporary ban as an "attempt to control our thoughts." "Big tech, the media," and individuals disparaged as "globalist billionaires" were identified as the culprits. Notably, the term "globalist" is often used to allude to antisemitic views. 
Foreign Policy
From March 1 to April 30, 2021, RT Deutsch and SNA News mentioned the United States almost more than twice as often as any country besides Germany and Russia. This is consistent with data from Russian state media outlets in nearly all regions and languages and reflects RT's ability to attract audiences based on an editorial line that is consistently critical of the United States, particularly with regard to its foreign policy.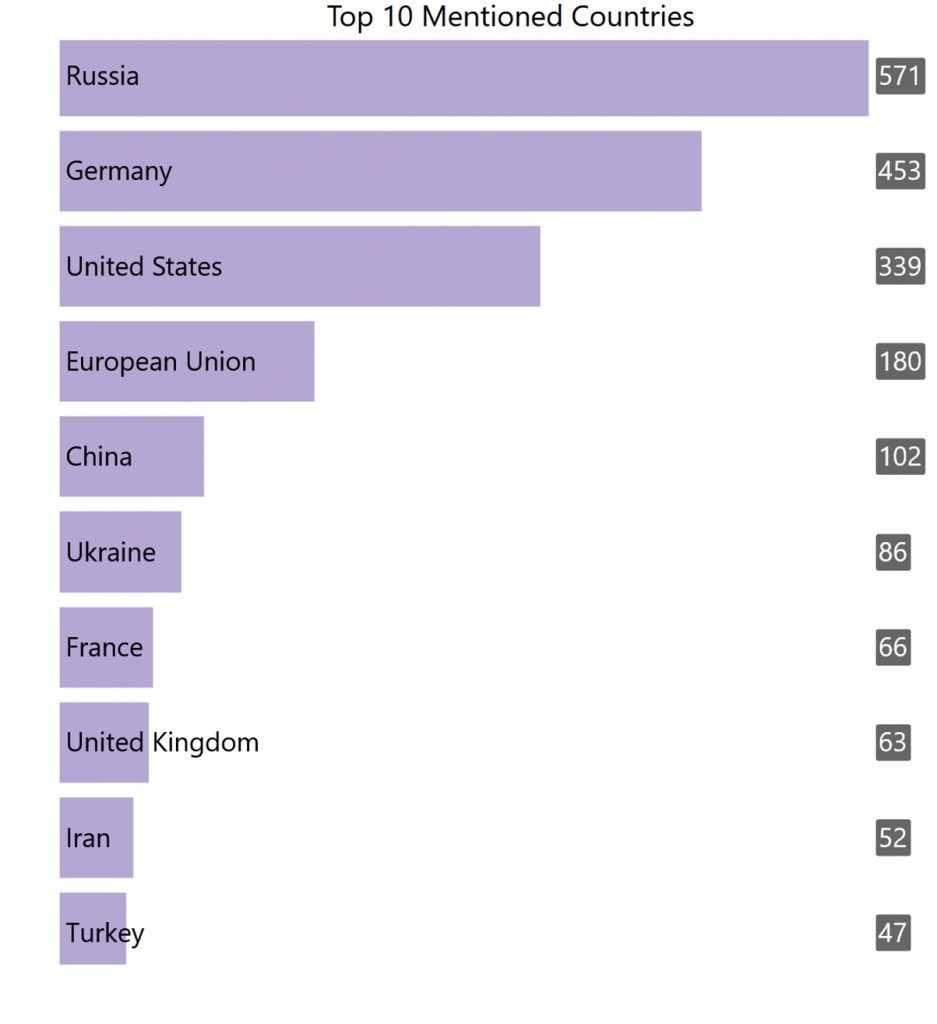 On the security situation in Ukraine (the sixth most mentioned country by Kremlin-funded outlets), RT Deutsch presented one-sided narratives that do not critically report on Russia's activities at the Ukrainian border. Instead, the West, NATO, and Ukraine are portrayed as responsible for the situation to which Russia now needs to react. RT Deutsch argued that criticism towards Russia is in fact founded on the concealment of facts, which is a common tactic used to trigger conspiracy narratives or enhance mistrust towards governments and mainstream news media. In addition, RT Deutsch published statements by the Russian foreign ministry, President Putin, and Russian leaders that openly contemplate a Russian takeover of Ukraine without any further contextualization or critique.  SNA News did the same with a statement from an AfD foreign policy expert who claimed that Russia is not aiming for escalation. On the contrary, RT Deutsch accused German media outlets of one-sided, anti-Russian reporting on Ukraine and accused them of violating the German media principles.  
The Nord Stream 2 project was another prominent topic. RT Deutsch highlighted German politicians' positive attitudes of the gas pipeline (for instance Manuela Schwesig, Michael Kretschmer, and Angela Merkel), whereas it portrayed adversaries of the project like Annalena Baerbock as aggressive and confrontational. This podcast alleged that the United States seeks to stop the completion of the pipeline to secure a hegemony. Generally, RT Deutsch portrays the United States as an imperialist, warmongering state seeking to incite conflict in Ukraine, the Arctic, Afghanistan, and Taiwan.  
One underlying theme of RT Deutsch's reporting is an implicit and sometimes explicit critique of German mainstream media. This is particularly evident in coverage of the Greens' chancellor candidate, Annalena Baerbock, and in narratives on Ukraine.  
Russian Policy 
Numerous articles displayed relatively balanced reporting on Alexei Navalny; RT Deutsch covered solidarity protests in Germany, the protests in Russia, and the dissolution of Navalny's regional teams in Russia due to them being classified as terrorist organizations. However, other articles reflected the position of the Russian government. In a report on Navalny's health, his doctor was portrayed as unreliable and a foreign agent. A recent opinion piece condemned anti-government protests as revolutionary attempts and claimed they are ignited from abroad. By arguing for reforms through electoral politics, the op-ed denies the current repressive political reality in Russia, which only allows for very limited democratic participation.   
Conclusion
Because Germany plays a key role within Europe and the transatlantic relationship, the integrity of its upcoming election has strong implications for liberal democracies in general. The election campaign can be an alluring target for foreign and domestic actors seeking to undermine democratic processes. The issues mentioned above, as well as other contentious topics such as climate change, migration, or the rise of Green party, will very likely remain relevant in this respect. ASD and GMF continue to monitor autocratic information manipulation efforts and analyze narratives that are used to interfere in the German political discourse and Germany's democracy. 
The views expressed in GMF publications and commentary are the views of the author alone.