The Alliance for Securing Democracy (ASD) began hosting the Hamilton 68 dashboard in August 2017 to track Russian influence operations on Twitter. By analyzing a dynamic list of more than 600 Twitter accounts linked, wittingly or unwittingly, to Russian influence activities online, the dashboard provided a window into Russian propaganda and disinformation efforts online. A little over a year later, in December 2018, ASD discontinued the dashboard as it shifted its approach to analyze the overt information space by tracking official and state-backed social media accounts from Russia, China and Iran.
Recent reporting on Hamilton disregards the dashboard's published methodology, Hamilton 68 experts' commentary, and Twitter's own data.
The dashboard's original methodology acknowledged that "the content within the network is complex and should be understood in a nuanced way." Members of the media, pundits, and even some lawmakers often failed to include appropriate context when using the dashboard's data, despite ASD experts' extensive efforts to correct misconceptions at the time. Because the data was consistently misunderstood or misrepresented, we published multiple follow-up instructions clarifying key points, including: "Some accounts we track are automated bots, some are trolls, and some are real users. Some are in Russia, but many are not".
Unfortunately, the mischaracterization of the dashboard continues today. We compiled a list of false or misleading claims and have provided the facts here.
CLAIM: The Hamilton 68 team selected accounts based on a determination that they were "Russian bots".
FACTS: As the methodology states, networks were selected based on their engagement with content "generated by attributable Russian media and influence operations".
Individual accounts were algorithmically selected based on analytic techniques developed by J.M. Berger that were used to identify the most influential accounts within those networks. The Hamilton 68 team did not individually review or verify all accounts because the focus of the dashboard was to analyze behavior in aggregate networks, not specific accounts.
The dashboard was an analysis of networks that (1) reliably amplified Russian propaganda and disinformation, either wittingly or unwittingly, and (2) primarily targeted audiences in the United States. This would account for the inclusion of some genuine Americans in the account list—not because they were labelled by analysts as being a bot or even Russian, but because the analytic techniques used identified them as being a part of a network that either promoted or engaged with Russian propaganda targeting American audiences. ASD experts consistently made this point in the methodology, its clarifying documents, and contemporaneous interviews. The dashboard's overview reads: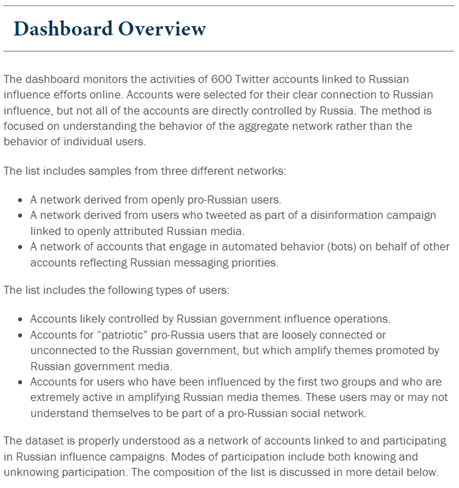 Regarding the specific accounts the Twitter thread alleges are on the list, the Hamilton 68 team took data privacy seriously and worked to maintain the anonymity of monitored accounts to avoid doxing or harassment. Neither ASD nor the Hamilton 68 team will comment on the identities of individual accounts. Please see the "Why Are Accounts Not Publicly Identified?" section of this webpage. 
However, some of the accounts the thread alleges belong to "ordinary Americans, Canadians, and British" have contributed to RT or work for outlets that are regularly retweeted by overt Russian state media accounts. Given the methodology, it is unsurprising that the network analysis that was performed would identify these accounts as being relevant in the promotion of Russian propaganda. This, of course, does not mean that those individuals are witting agents of Russia. As ASD experts stated: "Some accounts we track are automated bots, some are trolls, and some are real users. Some are in Russia, but many are not".
CLAIM: The Hamilton 68 project deceived reporters.
FACTS: Throughout the project, ASD and the Hamilton 68 team engaged with almost all reporters who approached us in good faith to understand the tool. This included participating in reports that were highly critical of the project and methodology, but that we hoped would clarify misrepresentations of the data. We also consistently pushed back against misrepresentations of our data in media reports. This included engaging with conservative media outlets to dispute claims, based on our data, that incorrectly labelled conservative hashtag campaigns—specifically one supporting Laura Ingraham—as having Russian origins.
CLAIM: Hamilton 68 "will take conversations in conservative circles on Twitter and accuse them of being Russian".
FACTS: This claim is not supported by the data. Almost every day the dashboard was operational, the most used hashtags and key phrases focused on Ukraine, Russia, and Syria. Below is a screengrab from February 14, 2018, the day of the mass shooting in Parkland, Florida.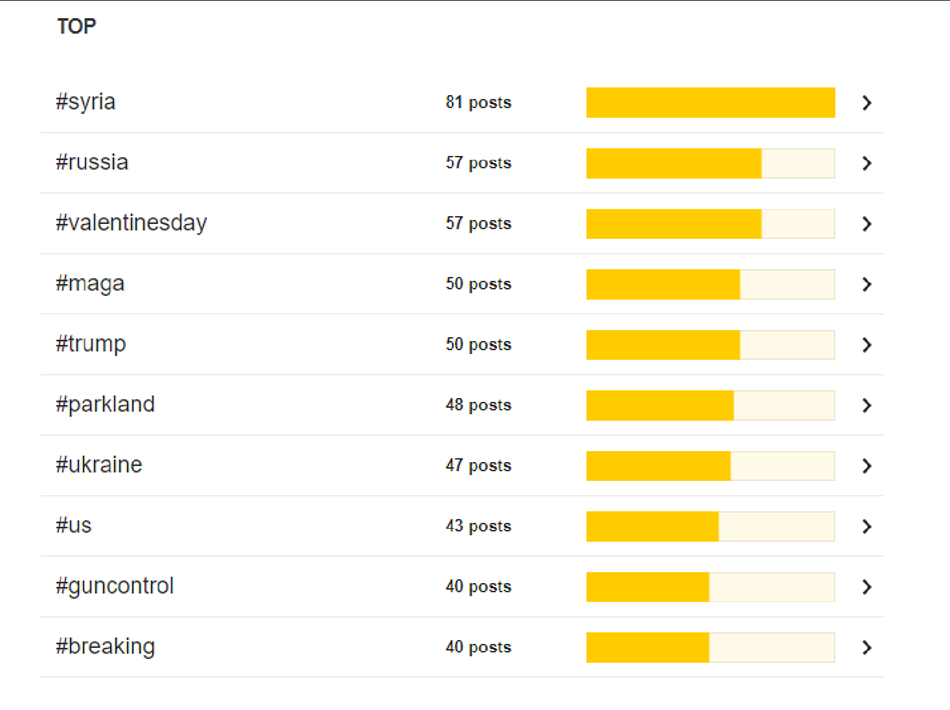 There is a significant amount of published data showing a similar focus on issues relevant to Russian interests. In an April 9, 2018, Daily Caller article, a screengrab from the dashboard shows the most prominent theme to be the poisoning of Sergei Skripal in the United Kingdom.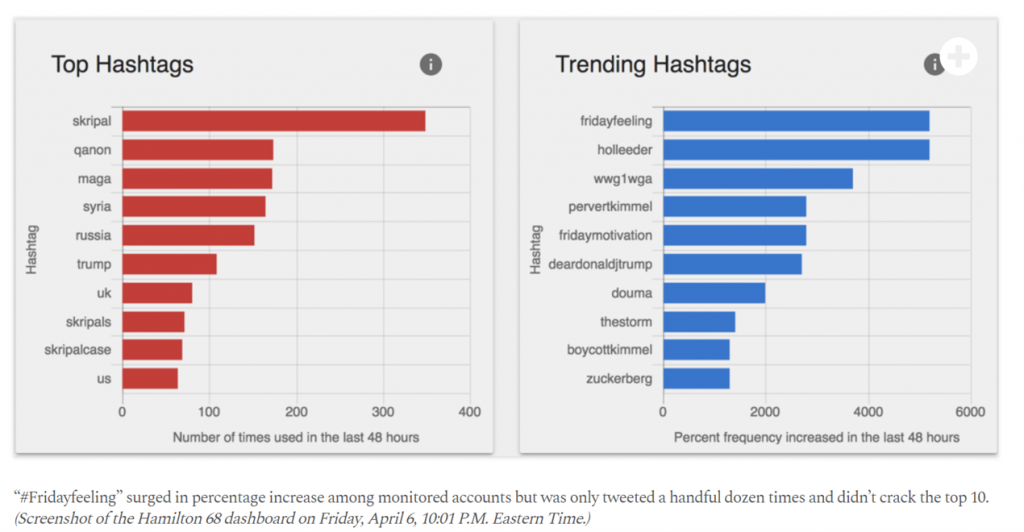 Moreover, the dashboard aggregated the domains most "linked-to" by monitored accounts. While those domains included some right-leaning American media outlets, the domains were almost exclusively Russian state media, Russian-linked, or overtly pro-Kremlin in tweets related to foreign policy issues. The below chart shows the most cited domains in tweets mentioning Syria and Ukraine during the first year of Hamilton 68's existence. In both cases, RT was the most linked-to domain. The list also includes sites like Stalker Zone, a blog run by a pro-Russian separatist in Eastern Ukraine.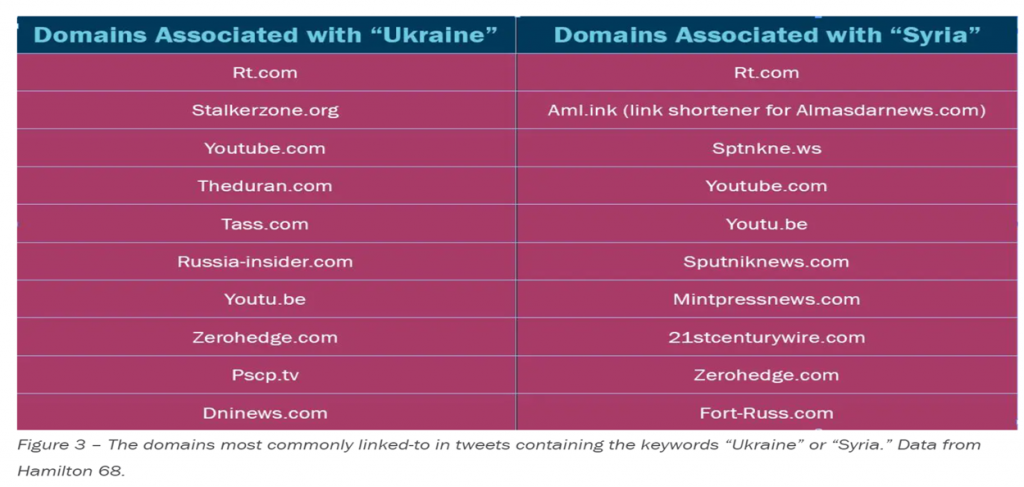 We also clarified this point in the follow-up post about the dashboard's methodology:
Importantly, the dashboard also does not analyze the spread of a hashtag across the entire Twitter platform; it only tracks the frequency of a hashtag's use by accounts monitored on the dashboard. As mentioned, these accounts are a sample of one network of Twitter accounts noted for their promotion of pro-Kremlin narratives. Data from the dashboard should therefore not be viewed as representative sample of all Russian-linked accounts online. This means that the preponderance of themes on the dashboard that appear to be aimed at Americans on the right or far-right of the political spectrum should not necessarily be viewed as evidence that the Kremlin has disproportionately targeted that segment of the population. Rather, it simply serves as evidence of the network's attempts to amplify and exploit themes that resonate with a specific audience of Americans.
CLAIM: Twitter employees said the network was a "scam".
FACTS: While ASD obviously disputes this alleged characterization of the project from Twitter's Trust and Safety employees, ASD had many very frank and ultimately constructive debates with Yoel Roth's team during that time and generally shared their frustration with how Hamilton 68 data was misinterpreted.
Those conversations, Twitter's decision to release Russian IRA data sets, and ASD's shift to focus on the overt information space led to ASD retiring Hamilton 68 in December 2018. Conversations with Twitter also informed parts of our design and methodological choices in the creation of Hamilton 2.0, which focuses only on overt, attributable accounts, allowing greater transparency about the accounts being monitored.
CLAIM:  There was no evidence of foreign engagement with the #releasethememo hashtag and the Hamilton 68 dashboard erroneously suggested that a link existed.
FACTS: This is directly contradicted by Twitter's own data (released nearly a year after the #releasethememo campaign) that showed over 5,000 mentions of #releasethememo by accounts that Twitter itself identified as being affiliated with foreign information operations. This includes significant engagement from accounts released by Twitter in a January 2019 dataset that it linked to the Russian Internet Research Agency, examples of which are below.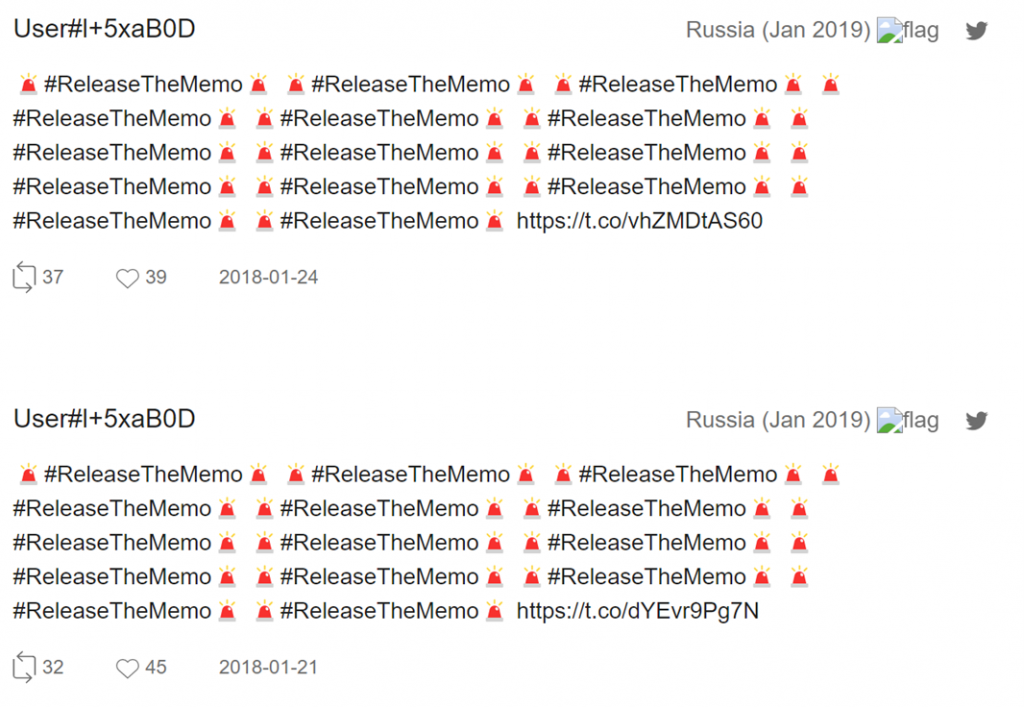 Even so, ASD's own analysis of the #releasethememo hashtag at the time was that Russian-linked actors "likely represented a very, very small percentage of the overall engagement with the hashtag".
CLAIM: Hamilton 68 was used to smear Tulsi Gabbard's presidential campaign.
FACTS: Hamilton 68 was shut down almost two years before the 2020 US presidential primary.
CLAIM: Hamilton 68 was a "McCarthyite blacklist".
FACTS: Neither the Hamilton 68 project nor ASD shared any Hamilton accounts publicly or privately in any manner that could have been used to censor, deplatform, defame, or silence any individual on the list. As J.M. Berger wrote at the time of the launch of the dashboard:
Not everyone subscribes to pro-Russian views because of an influence campaign, online or off. Americans and people in general have incredibly diverse views. Some people sincerely hold beliefs that correspond to the views promoted by Russia and came to those views through a different route. And in America, they are free to do so. We cherish that freedom. The Hamilton 68 dashboard and other unaffiliated efforts to expose Russian influence campaigns are not trying to tell people what to think. Our efforts have not silenced a single voice, and they will not.